'Bachelor' Spoilers: Peter Weber Cancels Public Group Date and Other Filming News
Peter Weber's season of The Bachelor appears to be off to a rough start, at least according to recent spoilers. Though the show just began filming, some details of Weber's journey have already been leaked, including the cancelation of a public group date.
The date, which was supposed to film in front of a live audience on Tuesday, was allegedly canceled because Weber fell ill, according to Reality Steve. The spoiler site claimed Weber came down with food poisoning, or something similar. Because of the cancelation, the cast of women, as well as a studio audience, were left wondering when the date would begin.
Spoilers say the idea of the date was for the women to share awkward sexual encounters from their past on stage. This would likely tie into Weber's time on Hannah Brown's season of The Bachelorette. Weber was revealed as the man who was intimate with Brown in a windmill: a key plot point which became a running joke in Bachelor Nation.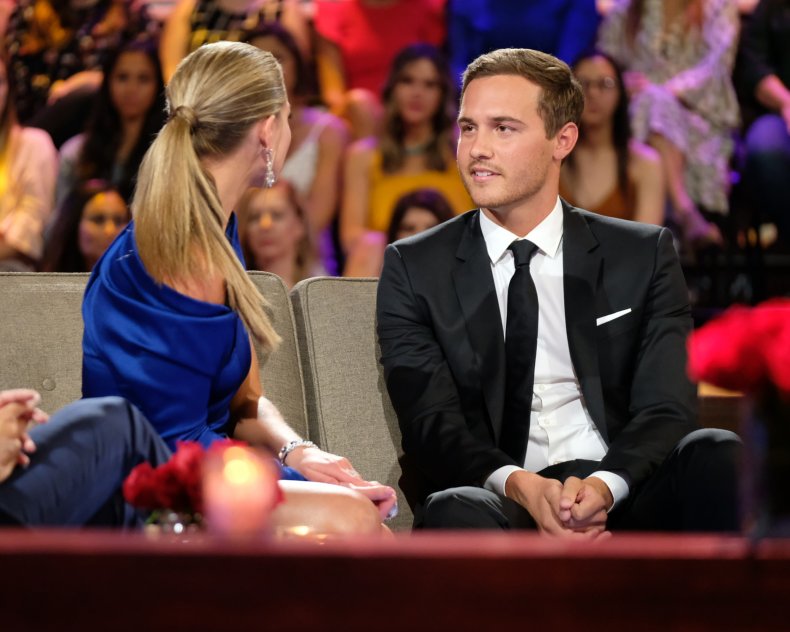 Because of the cancelation, audience members who waited a long time were given a $20 Starbucks gift card, according to Reality Steve.
The spoiler site also pointed out what likely happened when the women were sent back to the mansion. Though it's not confirmed Weber had company in his hotel room, Reality Steve joked about past sick Bachelors or Bachelorettes, and how one of their dates typically arrives to comfort them.
"Bet your a** that once they got back to the mansion, production convinced one girl to leave the mansion to go visit Peter at his place to see how he was feeling, thus pissing others off," he wrote in his blog on Tuesday. "C'mon, you know that'll happen. They're not just gonna cancel a whole date and not have any drama surround it."
"Wonder who the unfortunate sap is that probably got talked into going over to his place last night to check on him, thus enraging all the other women?" he continued. "I mean s***, I could write the show at this point."
A handful of spoilers are already out for Weber's season, including the engagement destination. Though it's unknown if Weber will leave the show engaged—filming only began last week—the final stop on the Bachelor international travels will be Australia.
Next week, Weber and the women are scheduled to have dates in Columbus, Ohio, according to Reality Steve. He shared how locals can attend a private concert, which will be with singer Chris Rice. But he warned to expect a lot of downtime.
"Just be prepared for a long night of waiting around for hours on end, only to have Peter and his date show up past midnight for about 10 minutes then leave," he said. "That's how these concert 1-on-1's work."