'Bachelor' Spoilers 2019: Two Contestants Go Head To Head Over Pageant Past On Group Date
Monday night's Bachelor episode rolled out the expected season drama, though it unexpectedly dove into the past. Two contestants have a history as friends and pageant competitors, which brought tension and panic to an all-time high during the night's first group date.
Hannah B. and Caelynn both competed in the 2018 Miss USA pageant. Hannah is Miss Alabama and Caelynn is Miss North Carolina. According to Caelynn's Instagram, the two were close before filming The Bachelor and before Caelynn was crowned Miss America runner up.
The pirate-themed group date sent the former friends into a frenzy while watching the other interact with Underwood. Hannah was the one who was the most uncomfortable during the date.
"It's a little frustrating to watch Caelynn engage with Colton right in front of me," said Hannah. "I'm trying my hardest to not get upset but then Caelynn is just everywhere. I didn't come here to compete in another pageant. Honestly, this sucks."
Hannah's discomfort only increased with Caelynn was crowned the winner of the group date. Underwood kissed her in celebration.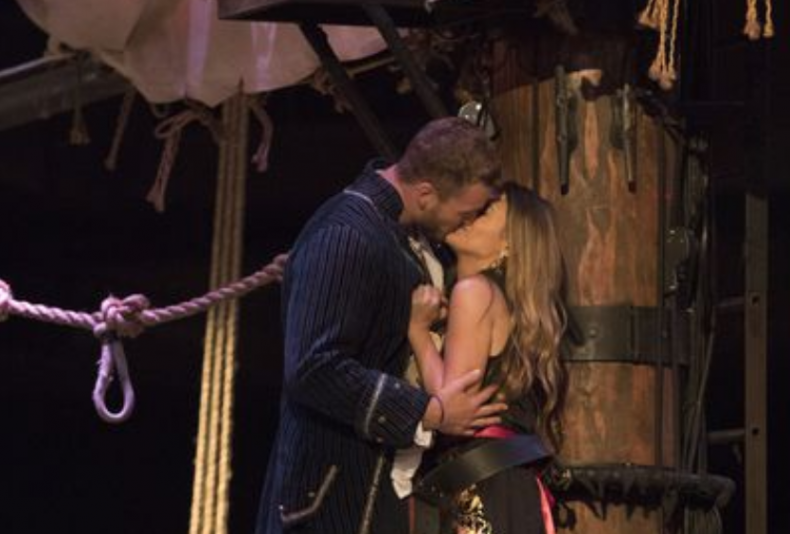 "You've got to be kidding me," she said. "It's not easy to see Caelynn moving forward with Colton. It brings out all of my insecurities and I start to spiral. If Colton knew the truth about Caelynn I think he would feel differently about her."
Hannah had the first one-on-one date of the season with Underwood in last week's episode. She had trouble opening up, which Underwood saw as a negative sign. She did pull through during the dinner portion, though, where she opened up and was given a rose.
At the group date cocktail party, Hannah spoke of Caelynn to Underwood. "I was just in a high-stress situation with her and it was like the most hostile environment I've ever been in," she explained. "It's hard because it's like, if that's what you want, you don't want me."
Underwood relayed the conversation to Caelynn, who became emotional. She was given the group date rose.
In last week's episode, Caelynn told other women she thinks Hannah is jealous of her success. "We were super close and then she wasn't happy that I was first runner-up," she explained. "There were a lot of hurt feelings."
A handful of photos on Caelynn's Instagram from 2017 show the friends closer than ever. One is captioned, "Gosh, I love them."
'Bachelor' Spoilers 2019: Two Contestants Go Head To Head Over Pageant Past On Group Date | Culture