Is 'The Bachelor' on Tonight? Here's When Matt James' Season Starts
Bachelor Nation, you should have some extra time on your hands on Monday night, because The Bachelor isn't starting just yet. There's one week off in between Tayshia Adams' finale of The Bachelorette, which ended last week, and Matt James' start of The Bachelor.
The past two weeks have realigned our Monday television habits, thanks to The Bachelorette leaving behind its Tuesday time slot and returning to Mondays. And James' season will follow suit—just not until Monday, January 4, when the season premieres. That means tonight, December 28, viewers won't have any Bachelorette or Bachelor content. No "After the Finale Rose," either.
If you happen to tune in to ABC anyway, you'll find Monday Night Football, which is a slightly different vibe. The Buffalo Bills and New England Patriots will replace the dramatic cocktail parties for just one week until The Bachelor returns.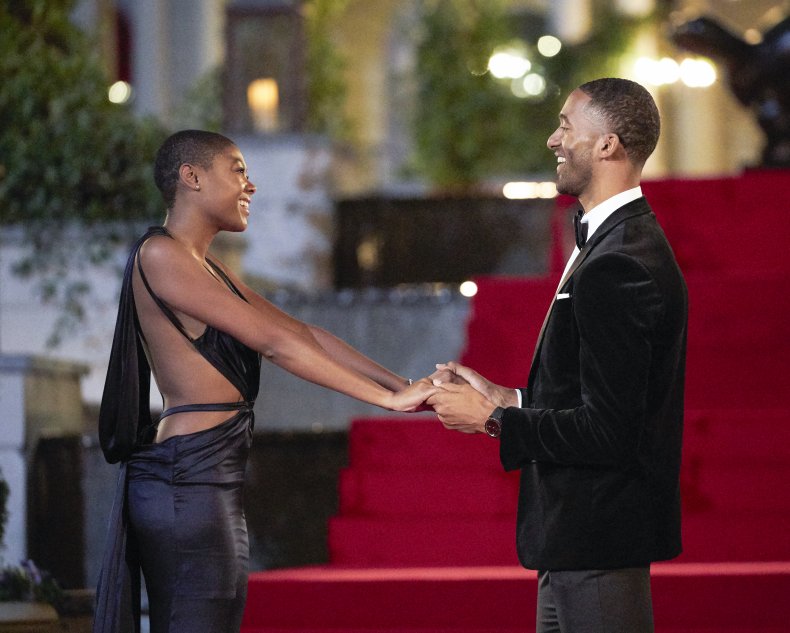 Last week's dramatic two-night finale featured Adams getting engaged to Zac Clark. The couple is still happily together, though there was no official "After the Final Rose" episode to explain how they're doing or what they're up to. Instead, Adams has been posting often on her Instagram account to let viewers have a glimpse into her life with Clark.
For a moment, it seemed that Adams may not find true love. She saw one man, Brendan Morais, leave the show on his own. Then, Adams welcomed Ben Smith back to the competition after she'd originally let him go. Despite all of the confusion, Clark remained a constant and the pairing seems to be working out.
There was another engagement on the season, too. Don't forget that Clare Crawley and Dale Moss also left the show engaged, just a few episodes into the season.
Whether James will find a similar love story for himself is still unknown. His season is expected to have an impressive amount of women—over 30 contestants—who will represent diversity on the show much better than in seasons past. James is also the first Black Bachelor, which makes the 2021 Bachelor season particularly noteworthy.
Adams' season also represented a shift for the show, in that it featured discussions of more serious subjects, like addiction and mental health, and the Black Lives Matter movement. Hopefully, that trend of reflecting the real world a bit more will continue with James at the center.
You can catch James' first cocktail party on January 4 at 8 p.m. ET on ABC.