'Bachelorette' 2020: Benoit Reveals Why His Engagement to Clare Crawley Probably Wasn't Mentioned on the Premiere
Clare Crawley's season of The Bachelorette is already heavy with drama and intrigue, but something important was missing on Tuesday night's premiere. Benoit Beauséjour-Savard, Crawley's ex-fiance, wasn't included in a list of her past Bachelor love stories, even though they were engaged on the show.
Bachelor Nation was thrown into a tizzy when they realized the engagement was brushed over entirely. But there was really a plan to include Beauséjour-Savard. The show just ran out of time.
Beauséjour-Savard cheered Crawley on from the sidelines via his Instagram story on Tuesday night. In it, he also shared photos and notes that proved he showed up to The Bachelorette to film segments with Crawley, despite the fact that they broke their engagement after just two months in 2018. They've remained close friends and, apparently, the franchise planned to show that.
"It's tonight guys!!! Tune in on ABC to watch @clarecrawley journey. P.S.: You might see a familiar French Canadian in it," he wrote on Instagram. Obviously, Beauséjour-Savard didn't make an appearance, and he followed up with proof that he was, in fact, supposed to appear.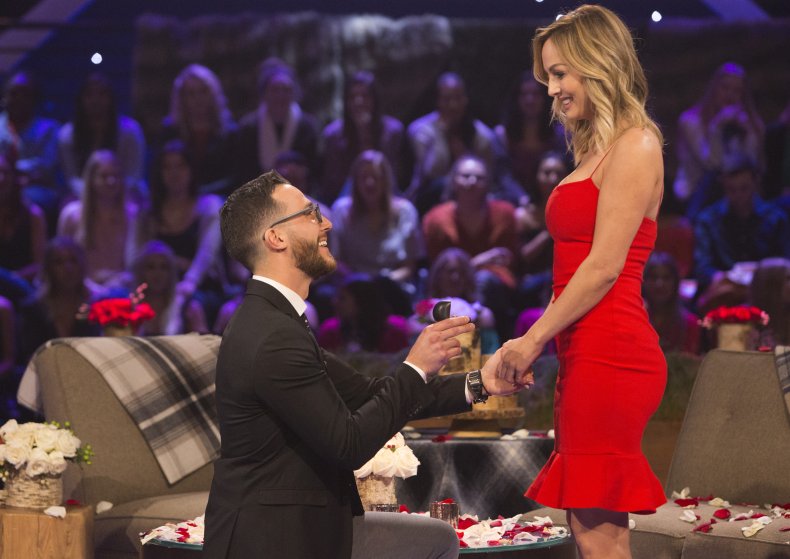 "Well... This is what you should have seen.. just two exes having a fun chat.. that's probably why they cut that," he shared with a photo of the two dining. A third post showed the pair cozy and making goofy faces, to which Beauséjour-Savard attributed to the Bailey's they'd been drinking.
When Bachelor Nation took to Twitter in outrage at the lack of a mention of Crawley's relationship with Beauséjour-Savard, ABC Reality Cheif Robert Mills explained the show didn't have the airtime to include the relationship.
"We didn't have time for the footage but fun fact: Clare and Benoit are the best of friends!" Mills wrote on Twitter on Tuesday.
The Instagram posts from Beauséjour-Savard appear to confirm that they are still in touch after their breakup. What Bachelor fans still don't seem to understand is why Beauséjour-Savard's name wasn't mentioned once in recapping Crawley's love life. There's still time in the season for the friend to make an appearance (or simply be acknowledged), but with the amount of pending drama The Bachelorette has already teased, we seriously doubt that will happen.
Beauséjour-Savard will live on in our memories, though, even if he's never spoken of in the Bachelor world again.