'The Bachelorette' 2020: Viewers React to Clare Crawley's Early Declaration That She 'Met Her Husband'
The Bachelorette 2020 Season 16 is off to a wild start with our lead, Clare Crawley, already admitting she probably found her husband. The first impression rose was handed to Dale Moss during Tuesday night's premiere after Crawley told cameras and host Chris Harrison she was nearly certain Moss was going to win her heart on the season.
While the first impression rose often identifies a stand-out suitor, Crawley's declaration that Moss may be her future husband is out of the ordinary. It appeared she broke some unspoken Bachelorette rules, ones that give the whole group of men a fair chance at making an impression. While some men didn't get to talk to Crawley night one, she was captivated with Moss. And the connection didn't go unnoticed, either by Bachelorette editing or by viewers who told Twitter exactly how they felt about the connection.
Shockingly, no one seemed to be upset that Crawley was about to "blow up The Bachelorette," according to a teaser in which Harrison told Crawley she was walking a dangerous path that could hurt everyone who came out to film. Maybe it's because Bachelor Nation already knows a second Bachelorette is coming. Or, it could be viewers are just craving drama and a storyline they've never seen before.
It appears they've gotten both. And either way, Crawley seems to be loved by very entertained viewers everywhere.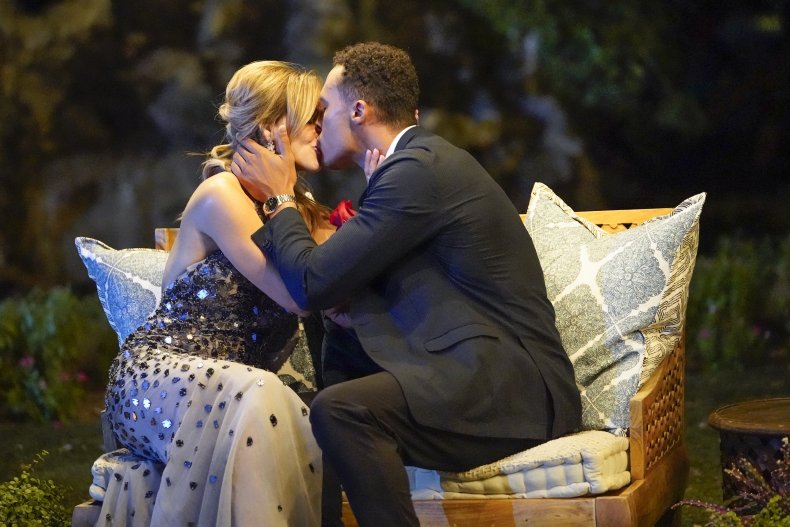 Twitter users shared their feelings about Crawley, most of which circled around her instant infatuation with Moss. Memes and other jokes about the "love at first sight" ordeal gained major popularity on the social media platform. There appeared to be slight disbelief around Crawley's love story, or instant obsession, but most viewers grabbed more popcorn (or wine) and buckled in with enthusiasm for Crawley's early decision to tell it like it is.
Even Bachelorette favorites, like Tyler Cameron, joked about how relatable it would be to fall for Moss, an undeniably handsome former NFL player and model. Former Bachelor 2also commented on night one's drama, and Crawley's insistence in speaking with Moss, even as other men were arguing.
Most of the jokes digitally transformed Crawley into a bride, a pregnant woman based on her dedication to winning over Moss. Others pointed to The Bachelorette's editing, which admitted within the first seconds of the premiere, that Crawley and Moss were going to be an item. Even a shot of the pair in bed together was played before Harrison formally introduced the season.
It didn't take major detective work to figure out Crawley's more than likely going to give up the position to be with Moss. What comes next, though, is still a mystery. Viewers know Tayshia Adams is supposed to take over for Crawley, but when and how that will happen has yet to be revealed.