Who Does Becca End Up Engaged To? 'Bachelorette' Picks [Spoiler]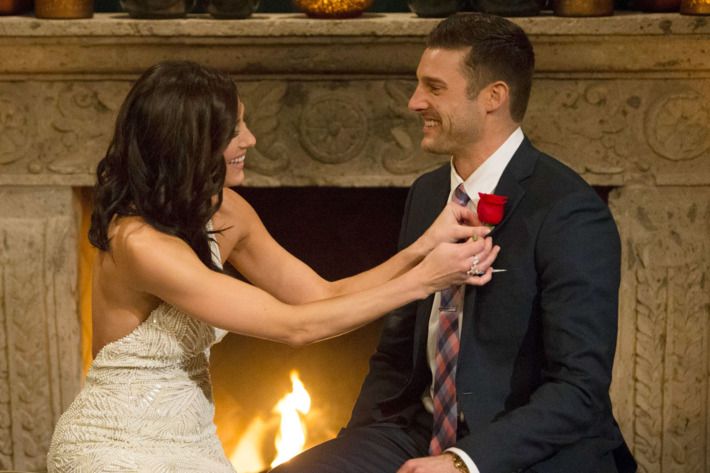 Season 14 of the Bachelorette was practically spoiled before it started. Early on, it was revealed there was a frontrunner for Becca Kufrin. As long as sites like Reality Steve and TMZ are correct, Kufrin will choose Garrett Yrigoyen over Blake Horstmann. The bachelorette was famously dumped by Arie Luyendyk, Jr. on last season's Bachelor after he proposed to her in the finale.
Now, it was Kufrin's turn to break someone's heart. "It was the hardest day, and the thing I was most afraid to ever do was to hurt someone because I know what a breakup feels like, and I never wanted to do that to anyone else," Kufrin, 28, reportedly told HollywoodLife at The Men Tell All taping.
According to Kufrin, she fell in love with both men. "It was so hard," she supposedly said, "but I just had to follow my heart and do what I felt was right and choose the very best relationship [for me]."
If the rumors are true and she did pick Yrigoyen, it would explain the prompt responses they issued after HuffPost published troublesome screenshots of his social media activity in May. Yrigoyen liked posts that mocked the transgender community, feminists and he double tapped on posts that ridiculed Parkland high school survivor David Hogg.
The reality star, 29, quickly apologized and took responsibility. "garrett_yrigs12 was my former Instagram handle and I decided to take it down and start fresh because I have learned an extremely valuable lesson and am taking steps to grow, become more educated, and be a better version of myself," he said. "I am not perfect, and I will never be anywhere close, but now I will always be more informed and aware of what I am liking and supporting, not just on Instagram, but in life."
Kufrin also issued a statement, essentially saying she didn't want people to judge Yrigoyen. "I wanted to just be open to everyone, and I hope that the viewers can do the exact same thing," she said.
Ultimately, Kufrin is apparently smitten with her rumored fiancé. "It was so worthwhile," she reportedly said at the MTA special. "It was one of the hardest, but most rewarding things I've ever done… I fell in love and that's all I could hope for at the end of this."
Found out who Kufrin picked once and for all when the show's finale airs Monday, August 6 at 8 p.m. ET on ABC.