'Bachelorette' Episode 4 Spoilers: Which Fan-Favorite Does Hannah B. Send Packing?
Bachelor Nation, breathe a sigh of relief, Bachelorette is back Monday night with more steamy dates and hot-headed Luke P. moments.

After last week's episode–where we finally said good-bye to ABC Cam–Luke P. was told to "slow his roll" and subsequently sent in a tailspin. The hunky contestant looked to be the Bachelorette's top choice after receiving the first impression rose but the tone surrounding him has quickly changed after showing signs of aggression and jealousy.
This week's episode sneak peek saw Luke P. play dirty on the rugby field and–due to the power of Bachelorette editing–it looked like he may have sent someone to the hospital.
Spoilers for Bachelorette episode 4 ahead!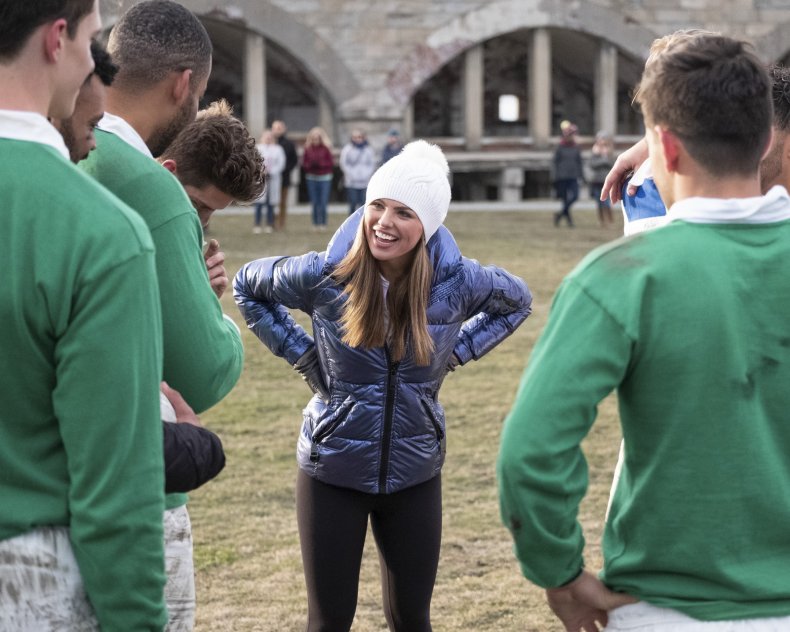 Date Cards Go To ...
1-on-1: Jed
Arguably one of Hannah B.'s frontrunners this season, Jed finally gets his 1-on-1 and it's a total slam-dunk. The two walk around the Boston area and into the Boston Celtics' practice facility, the Auerbach Center. Clearly awestruck by NBA stars Scary Terry (Terry Rozier) and Jaylen Brown, it already looks like this is going to be a date Jed will remember for years to come.
"Jed is awesome," Hannah tells Brown off to the side. "We have so much fun together."
Jed gets a rose (obviously).
Group Date: Dustin, Mike, Kevin, Connor S. Dylan, Luke S., Garrett, Peter, John Paul Jones, Luke P. Grant, Matteo and Devin
Ah, the infamous rugby game that Bachelorette producers have been alluding to all season. While it's not as great as Colton's fence jump, audiences finally find out who was swept away in the ambulance–Kevin, according to Reality Steve.
Things look to have gotten tense between the Lukes, especially after Luke S. says "karma is a b****." The spat between the two contestants will definitely affect things later on.
It isn't clear who gets the rose, but Reality Steve predicts Pilot Peter.
1-on-1: Tyler C.
Concert with Jake Owen at the Jane Pickens Theater.
Tyler gets a rose.
Cocktail Party & Rose Ceremony Eliminations
At the cocktail party, Luke S. (a.k.a. Nick Viall lookalike) thought Luke P. was too rough during the rugby match and was out to hurt him. Feeling upset about the whole thing, Luke S. spoke with Hannah but later felt that she stood up for Luke P. so he decided to eliminate himself before the rose ceremony.
Who was sent home?
Matteo Valles
John Paul Jones
Luke S. (during the cocktail party)
To find out what's next for Hannah B. and her remaining suitors, watch Bachelorette Monday nights at 8 p.m. ET on ABC.