'Bachelorette' Finale Prediction: Why We Think Tayshia Adams Picks Two Men
Tayshia Adams' Bachelorette spoilers have changed... a lot. And because of the unpredictable nature of this season, we're betting that there's no simple outcome.
In seasons past, where there are few answers, there's usually a twist. That's why we think Adams will choose two men—one during her final rose ceremony and another post-filming.
Let's look back at Peter Weber's season of The Bachelor, which, somehow, did air in 2020. Earlier this year, Weber's season was called the first "unspoilable" season. This was true, in a way. Weber was first engaged to Hannah Ann Sluss as his season ended. Then, he broke up with her and went for Madison Prewett. They reconnected on the "After the Final Rose" episode before publicly splitting up a few days later. Now, Weber is happily dating Kelley Flanagan, who is the third woman from his season that he's coupled up with since the finale.
Adams' season feels similar. Hear me out.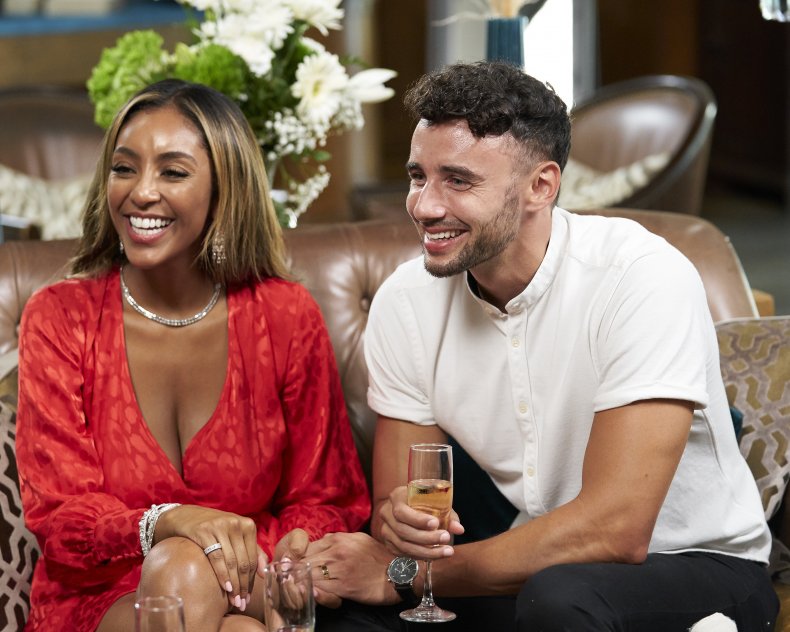 Early spoilers for Adams' season (published by Reality Steve) made it seem almost identical to Weber's. It was said that Brendan Morais would leave the season on his own and break Adams' heart. And that should've induced a flashback to Prewett doing the same thing to Weber... and after his season ended, those two still found their way together.
Spoilers also claimed that Adams would end up in a relationship with Zac Clark after the season, though there would be no engagement. Since those reports, Adams' spoilers have taken a turn, mainly because Reality Steve learned that some of his earlier information was incorrect. Where that leaves the ending of Adams' season is unknown as of now.
But we're still guessing that Clark will be the final rose recipient; we're also guessing, though, that they're not dating anymore. While the spoilers have changed recently, the one consistent factor is that the longterm status of Adams' relationship with Clark is unclear, even when they were said to have left the series together.
Instead, we're thinking that Adams will end up with Brendan Morais, which is a prediction that Reality Steve made in his second set of spoilers.
Adams and Morais hit it off early in the season, but considering the rumors that he left the show, it seems safe to suss out that some sort of rift may pull them apart before the season's end. Regardless of whether or not Morais leaves the show, though, we're expecting that Adams will make the safe choice—and that's Clark. He's older, has embraced his past and turned his former addiction into advocacy. Plus, Adams has mentioned how he's different and offers a unique sort of stability.
So, it would make sense, if Adams did have trouble deciding, that she'd go for Clark. Especially if there was tension or uncertainty surrounding Morais.
We're thinking, though, that as real life set back in, maybe Clark and Adams had some differences. He lives in New York and she's in Los Angeles, to name one. And maybe, just maybe, Morais didn't leave Adams' mind.
Of course, this is all speculation based on the season so far and years of reading spoiler blogs. There are many ways that Adams' season could actually end. She may very well be happily engaged, or even happily single. We'll find out for sure on Tuesday night.