'The Bachelorette' Frontrunner Peter Reportedly Broke Up With Girlfriend Upon Being Cast for Reality Show
This is not only the most man-on-man drama we've seen on any season of The Bachelorette, but it also seems to be the season of questionable contestants. From Scott to Jed, rumors began circulating of hometown girlfriends from the very beginning–and now, we have a new name to add to the list: Peter Pilot.
Yes, Peter. The sweet-faced, Delta airline pilot looks to have broken up with a hometown girlfriend upon being cast for The Bachelorette. Following Monday night's episode, which coincidentally included a steamy one-on-one with Hannah and the pilot, a Twitter user claimed he was "simultaneously dating one of my best friends."
"[Peter] auditioned for this show while simultaneously dating one of my best friends and begging her to move in with him," @j_may13 wrote.
Peter has yet to respond to the claims but Bachelorette spoiler channel, Reality Steve addressed the rumors in a blog post Tuesday, stating he interviewed Peter's ex but couldn't publish because of her fear of backlash.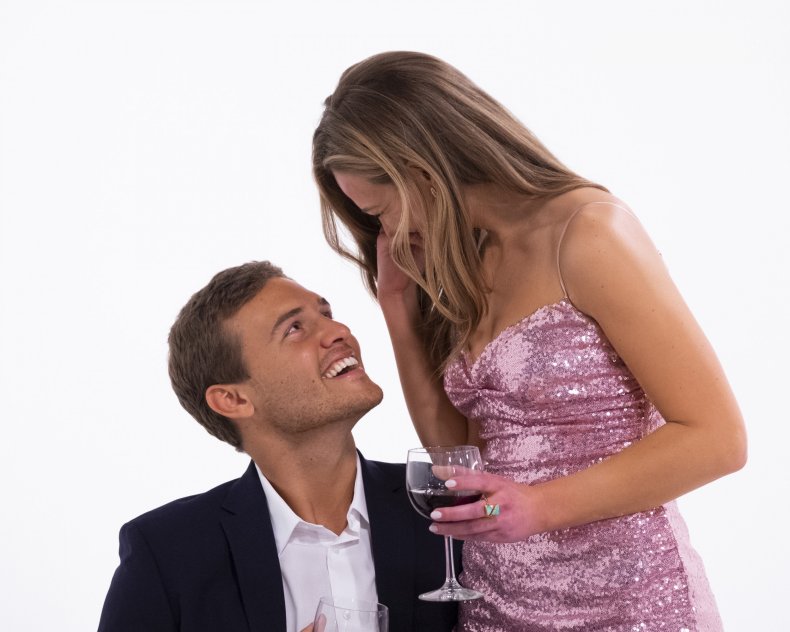 "This was someone who went over the timeline of her relationship with Peter with me that definitely coincided with when he found out he was on the show," Reality Steve wrote. "And this wasn't casual either. I don't think taking someone to Switzerland in November (which I have pictures of) then dumping her a few weeks later out of the blue (which I have the texts of) is the greatest look."
He continued: "But she doesn't want it out there anymore, she has just started seeing someone new, and I was informed not to run the interview. Sucks, but what can you do?"
Rumors circulating around Peter come a week after Jed's hometown girlfriend, Haley Stevens spoke publicly to People about their relationship leading up to the aspiring musician's role in the reality show.
Stevens claimed that Jed gave her a note prior to leaving for the show: "Haley, you're truly an amazing person," the note said. "Someday we will be thankful for all of this. You know where my heart will be. See you at the dock, J."
Jed has not confirmed the note or their relationship timeline but Stevens went on to tell Entertainment Tonight that he was not a "bad person."
"[He told me,] 'I love you, I'm not going to fall for her,'" Stevens told ET's Lauren Zima at the time. "I don't think he is a bad person ... I don't know what happened there, I don't know if his feelings just changed about me ... I don't think he is a bad person in any of this."
She added: "I never planned to come forward ... I didn't want anything to do with the show ... me coming forward with this story is not in any way negative toward anyone."
"People were saying they were going to tell my story. My story, me, real girl, my real life and I wasn't going to have any control in that," Steven tearfully concluded. "I just didn't seem fair that no one was going to stand up for me."