'Bachelorette' Hannah Brown Reveals She Is 'So Happy,' as Ryan Seacrest Casts His Vote For the Final Man
Prior to Laine Hardy being crowned this year's winner of American Idol Sunday night, Bachelorette star Hannah Brown made a surprise appearance on the show. When asked how she is after the conclusion of the season, the Alabama native revealed she is "so happy."
Spoilers for episode 2 of The Bachelorette ahead.
It had been common practice for the stars of Bachelor or Bachelorette to tease the ending of their season by revealing whether they were engaged or not. This time, however, it looks like the reality show franchise is taking a different approach after Colton Underwood's fence-jumping season. In a franchise first, Underwood nearly resigned following front-runner Cassie Randolph's decision to leave the show, and it seems a proposal at the season's conclusion is no longer a guarantee.
While Brown has said she is ready for marriage, recent contestants like Peter Kraus and Cassie Randolph have said that two months of dates and rose ceremonies are not enough to lead to a proposal.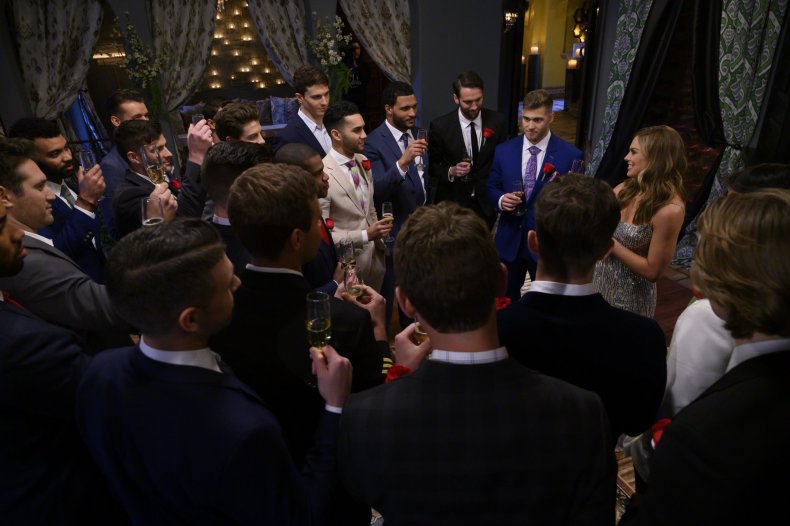 ABC has remained tight-lipped on Brown's relationship status but that didn't stop American Idol host Ryan Seacrest from casting his own vote of his top suitor.
"My vote is for Peter Pilot," Seacrest said to Brown during Idol's finale.
"I'll keep that in mind," Brown responded, laughing.
The Bachelorette returns for the season's second episode Monday night and audiences will get to see Brown's first round of one-on-one and group dates. While it's unclear what the one-on-one date consists of, it looks like Tyler G will get the first chance, according to Reality Steve. The remaining men will take part in a group date that pays tribute to Brown's pageant past, according to Monday's episode sneak peek.
During the "Mr. Right Pageant," guest judges J. Alexander (America's Next Top Model) and drag queen Alyssa Edwards help the men find their inner beauty queen and strut their stuff.
One memorable moment from Monday's group date is season "villain" Luke P.'s love confession to Brown. While many fans took to social media to note their interpretation of Luke's "ingenuine" and "sketchy" statement, it looks like audiences will have to wait until the episode's premiere if his speech landed him a group date rose.
"Hannah, I know that the Mr. Right for you is a man that's gonna love you fiercely," Luke said in a sneak peek clip of Monday's episode. "I've already given you a piece of my heart, but I hope in the future I can give you all of it."
"This is pretty crazy because it's so soon, but I can't hide it," he continued. "I'm genuinely starting to fall in love with you."
Find out what is next for Brown and the remaining men when The Bachelorette airs Monday nights at 8 p.m. ET on ABC.