'The Bachelorette' Just Said It's Hometown Time, But How Will Tayshia Adams Eliminate Everyone in Time?
The Bachelorette just teased Hometown dates for Tayshia Adams even though it may feel like her season just started. In a preview for Tuesday's episode, stand-in host JoJo Fletcher tells the men that their families will meet Adams "next week."
While this seems to imply that this coming Tuesday night won't be made up of the family meet-and-greets, it still might feel like a stretch to some viewers that the Hometowns could be as soon as the December 15 episode—especially since the Bennett and Noah saga hasn't yet been settled.
Last week's episode ended with a wild cliffhanger. Adams was about to enter a cocktail party when Fletcher announced a twist. The Bachelorette had to meet with Bennett and Noah for a spontaneous two-on-one, in an attempt to eliminate the drama from the house.
Though fans saw Noah receive a "gift" from Bennett, including a book on "emotional intelligence," they have yet to see Adams react. The episode ended with the Bachelorette asking what was in the package, and Bachelor Nation didn't hold back on memes about the moment. (If you want to know who will go home, we have spoilers here.)
But if the Hometown dates are indeed coming soon, then that means Adams will presumably be eliminating a lot of men come Tuesday's episode. Either Noah or Bennett is expected to leave after that cliffhanger, but a formal rose ceremony will follow, too. That will help Adams get a bit closer to her final four, a.k.a., those who will introduce their families to the Bachelorette.
The preview, which was shared by Entertainment Weekly on Monday, only shows a few of the men. Zac C, Brendan, Ivan, Blake, Riley and Ben are on camera, while the other remaining suitors don't appear. Of those six, two will be expected to go home ahead of "Hometown Week."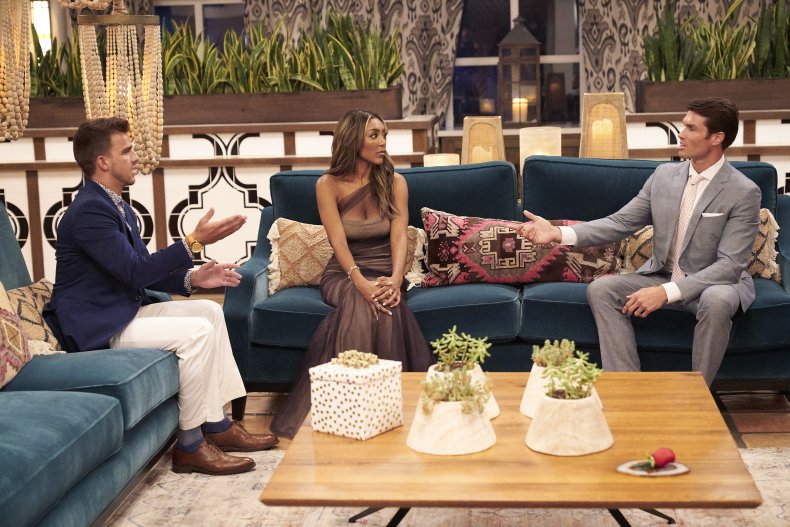 That also seems to imply that the other men won't make it through this Tuesday's episode. Neither Noah nor Bennett are pictured and Ed, Demar and Spencer are nowhere to be found, either.
With last week's cliffhanger, it's very possible that Tuesday's episode will show two rose ceremonies. That could explain how seven men would be eliminated before next week.
Either way, it seems pretty quick for Adams to already be identifying a final four. This is likely because of Clare Crawley's start to the season, too, which ate up three-and-a-half weeks of air time. Adams entered her season with a reduced number of men, and things look to be getting real serious real soon. Eliminating seven men in one episode is no small feat, should that be how Adams' week goes.
"Hometown Week" on Season 16 will look a bit different from past seasons. Due to COVID, all Bachelorette filming took place on-site at La Quinta Resort and Club in California. That means each family will travel to the Bachelorette set in order to meet Adams. Drama is expected to ensue as it does each season when families get involved. But viewers will have to wait a little bit longer to see which four Adams will bring to the Hometowns.