'The Bachelorette': How Katie Thurston Made Rose Ceremony Most Brutal Ever
The Bachelorette is built around those dramatic rose ceremonies, where the main contestant chooses her favorites out of those remaining. This year, however, Katie Thurston has decided to flip it into something slightly different.
We break down the most recent episode of The Bachelorette and what Thurston did so differently.
How Katie Thurston Made Rose Ceremony Most Brutal Ever
The Bachelorette ends each episode by choosing some men from the pack to be the favorites, who will stay another day in the house.
With most reality TV, the drama comes from those being sent home, with the focus on the leavers rather than those who last another day.
In The Bachelorette, the focus is on those who remain, meaning those who leave are barely mentioned and just skulk into the moonlight, with no rose in hand.
However, Thurston decided this time, she wanted one particular man to be the target of her disappointment, adding an extra measure of humiliation to the ceremony.
Thomas Jacobs had been the focus of some major drama throughout the episode, causing Thurston some real heartache with his two-faced antics.
Jacobs' story was clearly coming to an end after he admitted he came on the show to grow his platform during an honesty-themed date, which then worsened.
Afterward, he openly admitted to the group he would consider going on The Bachelor after leaving The Bachelorette, which certainly doesn't suggest a search for true love was foremost in his mind.
In the end, he did try to make amends by telling her he was falling in love. Some suggested this was a ploy, as he had already referenced his "red flags" to Thurston as well, without specifying what these might be.
Thurston certainly believed these red flags could be him being completely false, and she agonized over how she had hoped to bring him to her hometown.
Her upset was clear, as she cried over what to do when it came to the rose ceremony.
However, when that ceremony arrived, she was ready to do some damage, and called everyone's names.
She had one rose left, and the other contestants were concerned it would go to the schemer, but they were wrong.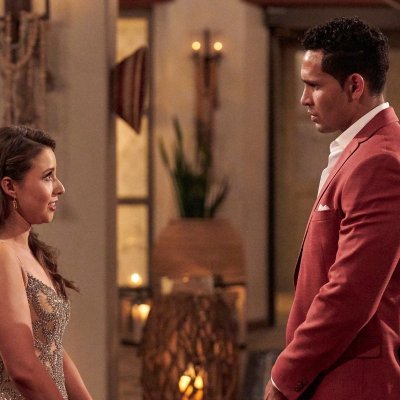 Thurston called Jacobs' name, and he leaped from his seat, believing his damage control worked.
However, Thurston stepped away from him, looking at the floor, before announcing how his deceit had cost him his place in the house.
She commanded him to leave, meaning not only did he not receive his rose, but he also got a full-on talking-to by The Bachelorette herself.
This brutal approach shocked the other contestants, perhaps making them realize Thurston is not to be messed with.
Her final rose, though she didn't hand it out, went to new boy Blake Moynes.