Ever since being on a part of the Bachelor franchise meant instant social media fame, its created a worry among contestants on the reality dating show for that people are there for the wrong reasons.
Since night one of Hannah B's season, numerous contestants have shown that their reason for coming on the show has not been finding true love. In recent weeks, it has been rumored that sweet-faced frontrunner Peter Weber may be more like "wrong reasons" Jed than Bachelor Nation initially thought.
Allegations of Peter simultaneously dating a woman while auditioning for the show first came to light on June 24: "[Peter] auditioned for this show while simultaneously dating one of my best friends and begging her to move in with him," Twitter user @j_may13 wrote.
Now, more recently, the "best friend" has been identified as Calee Lutes and has spoken out about her relationship with the Bachelorette contestant.
Speaking to Entertainment Tonight via e-mail, Lutes described her relationship with Peter as "very serious," with consistent conversations of the future and living together.
"Peter and I met through a dating app in June of 2018. I live in Atlanta, and he lives in L.A. He had just been hired by Delta, so he was in Atlanta for a month for training. We hit it off and decided to continue dating long distance after his month was up," Lutes prefaced. "We were very serious. He told me he loved me for the first time in October, and we talked almost every time we saw each other about how we were going to make it last long term. He wanted me to move out to L.A. to be with him, and he wanted us to get an apartment together."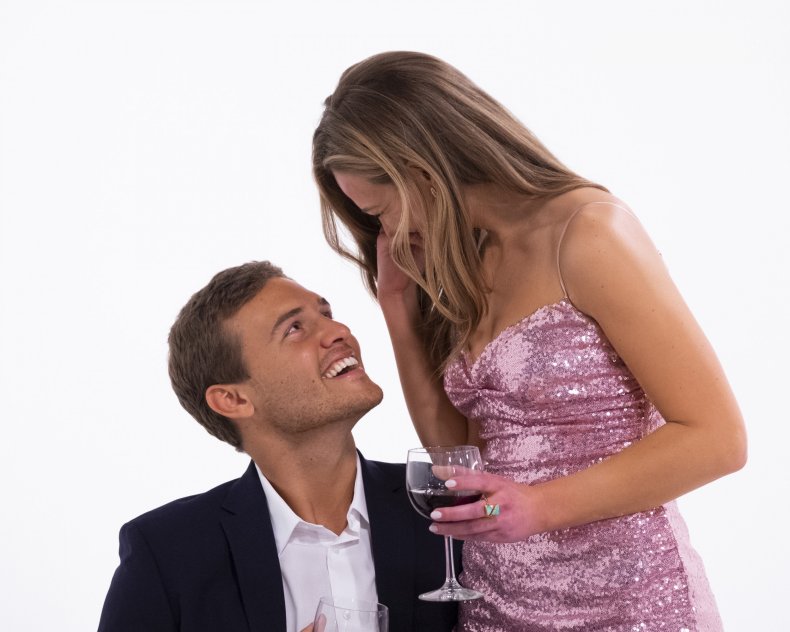 Lutes went on to say that things leading up to their unexpected breakup were "normal." From visiting each other for multiple days to talking about houses and children, Lutes said she was completely "blindsided" after Peter broke up with her just a few days later.
"We FaceTimed and he said that we should end our relationship before it got even more serious. He didn't really have a reason why," she said. "I was devastated and completely blindsided. I didn't understand why it was so urgent to end things so suddenly."
"I thought there was another girl, so I looked at his recent followers on Instagram, and noticed that a Bachelorette producer had recently followed him," Lutes continued. "I didn't think much of it at the time, but I knew there was something he wasn't telling me."
The Georgia-native went on to say that Peter subsequently erased every trace of her from his Instagram page. While deleting photos of a past relationship isn't completely out of the ordinary, Lutes was surprised to find he had gone so far as deleting tagged photos, likes and even comments between the two.
After finding out from a family member that Peter was a confirmed contestant on the show, Lutes knew right away that being a part of the show was the true reason for the sudden breakup.
"He absolutely betrayed me," she told ET. "He interviewed for a reality dating show while simultaneously planning a future with me. I trusted him entirely and he pulled the rug out from under me."
She concluded: "He definitely didn't go on the show for the right reasons. I believe he went on it for the chance at fame, and he got what he wanted."
Peter has yet to comment on Lute's allegations, but with the "Men Tell All" quickly approaching, could we suspect host Chris Harrison to address of the hometown girlfriend rumors? Unfortunately, only time with tell.
Find out what's next for Hannah and her remaining suitors when The Bachelorette airs Monday nights on ABC at 8 p.m. ET.