'The Bachelorette': Where Are the Hometown Dates—And How Far the Final 3 Live From Katie
The 2021 season of The Bachelorette is nearly at its end, with Katie Thurston left with only Blake Moynes, Greg Grippo and Justin Glaze to choose from on the ABC series. Hopefully for Katie, the hometown dates will make it easier for her to make a decision.
Those hometown dates, however, highlight a major roadblock for any relationship she finds herself in after filming wraps. Katie is a West Coast woman, while all three remaining suitors are on the East Coast or (in Blake's case), Canada.
Here's everything you need to know about where this year's hometown dates are set to take place—and exactly how far Katie lives from Blake, Greg and Justin.
Where Are the Hometown Dates on 'The Bachelorette' Season 17?
All the contestants are in a COVID-19 filming bubble that they are not allowed to leave – remember when Kate revealed after the boys played Bash Ball that if someone had to go to the hospital they'd have to leave the show?
As such, hometowns will be a little different than is usual in The Bachelorette.
The new format will still be familiar to those who watched Matt James' season of The Bachelor. Katie will not go to the hometowns of Blake, Greg and Justin, but instead their families will come to New Mexico.
We saw this in a preview posted on the Instagram page. In this, we see the final three's families descending on the hotel the show is filming in, with each of the men shown having heart-to-hearts among the Pueblo-inspired interior of the Hyatt Regency Tamaya Resort & Spa.
View this post on Instagram
The show has done a little to bring a little regional flavor to the proceedings. The teaser saw Katie posing next to a sign for Baltimore, Maryland, where Justin lives, while a teaser image for the hometowns episode sees Blake and Katie smiling in matching Maple Leaf hockey shirts.
How Far Do 'The Bachelorette' Final Three Live From Katie?
Prior to the show, Katie worked as a bank marketing manager in Renton, Washington. This puts her 2,400 miles away from the nearest of her hometown suitors (all hometowns courtesy of ABC's contestant bios.)
Blake Moynes - Hamilton, Ontario. Distance from Katie: 2,437 miles (37-hour car ride, 17-hour connecting flight).
Greg Grippo - Edison, New Jersey. Distance from Katie: 2,845 miles (42-hour car ride, five-hour direct flight). Greg's LinkedIn says he works in New York City, 2,867 miles away from Katie.
Justin Glaze - Ellicott City, Maryland. Distance from Katie: 2,752 miles (40-hour car ride, five-hour direct flight). Justin's LinkedIn says he works in Baltimore, 2,764 miles from Katie.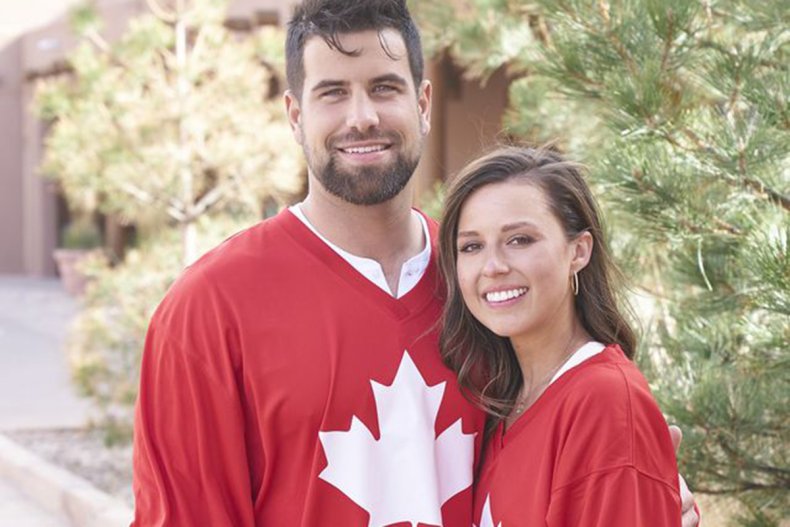 The last contestant on this year's Bachelorette who lived on the West Coast was Arizona resident Mike Planeta, who came sixth.
The prospect of having to keep a relationship working long distance may not be the only problem Katie has to face in her last few episodes. A preview for the next episode features plenty of tears from the Bachelorette, and ends with her asking co-host Kaitlyn Bristowe to book her a flight home.
The Bachelorette Season 17 airs Mondays at 8 p.m. ET / 7 p.m. CT on ABC. Episodes are available to stream from Tuesday mornings on Hulu.
Newsweek has affiliate partnerships. If you make a purchase using our links, we may earn a share of the sale.