'Bachelorette' Spoilers 2018: Everything We Know About Becca's Relationship With Garrett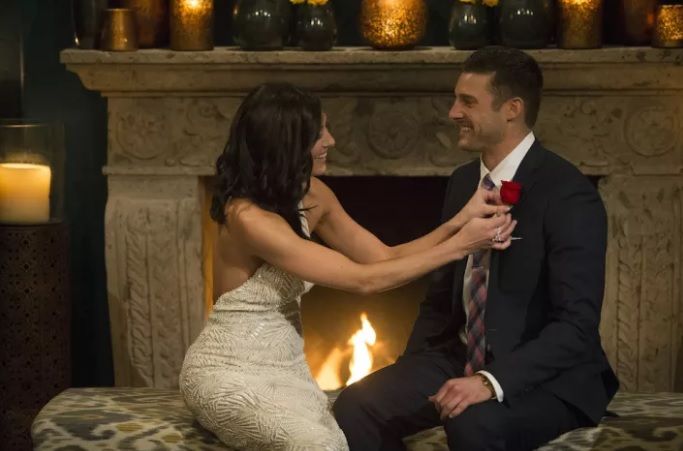 Before Season 14 of The Bachelorette debuted on ABC, there was already controversy surrounding contestant Garrett Yrigoyen, who "liked" controversial images on Instagram. Despite his social media habits, he became a frontrunner for Becca Kufrin, and now he's reportedly made it passed several elimination roads, according to Reality Steve.
Yrigoyen reportedly makes it to episode 4, where he goes on a one-on-one date in Park City, Utah, with Kufrin. They eat at the No Name Saloon for lunch and then go bobsledding with 2006 Winter Games silver medalists Val Fleming and Shauna Rohbock. To confirm Reality Steve's spoiler, he posted multiple pictures from the date that show Kufrin at lunch on March 27. They finished their date at the Granger Smith concert.
In two of the pictures, Kufrin and Garrett are shown sharing a kiss. "Becca and Garrett, sittin' in a tree," the blogger tweeted in March. "Video of Becca and Garrett in their favorite pose - their faces stuck together."
Fans at the concert, who were most likely unaware of Yrigoyen's social media activities, condoned the new relationship. "OBSESSED! There was so much chemistry! They were so cute," one wrote. "I'm obsessed with them!!" another added.
After his social media activity was revealed by former Bachelor contestant Ashley Spivey, Yrigoyen issued an apology Thursday. He created a new Instagram account to share his message.
"To those who I have hurt and offended: This is all new to me. I went on the Bachelorette for the adventure and possibility of falling in love, not fame. I did not know what to expect once the show aired. I am sorry to those who I offended, and I also take full responsibility for my 'likes' on Instagram that were hurtful and offensive," he said. "garret_yrigs12 was my former Instagram handle and I decided to take it down and start fresh because I have learned an extremely valuable lesson and am taking steps to grow, become more educated, and be a better version of myself. I am not perfect, and I will never be anywhere close, but now I will always be more informed and aware of what I am liking and supporting, not just on Instagram, but in life."
Yrigoyen's new page has since been removed.
Previously, Kufrin told E! News she hadn't been paying attention to the controversy surrounding her frontrunner. "I've heard a little bit about it these past couple days," she said last week. "I've just been so busy traveling around the country with press that I haven't really been able to read too much up on it, but everyone is entitled to their own opinions, and at the end of the day I wanted to go on this journey to open up myself and have people see my love story unfold, and I would hope that they would stay open and respect me but also stay open and respect these 28 guys that went along on the journey with me."
To see all the drama unfold, don't miss The Bachelorette when it airs at 8 p.m. ET on ABC.