'The Bachelorette' Spoilers: Tayshia Adams First Impression Rose, Final Four, Final Two and Engagement
Updated 12/14/20 at 3 p.m.: Reality Steve released new spoilers on Monday that claim his original final two spoilers were incorrect. Adams' final three men will be Ivan, Zac C. and Brendan, according to the update. Who will win the season, and if Adams is engaged, is currently unknown. For Reality Steve's full spoiler update, click here.
_____________________________________________________________________
Tayshia Adams is taking over, and her half-season of The Bachelorette is slated to be a wild ride. She'll enter the show after Clare Crawley leaves with contestant Dale Moss, and you may be shocked when it comes to the dramatic moments left to unfold.
Vocal viewers have already slammed Season 16 for Crawley's storyline. It doesn't seem to be Crawley's fault; most of that should lay on ABC's shoulders as they chose to give the Bachelorette a villain edit. But that hasn't stopped Bachelor Nation from praising the idea of a new Bachelorette, even four episodes into the season.
Spoilers for Adams's run just became available on Wednesday via Reality Steve, and there are some things about it that remind us of Peter Weber's season end. Yes, we know that sentence may be triggering to a very weird, frustrating part of 2020. But hear us out.
Adams has some moments that will make for a really interesting storyline.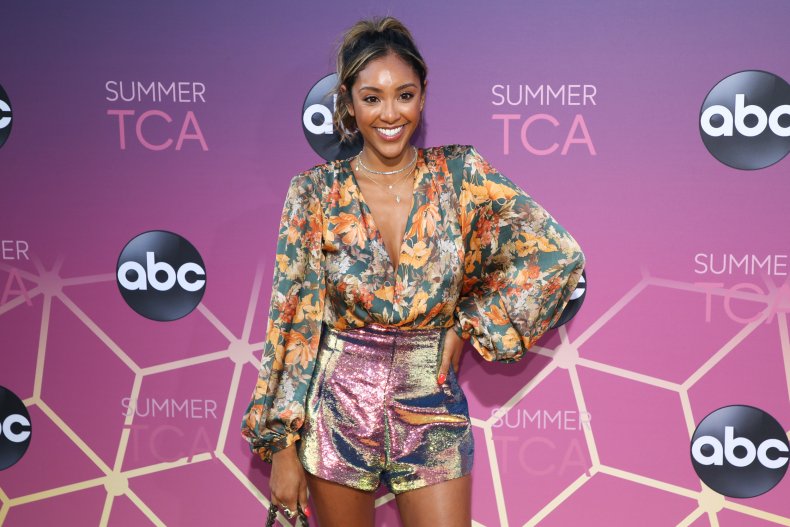 Reports of who Adams gave her first impression rose to have been available since August. Reality Steve revealed Adams chose someone named Spencer Robertson, a man who didn't meet Crawley. Usually, the first impression rose solidifies a spot toward the end of the season. Many first impression rose recipients have even gone on to win the season. But not Spencer. The man didn't even make Adams's final four.
Instead, Adams's final four will be Ivan Hall, Zac C., Brendan Morais, and Ben Smith.
Around the final four is when Adams's end-of-season drama pours in. It's unclear how the Bachelorette will frame it, but Brendan is expected to leave the season. This comes after his family chooses not to participate in the "hometowns" portion of the season.
Reality Steve claimed Adams saw Brendan as the frontrunner, and maybe even planned to choose him at the end. When he left the show, though, he was no longer an option.
Ivan was then eliminated, leaving Zac C. and Ben as the final two in Adams's story. She ultimately gave her final rose to Zac C., though the pair are not engaged. Reality Steve did not detail why Adams decided not to get engaged, or if it was even her decision. They left the show as a couple, but not as an engaged pair.
This will be Adams's third time on a Bachelor franchise series after The Bachelor and Bachelor in Paradise.