'The Bachelorette' Spoilers: Will Bennett or Noah Go Home After Spontaneous Two-on-One Date?
The Bachelorette loves a good cliffhanger, even though most viewers don't. Fret not, though, because we have the answers you're looking for.
Tuesday night's episode saw Tayshia Adams entertaining the continued drama between Bennett Jordan and Noah Erb. The first two-on-one date of the season came at an awkward time: in the middle of a cocktail party. In an attempt to squash the drama once and for all, Adams was asked to choose between Jordan and Erb. One would stay and one would go.
But ABC doesn't ever make viewing so simple. A cliffhanger cut off the end of the conversation, meaning Bachelorette fans will have to wait until next week to see which of the men received a rose. Unless you've chosen to read this, in which case we can say confidently that Erb, the 25-year-old COVID nurse, will stay.
Adams chose to send Jordan home, even after he opened up about his broken engagement. Reality Steve reported the decision in his Episode 8 spoilers post on Tuesday morning.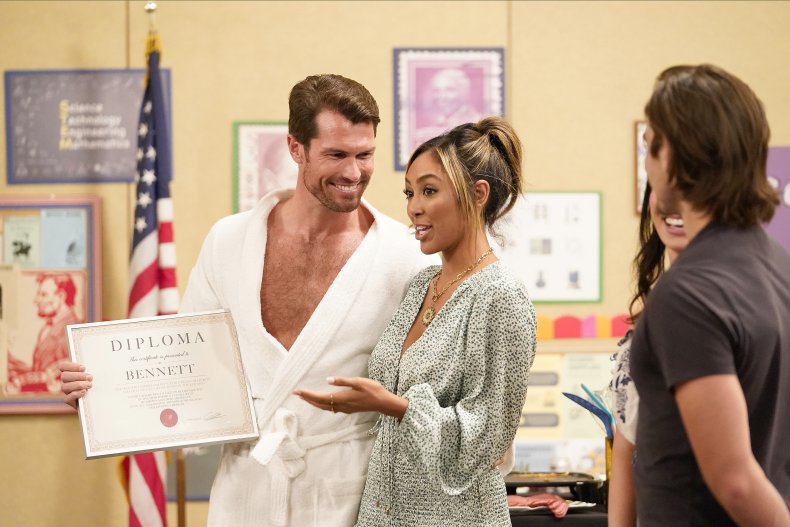 Drama sparked between Jordan and Erb two weeks ago on the series. Jordan was part of a wrestling group date, which saw the men literally "fighting" for Adams's love. Her cliche line of the evening: she wanted a man to fight for her.
Enter Erb.
Though he wasn't officially on the group date, he hopped a fence into the ring (an ode to Colton Underwood, perhaps?) to show off his own fighting skills. Naturally, this made many of the men mad.
But it gets worse. The men were upset that Erb encroached on the date, which he wasn't invited to. But Adams was impressed. She asked Erb to attend the post-date party, another place he wasn't supposed to be and gave him the group date rose. From stealing time with Adams to stealing a rose, the men saw Erb as immature for putting his own interests ahead of the group.
Since, multiple volatile conversations have unfolded in the house, all of which claim Erb is too young and rude for Adams. The Bachelorette disagrees, though, as viewers have seen. Her decision to keep Erb another week further solidifies that Adams has feelings for the nurse, regardless of the views of the other suitors.
Jordan is both loved and hated by viewers who tend to laugh at his mannerisms. The Harvard grad's editing puts most attention on his college degree.
The Bachelorette will next premiere Tuesday at 8 p.m ET on ABC.