'Bachelorette' Spoilers: Will Bennett Return After His Love Confession?
Well, Bachelor Nation, it seems the Bennett and Noah saga hasn't ended, even though viewers are begging for something new. Bennett returned to Adams at the end of Tuesday night's episode and confessed his love for her, but in true Bachelor fashion, we won't know what the Bachelorette thinks until next week.
Reality Steve teased a cliffhanger involving Bennett and his decision to tell Adams he loves her on Tuesday morning, but fans will have to wait until next week to see the final outcome.
To recap: Tuesday night's episode of The Bachelorette began with a two-on-one date with Bennett and Noah. Bennett had gifted Noah a book on "emotional intelligence." Adams decided to give the rose to Noah, despite Bennett's claims the 25-year-old COVID nurse wasn't mature enough for the Bachelorette.
So, Bennett was sent home...or was he? The episode continued on with some emotional storylines before Adams ran into Bennett again. Though he was eliminated, Bennett asks to talk to Adams and confesses his love for her. Enter another cliffhanger: how will Adams respond?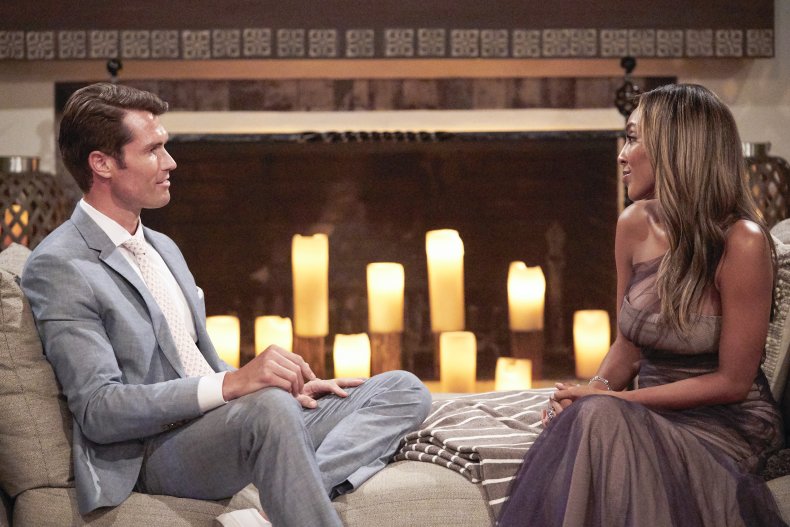 Frankly, it's fair to say fans are sick of Bennett and the thousands of mentions of his Harvard degree. Even before Tuesday night's episodes, the man was the subject of a list of Internet memes, some mocking his own demeanor and others poking at the drama between Bennett and Noah.
It turns out, though, Bennett won't be staying on The Bachelorette. While the cliffhanger serves to extend his time in the spotlight a bit more, Adams will not have a relationship with Bennett again. And to be precise, she won't have a lasting relationship with Noah, either.
By next week's hometowns, the Bennett/Noah saga will die. Adams will eliminate both men and will not meet either of their families. That means the show's drama will finally shift to a new storyline, one that doesn't grapple with immaturity and petty digs.
Instead, Adams will face one man's decision to leave the show after his family does not show up for hometown dates. For more information on those spoilers, and Adams's finale pick, you can read our post here.
Adams will have to eliminate a total of seven men in the next week to reduce her total to four. Tuesday night will see four men leave with three more apparently eliminated next week. The Bachelorette will air two episodes next week, one Monday and one Tuesday. The first will be the Men Tell All episode, which Reality Steve noted should come after the final three eliminations so those men can be featured.
You can catch the next episode Monday at 8 p.m. ET on ABC, with a second episode the same time on Tuesday.