'The Bachelorette' Spoilers—Here's Who Tayshia Adams Will Give Her Final Rose
Updated 12/14/20 at 3 p.m.: Reality Steve released new spoilers on Monday that claim his original final two spoilers were incorrect. Adams' final three men will be Ivan, Zac C. and Brendan, according to the update. Who will win the season, and if Adams is engaged, is currently unknown. For Reality Steve's full spoiler update, click here.
____________________________________________________________________
Tayshia Adams is about to feel the heat of being the Bachelorette, and may even fall in love with multiple men. On Tuesday night, Adams and her remaining 12 candidates will go on a series of dates that, ultimately, lead Adams to realize how strong her feelings can be for more than one person.
A press release from ABC teased the idea of Adams falling hard for multiple suitors, but that doesn't mean she won't choose one in the end. Adams's relationships may be more dramatic than expected, though, including strong feelings that may not be reciprocated.
While Adams has connected with many of the men, she'll apparently face an unrequited love or at least love with a man who isn't ready to commit. Spoilers from blogger Reality Steve revealed Adams fell hard for Brendan Morais, but he won't stick around to see the relationship through. Though the pair bonded over their divorces, Morais is expected to leave the series in the final days, even after Adams may have decided he had her heart.
Morais won't get Adams's final rose, as he'll leave the season himself. But Adams will still hand the flower to one suitor at the end, ring or not. Zac Clark, someone else with who Adams had an early connection, is her ultimate choice at the end of Season 16, according to Reality Steve.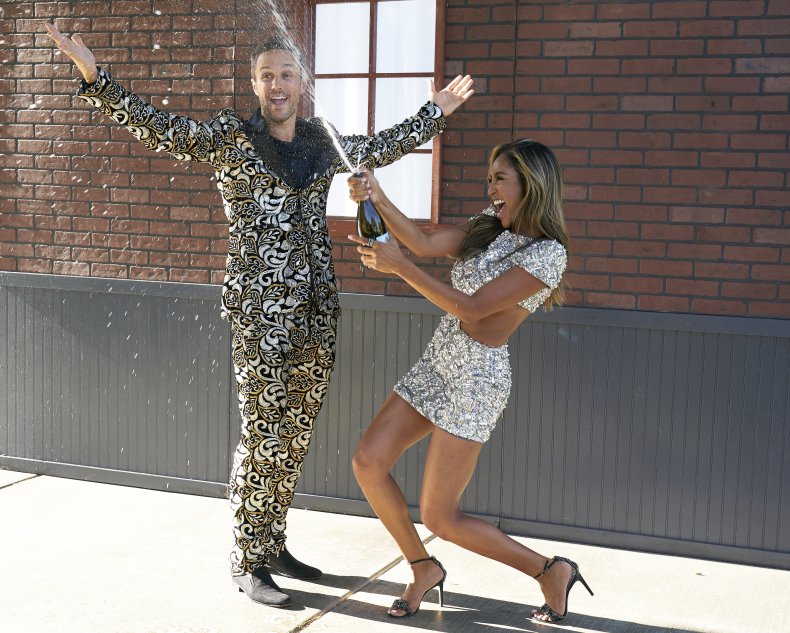 That being said, Adams and Clark are not expected to be engaged at the end of the series, If that's changed since filming wrapped is unknown. Clark received and accepted Adams's final rose, but the pair were not engaged.
Like it or not, the lack of engagement at the end of Season 16 means Clare Crawley and Dale Moss's love story at the start may have been the most romantic part of the 2020 season. Crawley and Moss left the show together after just a few days of Crawley as the Bachelorette. They were engaged after what Reality Steve claimed was 12 days of filming, and are still happily together.
Many viewers found the quick union to be ridiculous, and said the same for Crawley's reign as Bachelorette, too. She upset the other men on the series after choosing to spend extended time with Moss, so much so that group date time was wasted.
So, if you're looking for a storybook happy ending, it may be time to replay Crawley's engagement. Adams's future is a bit uncertain, but The Bachelorette Season 16 finale may give viewers more insight into where Adams is with her love life now.