'Bachelorette' Star Tyler G. Addresses Allegations Via Bekah M.'s Podcast: 'I Do Not Believe the Information He Has Provided'
The Tyler G. drama looks to be far from over. After being mysteriously eliminated during Monday's Bachelorette episode, Bachelor Nation is still wondering what exactly got him kicked off of the show.
His sudden departure from the show seemed to stem from an anonymous Reddit thread, in which he was accused of spitting on an ex-girlfriend and called an "extreme misogynist." The poster also said two friends from high school had called him the "biggest a**hole douche of all time."
"Posting this from a throwaway account because I'm an active poster and don't want this tied to my account or friends," the Reddit user wrote in March. "The story that most caught my attention involves his treatment of an ex. Apparently, he dated a really sweet girl but they would get in public screaming matches often. The relationship ended horrifically - while in Europe he SPIT ON HER and left."
The Reddit user concluded: "Why are they doing Hannah like this?"
Bachelor alum Bekah Martinez–formerly known as the young contestant on Arie's season–shed some light on the situation during a recent episode of her podcast, "Chatty Broads." Martinez said she "spoke directly" to Tyler G. about the misogynist allegations, but later deleted the segment after not believing the "information he provided."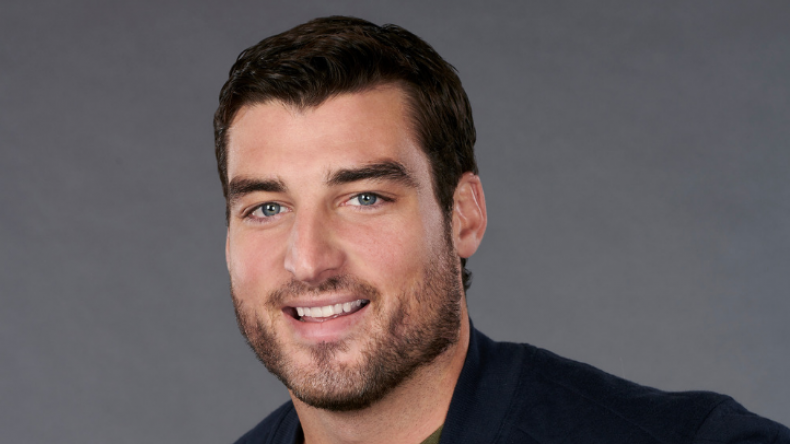 "We have removed a portion of our episode that we initially released early [Tuesday] morning," Martinez wrote on Instagram. "I spoke directly to Tyler, who claimed that the spitting allegations were false, that he removed himself from the show for an unrelated reason, and that ABC looked into the spitting situation and found no further information."
"I can now say with certainty that I do NOT believe the information he provided me," she added. "This morning I spoke with a verified source (who I cannot reveal for privacy reasons). They disclosed that there were additional allegations on top of the spitting incident, and he was subsequently removed from production."
One Reddit user commented on the original thread and said the information was passed to Bachelor alum Ashley Spivey, who still remains in contact with the show's production team.
"I actually DM'd the post to Spivey (I know people on the sub don't like her that much, but she has helped bring attention to a lot of the previous scandals), and she DM'd me back saying that she'll send it to ABC ASAP and to keep her updated if there's anything else that I see that is concerning," the Reddit user wrote. "Hopefully something will be done."
During Monday's episode, Bachelorette Hannah B. simply said Tyler G.'s sudden departure was "unfortunate" and she had really enjoyed their 1-on-1 date the previous week. Hannah, nor Bachelorette production, have addressed the reasoning behind Tyler's G.'s elimination.
To find out what's next for Hannah B. and her remaining suitors, tune in Monday nights at 8 p.m. ET on ABC.