'Bachelorette' Tayshia Adams May Have Spoiled Her Own Show's Ending on Instagram Stories
Bachelorette Tayshia Adams sparked a debate after a Tuesday Instagram story that may have spoiled the end of her season. In a video post that advertised her podcast Click Bait, Adams was spotted wearing a ring that looked a lot like an engagement band.
Spoiler blogger Reality Steve commented on the occurrence in a post on Wednesday and noted crazier things have happened, though it's unlikely Adams is casually sporting an engagement ring before the end of the series. "I don't know if it is or isn't, or if it's a ruse or what," Steve wrote. "But that's not what I've been told all season. So if that's an engagement ring, that's news to me, because as far as I was told, there was no engagement at the end of this season."
He continued: "I can't imagine she'd be that stupid to take a pic with her ring on if she's engaged, but, we've seen people spoil it in the past, so I guess it can't be that unbelievable."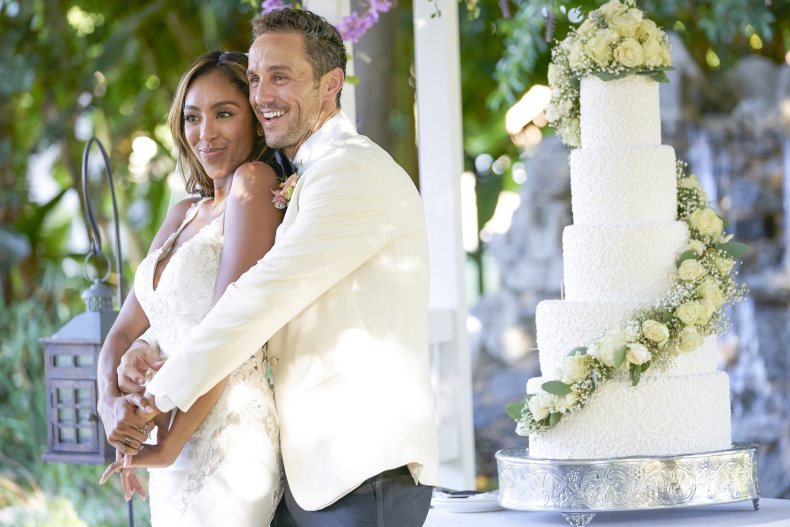 Here's the deal. Bachelor and Bachelorette contestants who do get engaged aren't given access to their Neil Lane diamond until the season ends. Reality Steve revealed they can wear the engagement ring during "happy couple weekends," the secret meet-ups that ABC allows between final contestants before the finale airs on television.
Adams could be having one of the "happy couple weekends" with her final pick, but the spoiler site claims Adams wasn't engaged at the end of her season. That would mean Adams either isn't wearing an engagement ring or she was engaged after filming ended. Still, it would seem irresponsible for Adams to show off the ring online, knowing well that the show works hard to prevent such slip-ups.
Reality Steve wrote the spoilers for Adams's season as soon as she took the role over from Clare Crawley. Adams is supposed to end up with Zac Clark, the addiction recovery specialist, though they didn't get engaged at the end of the season. There's always a chance that turns out to be false, though Reality Steve has an impressive track record of confirming relationships, breakups and more throughout each season.
Adams hasn't commented on the rumors sparked by her flashy ring, though we'll update this post if she brings it up. For now, all we can say is that the Bachelorette has some amazing fashion sense, including the flashy ring in question.
To find out what's really happening in her love life, you'll have to tune into The Bachelorette at 8 p.m. ET Tuesday on ABC.