'Bachelorette' Week 2 Spoilers: Who Gets The First Round of Date Roses and Who is Sent Packing?
The Bachelorette returns Monday night for another dose of sausage parties and Alabama Hannah's search for love. During last week's episode, fans already had to say goodbye to another one-show Joe and lovable Matt Donald. As we still mourn the first eliminations, week 2 is bringing more man drama, roses and—speedos?
Spoilers for this week's episode of The Bachelorette ahead!
Week 2's synopsis reads as follows: "Hannah's search for love is anything but a drag when world-famous drag queens Alaska and Alyssa Edwards, and renowned runway coach Miss J. Alexander (America's Next Top Model), host a pageant for eight hopeful bachelors vying for the coveted title of the Bachelorette's 'Mr. Right.' The stakes are high when one bachelor must overcome his fears and race through the mud on a one-on-one date, while eight others gear up for a hazardous roller derby competition hosted by legendary comedic actor Fred Willard and Chris Harrison."
According to Reality Steve, the "Mr. Right" Beauty Pageant will consist of eight contestants: John Paul Jones, Luke S., Mike, Jonathan, Dylan, Jed, Luke P. and Grant.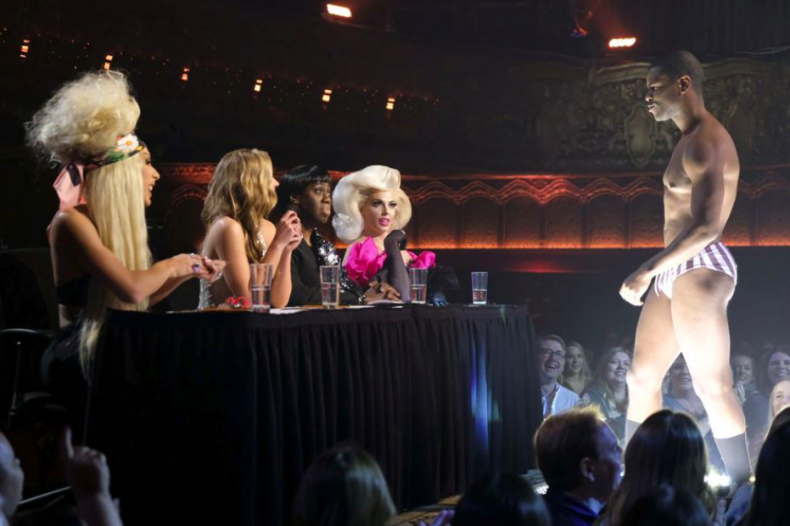 As the men unleash their inner beauty queens, this season's projected "villain" Luke P. reveals he is starting to fall in love with the Bachelorette.
"Hannah, I know that the Mr. Right for you is a man that's gonna love you fiercely," Luke said in a sneak-peek clip of Monday's episode. "I've already given you a piece of my heart, but I hope in the future I can give you all of it."
"This is pretty crazy because it's so soon, but I can't hide it," he continued. "I'm genuinely starting to fall in love with you."
This moment Luke P. has on stage seems to cause a bit of drama amongst the men, who assume his feelings are disingenuous because he has only had "less than two hours with her."
Despite putting his heart on the line, the group date goes to Jed.
Another group date card included 10 more men: Daron, Tyler C., Dustin, Garrett, Kevin, Joey, Devin, Peter, Matteo and Connor J. The men participate in a roller derby race and Dustin somehow gets injured.
It's unclear how he becomes injured, but Dustin gets the group date rose.
Guys without dates this week: Connor S., Cam and Matthew.
At the after-party for this date, Cam shows up and the other guys aren't happy about it. Based on episode promos, it looks like Cam consistently stirs that man-drama pot through his A-B-C motto: "Always Be Cam."
Rose Ceremony Eliminations
Matthew Spraggins
Connor Jenkins
Daron Blaylock
Find out what's next for Hannah and the remaining men when The Bachelorette airs Monday night at 8 p.m. ET on ABC.