'Bachelorette' Week 3 Sneak Peek: Hannah Confronts 'Manipulative' Cam and Talks 'Pity Rose'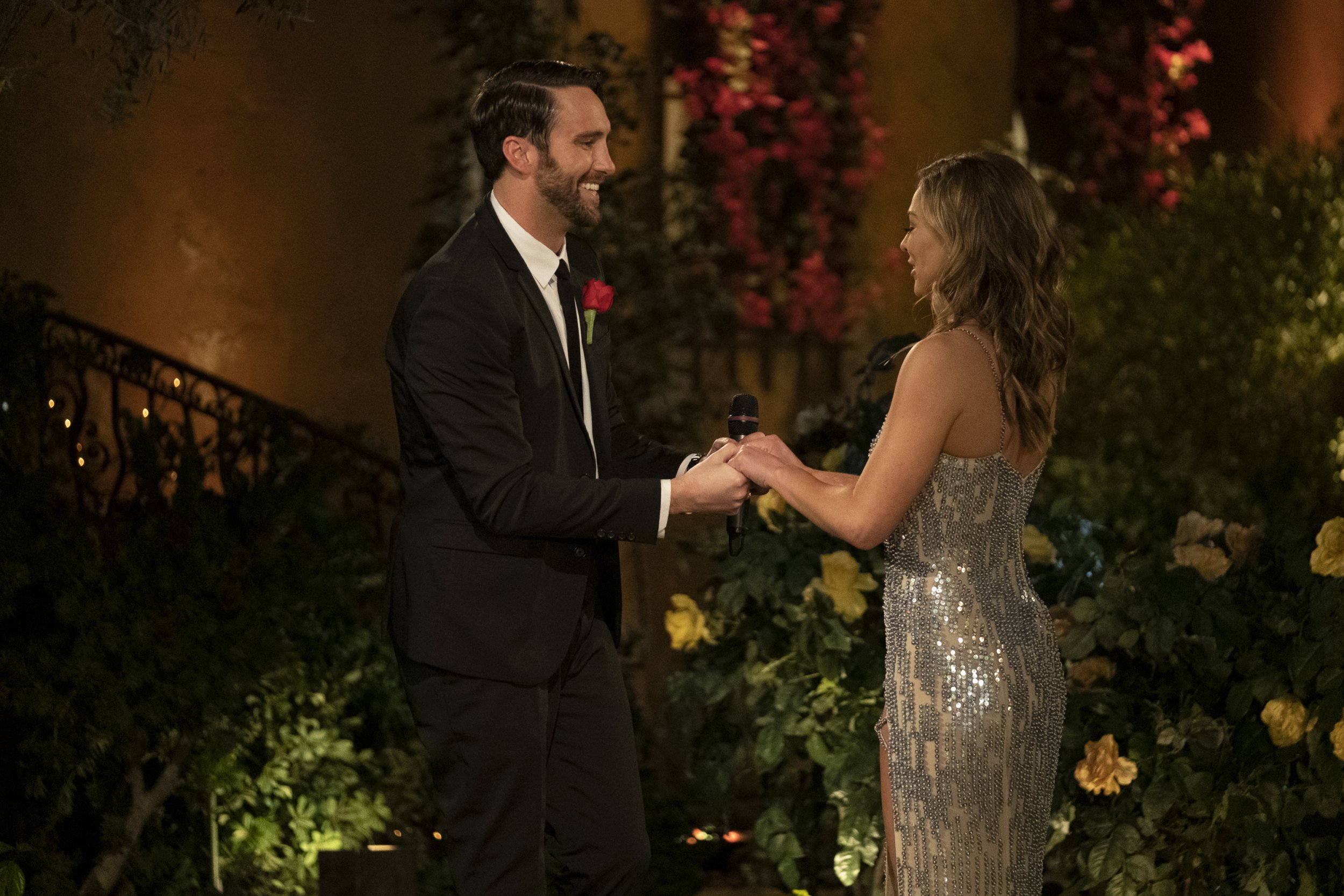 Bachelor Nation is only a few weeks into Hannah Brown's Bachelorette journey and many fans seem to agree that one contestant needs to pack his bags and leave the mansion.
Cam Ayala, the 30-year-old software sales rep from Texas whose too-frequently repeated motto is "A.B.C.: Always Be Cam," should probably change that to "Always Be Crashing."
He not only crashed his way into a group date on which he hadn't been invited, he then crashed another contestant's private time with Hannah during the weekly cocktail party, where he fed the Bachelorette Chicken McNuggets. To top it all off, he crashed a a toast with the other men by shouting "to Hannah Ayala."
Putting it bluntly, he's rubbed everyone the wrong way, it looks like Cam's tactics may finally catch up to him.
In a sneak peek of this week's new episode, Hannah confronts Cam on being "manipulative." While the background of this particular confrontation is still unknown — the show's editors are masters of misdirection — the Bachelorette speaks of a conversation with crowd-favorite Mike where a "pity rose" was mentioned.
"I was told [by Mike] that you thought you were going home," Hannah says to Cam. "I feel like it's an interesting time for you to bring up this story."
"I did want to make it clear to guys that I had something very serious to talk about with you," Cam responds.
"Well, I heard a pity rose," She fires back. "What you told me is very serious but it feels manipulative."
Whether the "story" that Hannah mentions is of Cam's past or what is currently happening in the mansion isn't clear, but it does look like Cam's intentions are starting to be questioned.
The 30-year-old's tactics during last week's episode were not only questionable but completely cringe-worthy. The sales manager looked like he was spiraling out of control after not being named on the first round of date cards, claiming he was starting to feel "cooped up" in the mansion.
"I'm feeling very disappointed right now," Cam said. "I'm not on the date today. I've been cooped up in this house for a couple of days now, and while I'm cooped up in the house, there are other guys forming relationships with Hannah."
He continued: "Now I'm obviously more motivated than ever to go and create time with Hannah and be bold, because, as I always say 'A.B.C.: Always Be Cam."
Since Cam's debut of his motto, Twitter began creating their own rendition of the annoying phrase to reflect their true feelings about the Texas-native.
While Cam is generally considered to be one of the more annoying contestants on the show, Bachelor Nation has also begun to question another contestant's motives. This season's proposed "villain" is none other than early-love-confessor Luke P. The 24-year-old did get Brown's first impression rose—which has sometimes gone to the eventual winner in past Bachelorette seasons—but audiences are not convinced that Luke is the one.
After confessing his love to the Bachelorette during last week's "Mr. Right" pageant, many began to wonder if he said the L-word just to get ahead in the "competition." It hasn't been made completely clear whether Luke's feelings come from a genuine place, but we can only expect that drama will unfold in true Bachelorette fashion.
Find out whether Cam and/or Luke get a rose from Brown when Bachelorette airs Monday night at 8 p.m. ET on ABC.