'The Bachelorette': Who Is Spencer Robinson and What Role Does He Play in the First Impression Rose?
Some viewers may be shocked to learn that a new man on The Bachelorette will win Tayshia Adams' first impression rose on Tuesday night. In addition to the men who got to meet Clare Crawley, Adams' part of the season will add a few more fellows. And one of them is the star of Tuesday's cocktail party.
The first impression rose is the first rose given on any Bachelor or Bachelorette season. It signifies an instant connection between the lead and one of their contestants. Often, the first impression rose recipient wins the series or at least becomes one of the final competitors.
Adams will give her first rose to Spencer Robertson, a man who didn't meet Crawley. It appears he'll be introduced on Tuesday. Adams teased the entrance of a few more men in a conversation with Entertainment Tonight. Apparently, the new man may stir up some drama. "There's some new faces and it's going to get really juicy the second that happens," Adams said. "Just wait and see."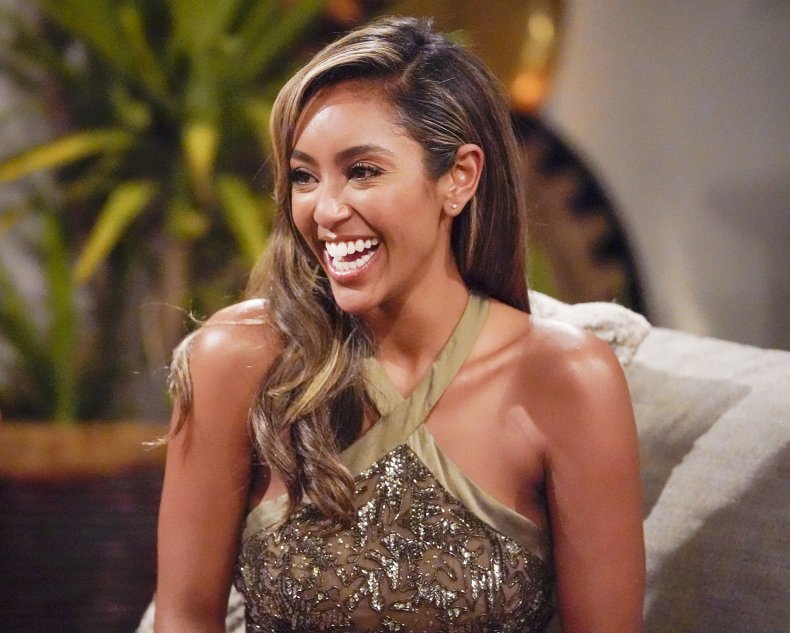 Robertson's addition to the series was first acknowledged in July by spoilers blogger Reality Steve. The 30-year-old's social media was shared on Twitter. From his LinkedIn, it appears Robertson is a Water Treatment Engineer in California. The company he works for as a general manager, Robertson Water Treatment, bares his last name.
Before he officially appeared on The Bachelorette, as of Tuesday morning, Robertson only had 4,349 Instagram followers. His social media is full of photos of himself with friends, and he clearly has an appreciation for sports. Robertson is an Oregon Ducks fan.
Viewers will have to wait to see if Robertson makes it to the final four, final two or even ends up with Adams in the end. If you just can't wait to know what Adams's love life looks like after the show, you can read up on it here.
There's no telling what kind of drama will follow Adams this season, but it's likely to be much different from Crawley's storyline. The first Bachelorette left the show engaged to Dale Moss after just two weeks of filming.
Adams, on the other hand, confessed to falling in love with multiple men on the show. "I didn't know it was possible to fall in love with multiple people," she told Entertainment Tonight. "But when you just really lean into the journey and really be vulnerable, you never know what can happen. And it happened to me."
You can watch Adams's first cocktail party at 8 p.m. Tuesday on ABC.