'Bachelorette's Chad Johnson Arrested After YouTuber Girlfriend Posts Video, Claims He Threatened Her
Chad Johnson was arrested Monday morning on a charge of domestic violence, according to TMZ. The former Bachelorette contestant, known for angry outbursts, allegedly got physical during a fight with his YouTuber girlfriend Annalise Mishler.
The arrest, which took place in Los Angeles, came a day after Mishler posted a video on her Instagram. The video shows a hole in the wall that was allegedly caused by Johnson and on which one can hear a man—whom Mishler claims was Johnson—screaming at her to "f****** die."
Johnson was a contestant on Jojo Fletcher's season of The Bachelorette in 2016. He later appeared on Bachelor in Paradise Season 3 in 2016, but he was removed from the show because of offensive behavior.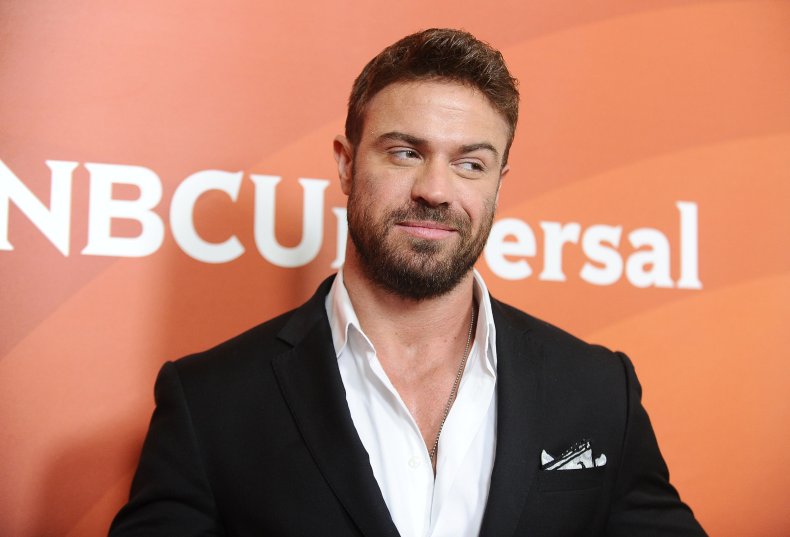 Mishler claimed Johnson had been sober for around 50 days, but he then drank alcohol, which prompted the Sunday night altercation. Later in the video, which was uploaded to Mishler's Instagram story and saved by TMZ, an unseen man is heard saying: "I'm scaring you? Really?" Along with banging on the locked door, "I hope you f**king die," is heard.
The video shows no physical altercation, but TMZ reported that, during Monday's arrest, there were visible red marks on Mishler's face.
In addition to the domestic violence charge, Johnson was also charged with robbery, as Mishler claimed he took her phone as she attempted to call 911, TMZ reported.
Bachelorette viewers know Johnson's demeanor well. Some were unsurprised by the news, including Twitter user @WhimsicalMeToo who reposted the news of his arrest with the comment "Chad being Chad..."
Mishler updated her Instagram followers on Monday evening with a clarification on the situation. She started by commenting on all of the kind words she'd received. "Things escalated this morning and are being taken care of now," she wrote in an Instagram story text post. "Update soon maybe, I'm being guilted for sharing this/ 'ruining his life' and I know that's not true but it's still scary ya know."
She also posted an update about her cat, whom she'd previously claimed was "traumatized." She noted the cat hid under her bed all day but was doing better.
When Johnson was invited to Bachelor in Paradise, fans were concerned because of his apparent anger problems. Host Chris Harrison addressed the comments in an interview with Glamour in 2016.
"Here's the thing about Chad, [and I know] we're going to catch some heat about bringing Chad back because of the threats of violence and all that stuff," Harrison said. "Chad is not a bad person. People get labeled very easily, and of course on our show…he's the villain, she's the villain, whatever. I don't think life is that simple. Chad is one of those people I find very compelling and interesting."