'Bachelor In Paradise's' Jordan Kimball Is Ready To Move On From Jenna Cooper, But Won't Do So On Dating Apps
Jordan Kimball may be ready to move on, but that doesn't mean he's back on dating apps. The former Bachelor In Paradise contestant boasted about his 4,000 Tinder matches when he first appeared on the franchise, but following his broken engagement from Jenna Cooper, is staying away from online dating.
"Just to take it back to The Bachelorette, I had over 4,000 matches on Tinder, so you know I've always had a way with women," Kimball told Us Weekly on October 13. "[Now] I have no dating apps downloaded. I think I'm going to do this organically and if it's meant to be, it's meant to be."
In September, Kimball told the magazine he's ready for love post engagement. "I'm very excited to open my heart up again—You just have to let that go, let it be the situation it was and then move forward."
Cooper may now be pursuing legal action against Kimball. The pair split after spoiler site Reality Steve posted a set of text messages, which were allegedly sent from Cooper to another man. The romantic texts denounced her relationship with Kimball and claimed she was in the engagement to further her career opportunities.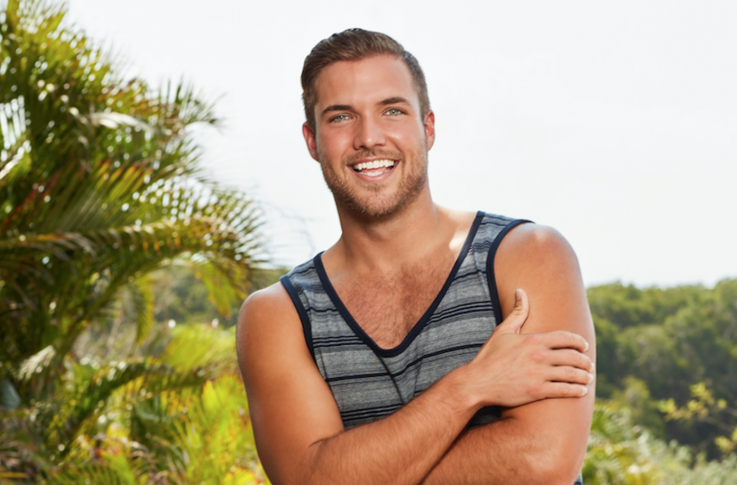 When news of the messages broke, Kimball immediately said they could have been sent by Cooper. "I know my Jenna and I read those texts and in my heart, I know it's her," he told People magazine. "She was saying she didn't do it, but hinting towards the fact that there's a possibility that it happened. In all reality, I don't expect her to own it."
Cooper hired a legal team who conducted a forensic writeup on the texts. According to the forensic report, sent to Newsweek, Cooper's iPhone, iPad and iCloud backup did not hold evidence, deleted or saved, of the texts she claims are fabricated. Cooper's rep, Steve Honig, told Newsweek Cooper is happy she didn't marry Kimball.
"After the cameras stopped rolling, Jordan's demeanor toward Jenna changed dramatically," Honig said. "He let it be known there was only room for one celebrity in the relationship, he was more successful and famous than her, she would never make as much money as him or amount to anything in life. He continues to disparage her to this day, As painful as this has been for Jenna, she is glad he showed his true colors before they were married and began building a life together."
'Bachelor In Paradise's' Jordan Kimball Is Ready To Move On From Jenna Cooper, But Won't Do So On Dating Apps | Culture