'Bachelorette' Fantasy Suite Spoilers: Jesus Still Loves Hannah, But What Does This Mean for Luke P?
Bachelor Nation, you've been patient. After fans sat through two months worth of episodes showcasing Luke P's antics, Monday night may be the moment where we finally say goodbye.
After a cringy Georgia-based hometown date, where his family thanked Hannah B "for putting up with him," the Bachelorette made history by keeping Luke as well as all four remaining men.
For a full recap of last week's episode, click here.
Now, it is time for the fantasy suites. While it is usually implied that the Bachelor or Bachelorette gets intimate with their remaining contestants, fans this season have already learned that Hannah did–twice.
Following last week's preview of Monday's episode, Hannah revealed she "did it in a windmill" two times, which left Luke P fuming.
Though it's still left to speculation on the identity of the windmill man (Twitter is heavily theorizing that it's wrong reasons-musician, Jed) Bacher Nation finally gets the moment producers have been alluding to this whole season–Hannah's "Jesus still loves me" statement.
Reality Steve didn't get into much detail of Hannah and Luke's heated conversation, but the only thing he would reveal was that the Georgia-native is the fourth and final date of the night.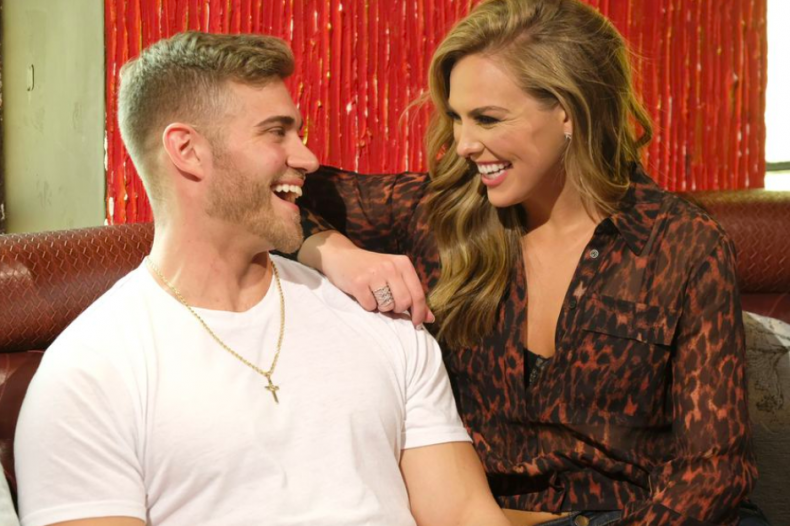 Bachelor Nation is well aware that producers heavily use the magic of editing during previews, so it's impossible to conclude how the conversation exactly went down. It can be heavily assumed, however, that Luke P is (finally) eliminated–thanks to the shot of Hannah flipping the bird toward his car.
Aside from Hannah and Luke's complicated sex talk, Reality Steve didn't seem to dish on what happened on the other overnight dates. Thanks to this week's episode preview, however, we do know that Peter and Hannah enjoy a boat ride (and makeout session), while Tyler C gets a steamy spa day.
It also may be the week that Peter reveals his feelings to Hannah, but is the Alabama-native on the same page?
It also hasn't been revealed what Jed has in store for his date, but it's been shown that he puts Hannah in the hot seat after asking why Luke is still being considered. The details of the aspiring musician's conversation with Hannah is not yet confirmed but could this have helped put fuel in the "Jesus still loves me" flame?
Rose Ceremony Elimination
Peter Weber was sent home during this week's rose ceremony. It's not clear if he does tell Hannah he loves her, but it is definitely evident that his relationship with Hannah was not at the same level as the other two men.
This means that Jed and Tyler C are the remaining men vying for Hannah B's heart. Bachelor Nation, you won't find out the winner for another two weeks but at least you'll have plenty of "Men Tell All" drama to hold you over.
The Bachelorette airs Monday nights on ABC at 8 p.m. ET.