Back-to-back Rallies in Maine, Pennsylvania Monday Mark Pence's 'Aggressive' Campaigning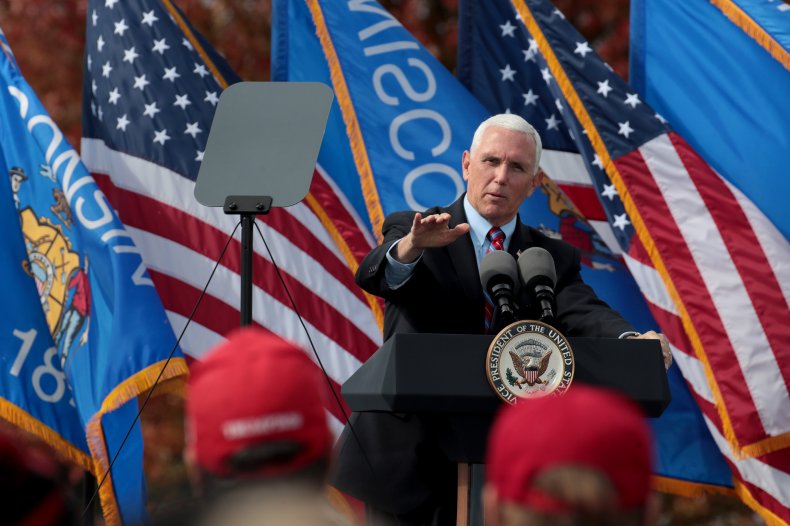 Vice President Mike Pence is setting out on a "very aggressive" travel schedule—hitting seven states in the next six days, as the Trump campaign trails Democratic rival Joe Biden in public polls two weeks out from Election Day.
"I've been traveling all over the country, the president's been all over the country," Trump told an enthusiastic crowd in Maine Monday morning before heading to another event in Pennsylvania in the afternoon.
Pence has plans for two campaign rallies a day nearly every day this week.
"I think it's in stark contrast to what we're seeing out of the Harris-Biden campaign and the limited travel and events that they're doing," Pence's chief of staff Marc Short told Newsweek and other media outlets during a campaign call Monday.
Pence also plans to make joint trips with Trump in the final days of the campaign, Short said.
The burst of direct appeals to crowds of hundreds of people in mass rallies signals the Trump campaign's focus on voter enthusiasm as an indicator of support, rather than polling.
Dale Crafts, a Republican who is running to unseat Democratic U.S. Rep. Jared Golden in Maine, said the enthusiastic crowd there Monday shows the level of support the Trump-Pence ticket has in Maine.
"This right here is the true polls," Crafts told the cheering crowd. "We're all done with the Democrat Party."
Biden's campaign has opted for limited crowds observing strict social distancing because of the ongoing coronavirus pandemic. The campaign also has held "drive-in" rallies, where people stay in their cars to hear from the candidate.
He has no public appearances on his schedule until Thursday night's presidential debate in Nashville, Tennessee, but Biden's expected to get a boost from former President Barack Obama who is hitting the campaign trail.
Trump, who tested positive for COVID-19 on October 2 and was briefly hospitalized but also has set out on an aggressive in-person campaign schedule with two in-person rallies in Arizona on Monday.
When Pence arrived at his Pennsylvania rally site on Monday, the packed crowd of supporters was watching a live stream of Trump's rally on the other side of the country in Prescott, Arizona—cheering and chanting along with the audio.
Taking the stage after the Trump rally was turned off, Pence joked that it was unusual for him to follow the president at a rally. Trump travels to Pennsylvania on Tuesday and Pence is scheduled to return to the state on Friday. Trump narrowly won the state four years ago with 48 percent of the vote—a difference of fewer than 45,000 votes over Democratic candidate Hillary Clinton that year.
"There's never been a day gone by that this president hasn't gotten up and fought to keep the promises that he made to the people of Pennsylvania," Pence said. "Now it's our turn to fight for him."
As children and adults in Pence's back-to-back crowds cheered and jeered on cue, Pence stayed mostly focused on themes of rebuilding the economy, supporting law enforcement and other red meat standard positions against Obamacare, abortion and the Green New Deal that's backed by some progressive Democrats.
"We need to decide right here and right now that Joe Biden will never be president of the United States," Pence said in Maine.