'Back to the Future' 35th Anniversary Blasts Off With New Toys From Funko, Playmobil & More
Great Scotts! It's hard to imagine that Back to the Future took us all on a time traveling adventure 35 years ago. At the time of its initial release, you would be hard pressed to find any toys or merchandise from this film franchise at all. If we only had the DeLorean in our personal possession, then we could have traveled to the future where there would be mass offerings of merchandise just waiting for us.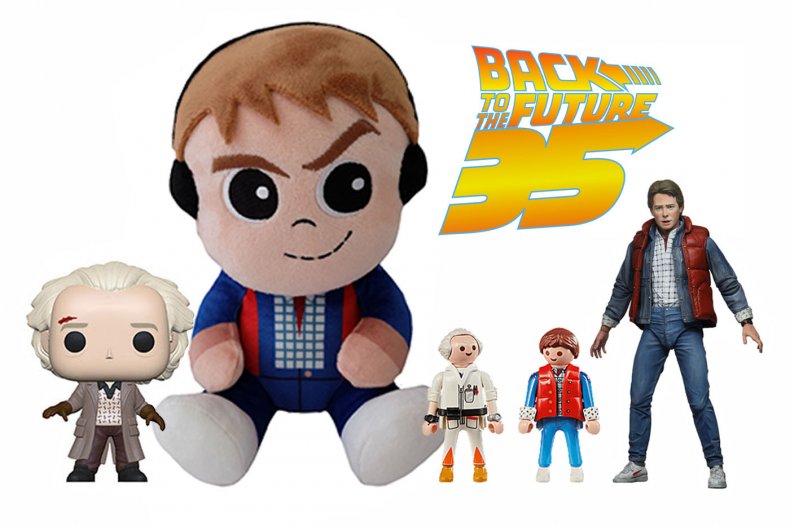 BTTF merchandise has proven to be very popular over the past years and it has come in many forms. If you don't already own the LEGO DeLorean, then are you even a fan? Here's some of our favorite new merchandise coming out in 2020 in honor of the 35th anniversary of this "timeless" classic.
PLAYMOBIL
Back to the Future DeLorean
MSRP $49.99
May 2020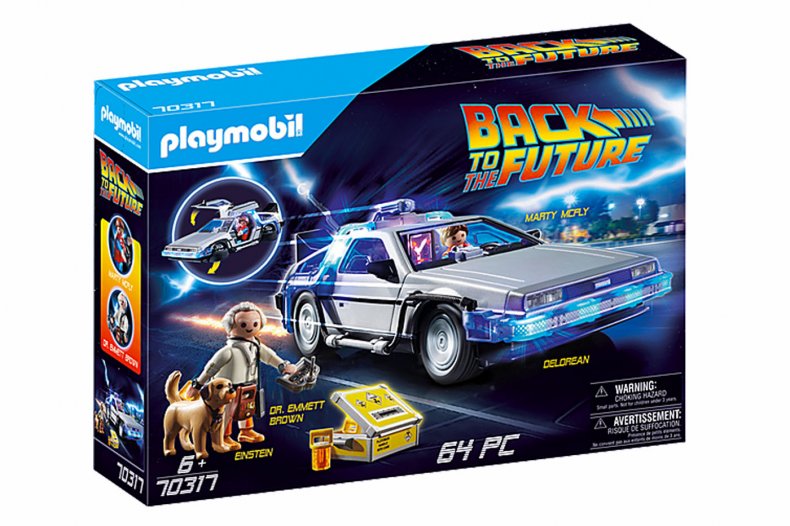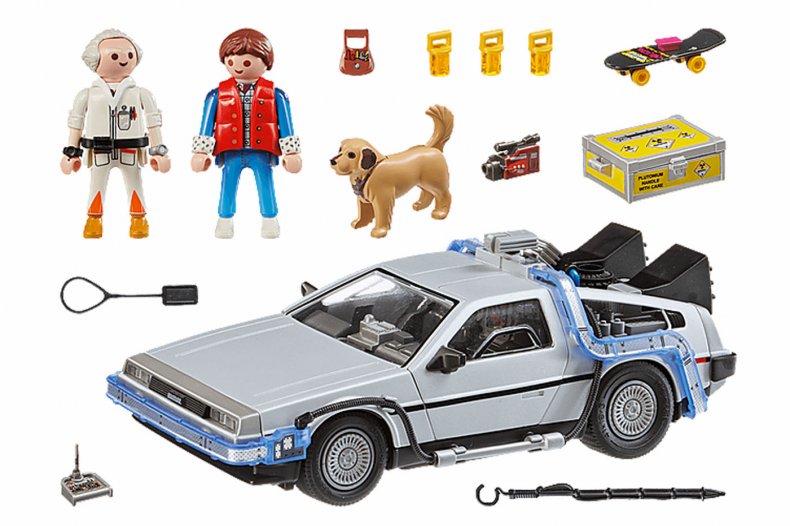 You have to have a DeLorean represented in your collection and Playmobil gives you a wonderful version of the iconic vehicle. So many details and movie specific accessories come along with this ride including an illuminated flux capacitor and doors that open just as a DeLorean should. Not only are Marty McFly and Doc Brown included, but Einstein the dog is there too. Rest assured, that while playing with this toy, the molecular structure of both Einstein and the car will remain completely intact.
NECA
Back to the Future 7" Scale Deluxe Figures Ultimate Marty & Ultimate Biff
August 2020 & September 2020
MSRP $27.99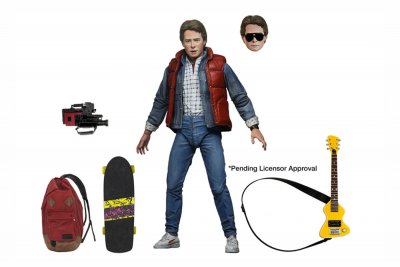 NECA's Ultimate 7" scale action figures come loaded with plenty of highly detailed accessories to help you recreate your favorite scenes from the film. Of course, you need the hero Marty, but don't forget about the consistent bullying of Biff Tannen. Marty comes dressed in his 80s best with his signature vest and is packaged with a camcorder, skateboard, backpack, and a guitar to rock out with. Biff comes dressed to woo Lorraine at the Enhancement Under The Sea Dance as well as carrying the current issue of "Ooh La La" magazine and a copy of Gray's Sports Almanac as seen in Back to the Future Part II. Both figures come with alternate head sculpts and are displayed in window box packaging if you would like to display mint in the box.
KIDROBOT
Back to the Future DeLorean Time Machine Plush
MSRP: $13.99
October 2020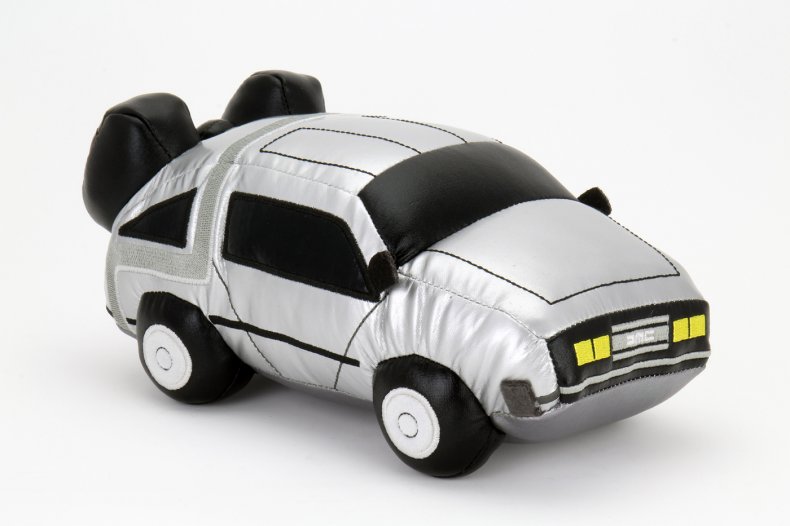 If you've ever thought about hugging a vehicle, then KidRobot will help make this dream come true. The DeLorean is traveling to your arms in an 11-inch high-quality plush variety. Be sure to clutch on tight as you nap your way back to 1985.
Phunny Plush Marty McFly and Doc Brown
MSRP: $11.99
October 2020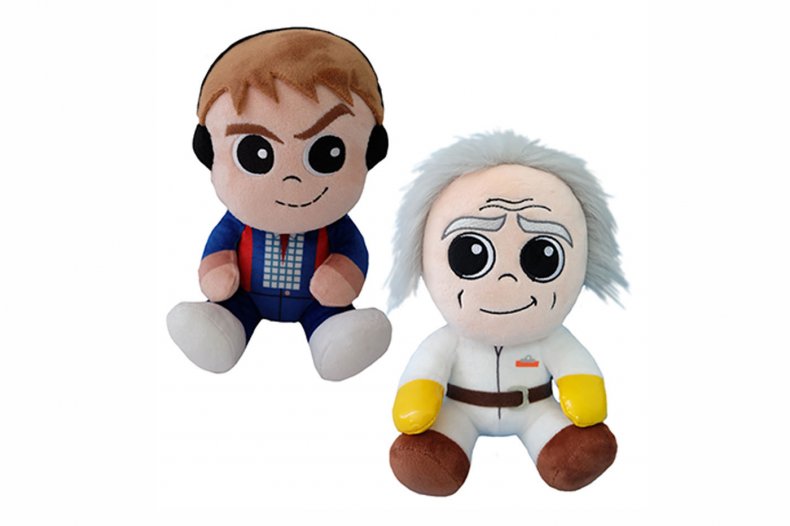 While you're waiting for your plush ride to show up, feel free to bring an 8" squeezable plush Phunny Marty or Doc along with you no matter what year you end up in. Marty comes dressed ready to rock, showing off his headphones while Doc Brown is geared up to test out his next experiment with you.
FUNKO
Back to the Future Clock Tower Pop! Town
MSRP $29.99
June 2020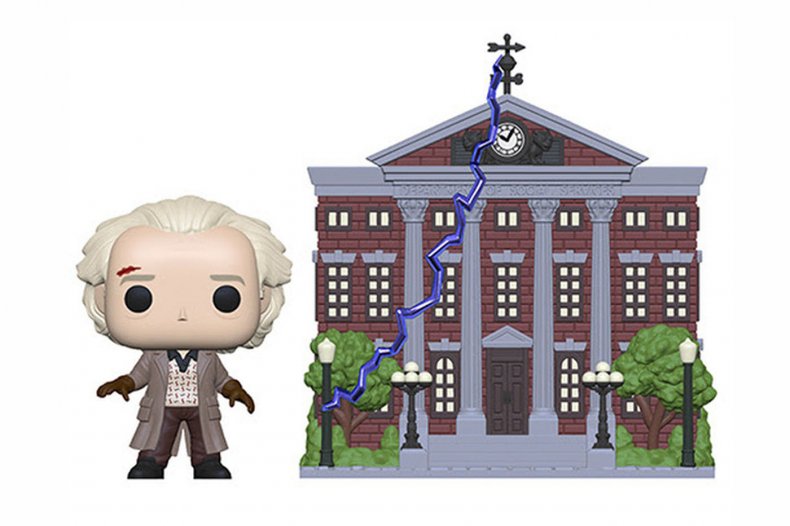 Funko helps step your collection up a bit by including an iconic monument from the film. Beyond the fact that they have multiple Pops! featuring enough varieties of Marty and Doc to satisfy your BTTF cravings, but thanks to their Pop! Towns line, you can add the Clock Tower to your collection. The clock has stopped just as the bolt of lightning hits the tower. Also included is Doc Brown donned in his outfit from the climactic scene where they are trying to get Marty back to the future.
FUNKO GAMES
Back to the Future Back In Time
MSRP $29.99
June 2020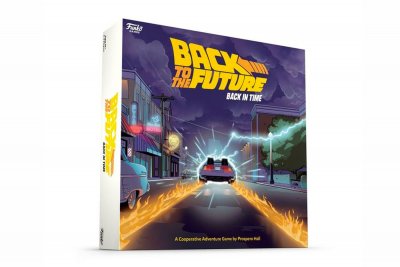 Funko has another BTTF offering that will take you through the course of the movie's important moments, thanks to Funko Games. Your main objective is to make sure that Lorraine and George McFly fall in love before you have to make sure the DeLorean is positioned and ready to take off right at 10:04 P.M. as the lightning strikes the Clock Tower. This board game comes loaded with many detailed pieces, cards, challenges, and comes with a beautifully illustrated game board. You can play with 2 to 4 players and what makes this board game unique is that it only takes 50 minutes to play. This timed play format makes the game more inviting to play as it shortens the learning curve that may intimidate most new players from joining in a round.
Without a doubt, there are plenty of options for you to get your damn hands on and celebrate Back to the Future with. Which item are you hoping to add to your collection? Let us know in the comments below.