Back to School: Why Breakfast Is Important and What to Feed Kids
With children returning to school, it's time for parents to return to the early-morning rush to get kids fed and out the door. Despite the stress, breakfast before school remains an important tradition to get children to start their day on the right food.
Jill Castle, a registered dietitian and childhood nutrition expert, shared her thoughts on breakfast before school.
"When kids skip breakfast, they get behind in some of the key nutrient needs for good growth and development," Castle told Newsweek. "When kids skip breakfast, they're less likely to make up the missed nutrients later in the day."
"There are suggestions that children who eat breakfast are healthier—they don't get sick. They tend to be visiting the nurse at school or doctor less frequently," Castle said. When kids get back into the classroom, they can be exposed to more germs and viruses. Breakfast may help prevent that start-of-the-year sickness.
A July study from scientists at Virginia Tech and Georgia Southern University found that if schools allowed an extra 10 minutes in the morning for kids to eat breakfast in the school cafeteria, the number of school breakfasts consumed increased by 20 percent. When the kids were provided breakfast inside of their classes, an additional 35 to 45 percent of kids ate breakfast. These factors brought the breakfast consumption rate up to nearly 100 percent.
The scientists even found out that when providing kids more time to eat, it didn't mean they over ate. The team wrote that there was no change in the average amount of food they consumed.
Castle felt the study seemed to show that those 10 extra minutes can have a significant impact on kids receiving proper nutrition. "I see a lot of kids who aren't great at regulating their appetite, so breakfast might help them be better at regulating," Castle said.
"Breakfast skippers are twice as likely to be overweight than children who eat a breakfast at home, or even some children who eat both a breakfast at home and at school," Castle explained. "Starting the day with breakfast kicks your appetite regulation system into gear and it can help kids navigate their day and be able to recognize when they're hungry, and when they're full."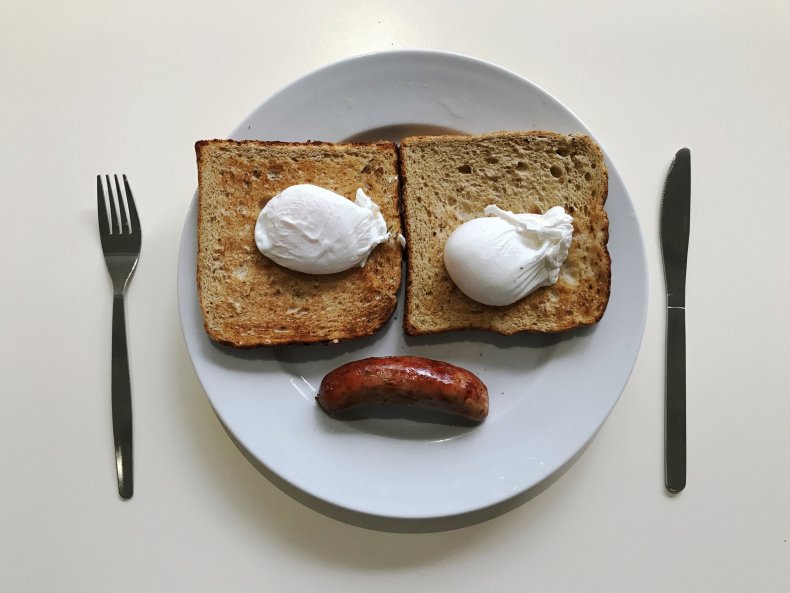 Parents may realize that their kids having breakfast is important, but actually being able to provide it—and have their kids eat it—is a whole different story.
"I love to see kids get a source of protein and I love to see them get a source of fiber. That could be scrambled eggs and a slice of whole grain toast or it could be Greek yogurt with fresh berries and some granola—combinations of foods that provide protein and fiber," Castle said. "Those are going to be filling and help children feel full so they're not getting to school and an hour later feeling hungry."
However, many parents still face a lack of time to be able to prepare a full breakfast each morning. Castle recommended waking up 10 to 15 minutes early to avoid the stressful rush, or starting to prep breakfast the night before, even if it's just putting out the silverware. Keeping whole grain muffins in the freezer can help for a quick breakfast that's easy to defrost in the morning, or prepping bags of healthy trail mix can be a grab-and-go option for kids in a hurry.