Back to School: Top 10 Community Colleges in America
The end of summer marks the return of students to their various schools and for some, it means heading to community college for a year of learning without the accumulation of large amounts of debt. Just in time for the beginning of the semester, WalletHub released its ranking of the best and worst community colleges in the United States.
WalletHub, a personal finance website, analyzed 17 indicators of cost and quality, including the cost of in-state tuition and fees, the student-faculty ratio, and graduation rate, to determine where students can receive the best education at the lowest price.
Over 700 community colleges were compared and ranked from best to worst. WalletHub also ranked states from best to worst based on its community college system.
Scored on a 100-point scale, each of the three categories—cost and financing, education outcomes, and career outcomes—was worth a total of 33.33 points. WalletHub found the top 10 best community colleges in the United States were:
Arkansas State University-Mountain Home, Mountain Home, Arkansas
Stella and Charles Guttman Community College, New York, New York
State Technical College of Missouri, Linn, Missouri
Alexandria Technical & Community College, Alexandria, Minnesota
Northland Community and Technical College, Thief River Falls, Minnesota
Minnesota State Community and Technical College, Fergus Falls, Minnesota
Mitchell Technical Institute, Mitchell, South Dakota
Miles Community College, Miles City, Montana
Southern Arkansas University Tech, East Camden, Arkansas
North Hennepin Community College, Brooklyn Park, Minnesota
Arkansas State University-Mountain Home scored highest with 66.13 points and North Hennepin Community College finished out the top 10 with 61.34 points. Arkansas State University's Beebe campus was ranked number 23 and the Newport campus took the number 98 spot.
Four of the top 10 community colleges are located in Minnesota. The community college to receive the lowest score was Eastern Gateway Community College in Ohio, which only scored 27.21 points.
WalletHub found that the top 10 states with the best community college systems were South Dakota, Minnesota, Montana, Arkansas, New York, Kentucky, North Dakota, Tennessee, Oregon and Washington.
Pennsylvania came in last at number 42 and Alaska, Delaware, Florida, Indiana, Nevada, Rhode Island, Utah and Vermont were not ranked. To determine statewide rankings, WalletHub calculated the weighted average of the scores earned by the community colleges in each state and the number of students enrolled in each school. Only states with at least two community colleges on the list were included in the rankings.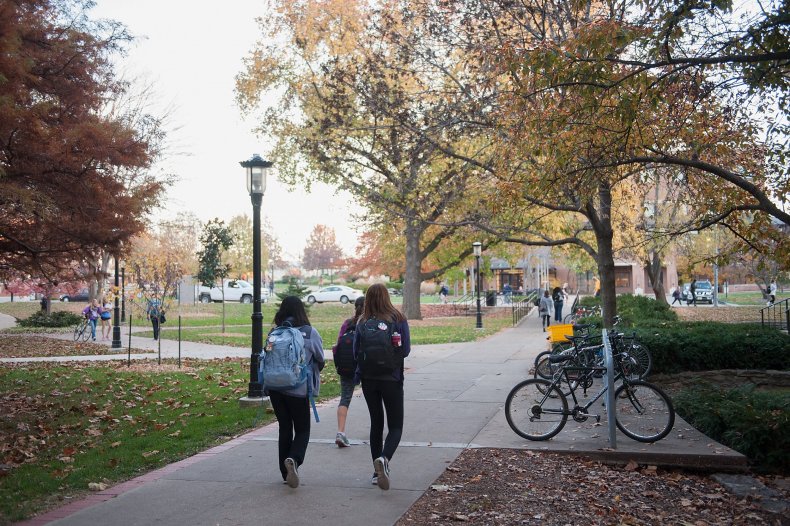 While community colleges used to be most appealing to low-income students, The New York Times reported that as the cost of four-year institutions continues to increase, more and more middle-class families are opting for community colleges.
"My parents don't want to just throw money around now," Annie Shahverdian, who decided to save money and attend her local community college told The New York Times. "I'm getting a great education at a fraction of the cost."
The National Student Clearinghouse Research Center found that enrollment across secondary education institutions for the 2018 spring semester was down an average of 1.3 percent from the previous year and two-year public institutions saw a two percent decrease.
Of those enrolling in a two-year public school, students over 24 years of age had the biggest drop off with an 11.2 percent decrease from the spring 2017 semester.
Each of WalletHub's three scoring categories included between four and seven factors, which had different weighted points. Cost and Financing included five factors worth 3.33 points:
Faculty Salary
School Spending Efficiency
Availability of Employment Services for Students
Average Amount of Grant or Scholarship Aid Received
Per-Pupil Spending
The cost of in-state tuition and fees was given a double weight at 6.67 points and presence of free community-college education was weighed at 10.00 points.
Every factor besides the transfer-out rate, which was weighed at 3.03 points, in the Education Outcomes category was weighed at 6.06 points and consisted of:
First-Year Retention Rate
Graduation Rate
Credentials Awarded per 100 Full-Time-Equivalent Students
Student-Faculty Ratio
Share of Full-Time Faculty
In the Career Outcomes category, the share of former students earning above the average earnings of a high school graduate, median salary after attending and student-loan default rate were all weighed at 6.67 points each. Return on educational investment was given a double weight and scored at 13.33 points.
WalletHub collected its data from the National Center for Education Statistics, US News, the Department of Education and the Center for Community and Economic Research and College Measures.