Backlash After Wisconsin Voters Forced to Line up for Hours in Rain and Risk Catching Coronavirus to Vote in Primary
Republican lawmakers and the U.S. Supreme Court are facing backlash after Wisconsin voters were forced to wait for hours in long lines in the middle of a pandemic on Tuesday in order to cast their ballots in a presidential primary election.
Voters across the state were forced to risk potentially exposing themselves to the coronavirus as they waited in lines, with some stretching for blocks, in weather that brought rain and hail.
The primary election went ahead despite efforts by Wisconsin Gov. Tony Evers, a Democrat, to postpone voting until July 9 and to allow mail and absentee ballots to be sent in before then.
The Wisconsin Supreme Court shut down that bid, while the U.S. Supreme Court barred an effort to see absentee voting extended until April 13 to give residents more time to vote from home amid the pandemic.
The U.S. Supreme Court's decision was made in a 5-4 vote, with conservative justices blocking a lower court order that would have permitted the extension.
As a result, many voters had to head to the polls in a state that had seen more than 2,500 confirmed cases and 92 deaths related to the coronavirus outbreak as of Tuesday, according to numbers from the Wisconsin Department of Health Services.
As part of a thread published on Twitter, Walter Shaub, a former director of the Office of Government Ethics who served under former President Barack Obama, accused the Supreme Court of having "ramped up" voter suppression by "sending Wisconsin voters into a war zone in our species' fight against an ancient enemy, disease."
The former ethics office director warned that this could be a "sign of things to come" with the November presidential election looming on the horizon.
In a recent Reuters/Ipsos poll, most Americans, including a majority of Republicans, said they believed the government should require mail-in ballots for the presidential election if the coronavirus outbreak continues to pose a threat come autumn.
The poll of 1,116 American adults (532 Democrats and 417 Republicans), which was conducted on Monday and Tuesday, found that 72 percent of U.S. adults, including 79 percent of Democrats and 65 percent of Republicans, were in favor of requiring mail-in ballots in order to prevent the spread of COVID-19.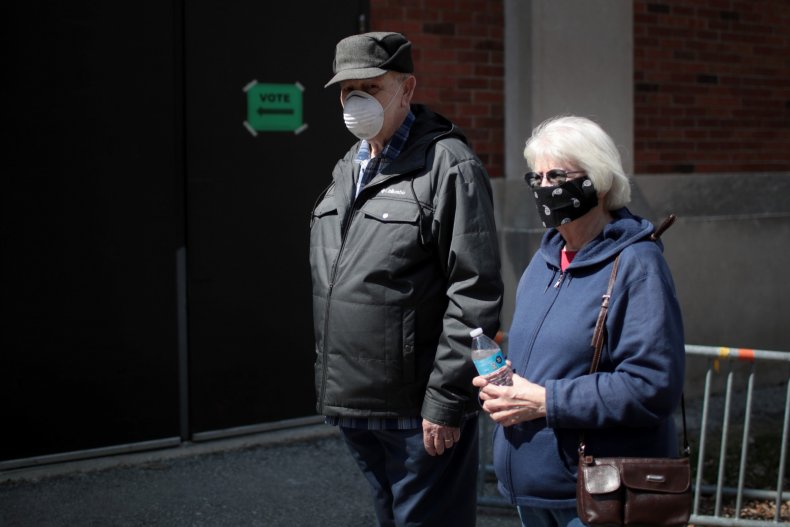 In an interview with CNN on Tuesday, former Republican Pennsylvania Rep. Charlie Dent said Wisconsin voters should not have had to go to the polls in order to cast their ballots in the middle of the coronavirus pandemic.
Dent, who has been recovering from COVID-19 himself, said the state could have easily postponed its election: "I have to tell you, here in Pennsylvania we have a Democratic governor and Republican legislature... They postponed the election here from April 28 until June 2, without any controversy."
"Everybody agreed it was the right thing to do and they moved on," he said. "I'm surprised Wisconsin took this risk, knowing they don't have to."
The voting took place after a wave of criticism warning that forcing voters to go to the polls and cast their ballots could put them at risk, with House Speaker Nancy Pelosi telling MSNBC's Rachel Maddow that "people should not have to decide whether they can vote or be sick."
"That's just not a good choice for anyone in a democracy," she said. "And you would think that the Supreme Court of the United States would not overturn a court decision which gave the voters extra time to do a vote by mail...a few more days to get their vote-by-mail ballot in. So, you have the Supreme Court of the United States undermining our democracy. It's really shameful. Five to four, surprise, surprise."