Backlash Against U.K. Government Policy to Deport Tens of Thousands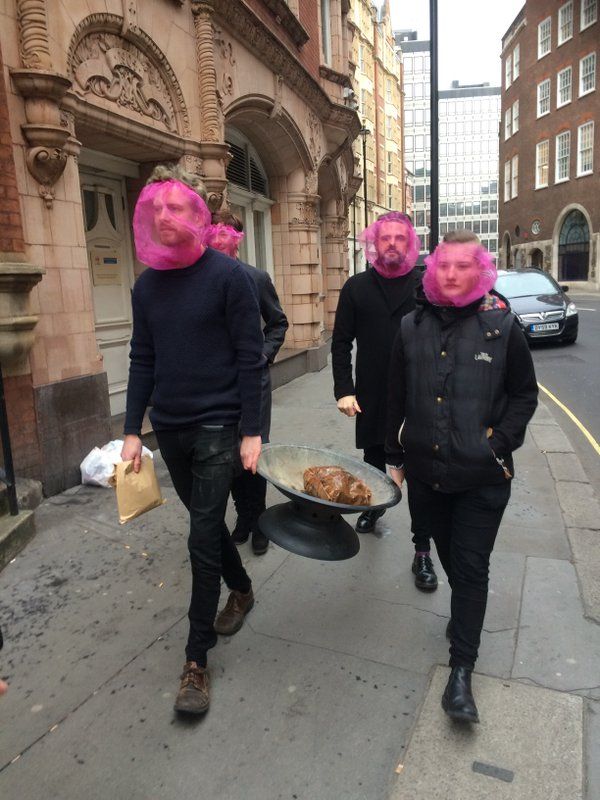 Protesters burned fake bank notes with Theresa May's face printed on them outside the British parliament on Wednesday, in a display of anger at new immigration rules.
"It is a sad day as this law comes through. The policy will have a massive impact on some of the essential services that we really need," Morten Thaysen a member of Lesbians and Gays Support the Migrants tells Newsweek.
The Home Office policy at the center of this row will see an estimated 40,000 non-EU migrants earning less than £35,000 deported, a measure that Labour has called "ill-considered, destructive and discriminatory."
Those affected are the holders of Tier 2 visas, skilled workers from outside the EU, who are usually allowed to stay in the U.K. for six years, after which they must either leave or apply for permanent residency. Now, only workers earning over £35,000 per year will be permitted to remain in the U.K. indefinitely; everyone else will be asked to leave. This is the highest salary threshold those in this category have ever had to reach and a significant increase from the previous £20,800 cap.
The changes to U.K. immigration laws were pushed through without a Commons vote in April 2012 , which has led some to accuse the government of a lack of transparency. "A disappointing lack of parliamentary scrutiny has preceded its introduction, as is true of many aspects of immigration reform," says Patrick Grady a Scottish National Party (SNP) MP for Glasgow North.
"I will be leaving everything—my British partner, my career and my friends— my entire life," says Shannon Harmon, 33, a charity worker from Chicago, one of thousands facing deportation. She also helps to run the Stop 35k campaign, set up to document the human cost of the policy, collecting case studies and hosting events. "I don't want to go and work for a big company just to make more money. I do good work, it's ridiculous." She will soon be forced to leave the country she has called home for over seven years.
In January, Joshua Harbord, a British citizen and friend of Harmon launched a petition calling for the pay threshold to be scrapped. Instead, he hopes for a policy that does not rest on an arbitrary £35,000 figure, but one that takes into account regional pay differences and is industry specific.
The petition amassed over 100,000 signatures and so a debate followed in Parliament on March 7. Home Secretary, Theresa May refused to attend, even though the open letter was directly addressed to her department.
At the parliamentary debate, Conservative MP Paul Scully, who supports the new policy, suggested that the current tumult surrounding Britain's membership of the EU means that the U.K. has to be tougher on non-EU migrants. "If we left the EU, the threshold might not apply in quite the same way, because we would have greater flexibility within our immigration policy," he said. "We would be able to tackle some of the unintended consequences of immigration from outside the EU."
When asked what these unintended consequences were, he acknowledged that some sectors would not suffer quite as badly in the event of a Brexit. In other words, a Brexit could help non-EU migrants. The government would have greater scope to add more exemptions and modify existing restrictions.
"The argument for leaving the EU is based on fears of 'uncontrolled migration'. Many MPs have speculated that these fears have driven both the EU debate and the £35,000 threshold policy from the very start," says Harbourd, who is dubious that Brexit might bring any benefits for non EU migrants. "They're [the government] probably never going to completely overturn it," he wrote on the Right to Remain blog.
The government's aim is to cut the number of non-EU migrants from 60,000 to 20,000 per year and reduce the U.K.'s dependency on these workers to fill gaps in skilled professions.
"In the past it has been too easy for some businesses to bring in workers from overseas rather than to take the long-term decision to train our workforce here at home," says a Home Office spokesperson.
The Home Office admits in their own impact assessment that the policy will cost the British economy between £181m and £575 million in the first 10 years, while only making a "modest contribution" towards lowering net migration.
Sir David Metcalf is Chair of the Migration Advisory Committee (MAC), an independent team of economists who recommended the £35,000 salary threshold. Despite encouraging those who disagree with the earnings-based policy to voice their criticism, he was unaware that the largest opposition group, Stop 35k even existed.
The figure is "very reasonable," he says. "The median graduate level salary in the U.K. is £39,000. Why do we want people settling here who are earning less than that?"
Christian Dustmann, Director at the Centre for Research and Analysis on Migration questions the statistical basis of the MAC's recommendation. "The policy will harm the British economy," he tells Newsweek . "Key workers earn below the median wage, so salary should not determine who should stay and who should go." The average salary in the U.K. is an estimated £25,600 according to the Office for National Statistics (ONS).
Low paid but important professions "predominantly in the public sector," according to the Home Office's report, are most at risk. Teachers, musicians, charity workers and NHS healthcare providers will bear the brunt of the government's decision. Certain groups are exempt, however. Nurses, those with PhD-level jobs in science or research and any professions that have been on the official Shortage Occupation List (SOL) such as paramedics can stay.
Kate O'Neil, an American teacher at an academy school in Slough is in shock that she will forced to leave the country she loves after four years. "Only teachers who work in inner London schools will be able to reach the threshold. I work in fringe London and I don't earn £35,000. Teachers in the north earn far less than me,"she says.
Indeed, regional pay levels differ significantly across the country. In Wales, Northern Ireland, the North East, and Yorkshire, statistics show that in 2014, not a single Tier 2 worker was earning over £35,000.
"There is an acute teacher shortage." she continues. "Really we should all be able to stay. I find it incredibly unfair."
NHS workers are also frustrated. When Kesavan Charttathur, an NHS audiologist from southern India found out about the policy in 2012, he decided to take on a second job to meet the threshold. Exhausted and overworked, he was finally earning enough, until he was met by an unfair reality.
"Last year, I went online to check the status of the policy. I was shocked to discover that the £35,000 a year must be generated from one single job," he tells Newsweek . "I've paid all my taxes. I haven't even visited a GP in six years. I haven't taken a penny from the state. After all that, I'm being thrown out."
With the media attention firmly focused on immigration issues directly connected to the Brexit debate, the plight of those affected by the £35,000 law has so far been overshadowed. But, losing the economic and social contribution of tens of thousands of talented people will have long-lasting implications for Britain. Those leading the protests against this new policy are still hopeful it might be scrapped, or at least softened.
"It won't be the end of British society as we know it. The Tower of London won't come crumbling down and the white cliffs of Dover won't go sliding into the sea. But it [the policy] will have a noticeable impact in every area of British society, from teaching and healthcare to culture and finance," says Harbourd. "Even with fundraising, public events, our website, Twitter, Facebook, and one successful petition already achieved, we still have a lot to do. We can't stop until we've succeeded."