The Backlash Against Magazine Airbrushing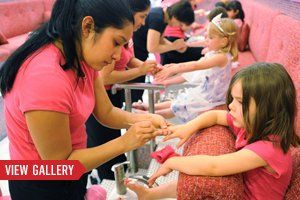 I reached an age, probably around 12, when Seventeen and YM became my gospel, the all-knowing mantra for the teenage life I was about to enter. I'd fork over my allowance each week to find out "how to score my dream guy" or "the secrets to a killer bod" through an immeasurable number of tip sheets and unscientific quizzes. Then I'd then curl up in my bedroom—which I wasn't coming out of much in those days—and wonder if I'd ever measure up to the oh-so-perfect models staring back at me from the page.
It may sound pathetic, but ask any woman; those early teen years are torturous, when nothing about ourselves ever seems good or pretty or perfect enough. And it doesn't stop at 16. Most women will cop to comparing themselves, at least occasionally, to the actresses and celebs of their generation that appear in magazines or advertisements. And thanks to improvements in Video: Eye of the Retoucher photo retouching over the last five years, those glossy images have strayed further and further from anything resembling reality. Retouching techniques that were once used mainly to erase blemishes or stray hairs have become tools for radical human body distortion, shrinking waists and vanquishing years, turning models and actresses into leggy dolls of literally inhuman proportions.
But there's a growing backlash against this digital Barbie-fication of almost every model, actress or celebrity. Sure, anyone reading a women's magazine understands that fashion is supposed to be fantasy, but when middle-aged celebrities and teenage actresses all look as if they're about the same age and weight, people start to notice—and object. Even governments are examining the public health consequences of mass media images that look so little like the masses.
Most serious news organizations, including NEWSWEEK, have strict rules against photo manipulation. But for now fashion, women's and lifestyle publications typically honor no such code. They may not admit it outright, but it's common knowledge within the industry that retouching and thinning models and celebrities is not just standard procedure, it's expected and often demanded by publicists. "We're always stretching the models' legs and slimming their thighs," a Manhattan-based photo retoucher tells NEWSWEEK, speaking anonymously for fear of professional backlash. "Sometimes I feel a little like Frankenstein."
In response to the uproar over some well-publicized alterations of celebrities, though, the trade groups that represent those publications, in both Britain and the United States, say they are considering voluntary codes outlining how far art directors can go. And late last month the National Assembly of France went a step further when it approved a startling new bill that, if passed by the Senate, would make it a crime for anyone, from pro-anorexia Web sites to advertisers to editors, to publicly incite "excessive thinness" or extreme dieting. Though it's unclear how those offenses would be defined or interpreted, the law would allow judges to punish offenders by up to two years in prison and fines up to $47,000. "It's time for public action against this scourge," the bill's author told the Washington Post.
Whether or not magazines are actually inciting thinness, it doesn't take a genius to see that they're creating a standard of beauty that's far from what the average American reader can attain. Already models weigh about 23 percent less than the average woman, according to a 2004 SizeUSA study. We shudder to think how that disparity may have grown in the intervening four years. Retouchers today are increasingly asked by advertisers and editors to enlarge eyes, trim ears, fill in hairlines, straighten and whiten teeth and lengthen the already narrow necks, waists and legs of 18-year-old beauties—in some cases replacing hands, feet or legs altogether with the parts of "more appealing" models.
In May, Men's Fitness reportedly incited thickness in tennis star Andy Roddick by enlarging his already muscular arms to promote a story about biceps. Roddick himself mocked the photo on his personal blog; a spokesman for the magazine later told the New York Times, "I don't see what the big issue is here." Later, readers went crazy over the apparent slimming of "Ugly Betty" star America Ferrera on the cover of Glamour, despite the magazine's denials. (Irony alert: there's an entire episode of "Ugly Betty" devoted to putting "real"-looking models in magazines.) But most memorable, perhaps, were the shocking before-and-after pictures of Faith Hill on the cover of Redbook, revealed last July by popular femme-gossip site Jezebel and circulated around the Internet en masse. Redbook editor in chief Stacy Morrison defended the changes, telling the "Today" show, "In the end, they're not really photographs. They're images."
Any photographer will tell you: airbrushing has been around for decades. The problem today, of course, is how easy technology has made it to perfect those images. Buy a digital camera and it comes with retouching elements. Anyone can learn how to use Photoshop to blend and tighten and thin—people do it for their MySpace photos all the time. As actress and bikini model Elizabeth Hurley told a British newspaper recently, she so loves being airbrushed to look "thinner" and "younger" that she's taken to Photoshopping her own holiday photos. "Brides are airbrushing the red out of their eyes and getting rid of blemishes in their own wedding photos these days, so the technology's here to stay," says Cindi Leive, the outgoing president of the American Society of Magazine Editors (ASME) and the editor in chief of Glamour. "But the bottom line is that readers should not be misled."
That sounds good in theory, but it's a joke among industry insiders—and anyone with a basic knowledge of graphic design. Leive wouldn't comment on retouching as it relates to Glamour; a spokeswoman told NEWSWEEK that Leive would answer questions for this article only on behalf of ASME. To be fair, the editors of most women's magazines would rather talk about anything but airbrushing. And in the world of fashion isn't misleading the reader, well, the point? "You have to accept that fashion is fantasy. It's wearable art," says Andrew Matusik, a New York fashion photographer and the owner of Digital Retouch, which specializes in celebrity and fashion retouching. "It's all about creating drama."
That might lead us to buy, but it's not making us any healthier. Several studies show that women feel worse about themselves after reading fashion magazines, and kids as young as six are having their photos retouched. An average girl today will see more than 77,000 advertisements by the time she's 12—and you can bet that most of those have been retouched. If that girl is like 42 percent of the population she'll want to be thinner by the time she's a third-grader, and by age 10—if she's like 81 percent of her peers—she'll be afraid of being fat, according to a 2004 global survey by the Dove Campaign for Real Beauty. "These techniques underscore the idea that the perfection portrayed in the media is unattainable by natural means," says Cynthia Bulik, a clinical psychologist and the director of the eating disorders program at the University of North Carolina at Chapel Hill.
The question is, do readers know the extent to which their favorite stars have been transformed? Last year the health ministry of Sweden put out a powerful PSA in an effort to spread the word. The spot depicted a 14-year-old girl's transformation from model to cover model. Here's what she endured: her eyebrows were reshaped and her eyelashes lengthened. Her eyes were made whiter and bluer, her teeth straighter and whiter. Her lips were plumped along with her breasts, and her blemishes were removed. Then her hair was lightened and thickened. And finally her nose was slimmed, her chin thinned, and her waist whittled away. "Those young kids looking at the magazines, they're dreaming of something that doesn't exist," says Philippe Paschkes, a Manhattan stylist and makeup artist who has worked in the industry for 30 years.
But is French-style regulation really the answer? Or should the industry be counted on to police itself? When the British edition of GQ was slammed in 2003 for blatantly slimming Kate Winslet on its cover, editor in chief Dylan Jones admitted, "Almost no picture that appears in GQ … has not been digitally altered." Five years later little has changed. Liz Hurley might be OK with that, but there are a whole lot of impressionable young kids who shouldn't be.