Backlash as Biden Gives Putin Pass on Harshest Sanctions Over Ukraine War
President Joe Biden continues to come under fire at home as lawmakers expressed dissatisfaction with his latest round of sanctions against Russia.
Democrats and Republicans have been calling for the harshest sanctions possible in their united opposition against Russian President Vladimir Putin and his attack on Ukraine. But Biden didn't go that far on Thursday as he announced "additional, strong" sanctions against Russia's economy.
Some outspoken congressional leaders are insisting that Biden's latest sanctions don't go far enough in targeting Vladimir Putin himself as well as measures to kick Russia out of the Society for Worldwide Interbank Financial Telecommunication (SWIFT) banking system.
"When it comes to sanctions against Putin—If we are NOT doing everything possible, we are NOT doing enough. Time is NOT on our side," Republican Senator Lindsey Graham tweeted following Biden's speech at the White House.
Democrat Adam Schiff, the chairman of the House Intelligence Committee, said the package is the "most severe" the U.S. has ever imposed against Russia but there's still more the administration can do.
"I favor going further," Schiff told NBC News, adding that this is an "unprecedented situation."
After months of escalation, Russian military forces launched a full-scale invasion of Ukraine early Thursday. Troops were sent to the eastern European nation from three fronts and airstrikes were conducted on several cities, including the capital Kyiv. The attack happened just days after Putin declared two separatist regions of Ukraine, Donetsk and Luhansk, as "independent."
Newsweek has reported that U.S. officials expect Kyiv to fall within a matter of days.
The U.S. and European partners slapped Putin with a first round of economic sanctions after he sent tanks into Donetsk and Luhansk on Monday. The sanctions targeted Russia's VEB bank and military bank, the Nord Stream 2 pipeline as well as oligarchs and their families.
Biden announced Thursday that the U.S. and its G7 counterparts agreed to impose "devastating packages of sanctions and other economic measures" on Russia in response to the attack.
The new sanctions target four major Russian banks, as well as oligarchs and their families. Sberbank, Russia's largest lender, will no longer be able to transfer money with the assistance of U.S. banks. Biden said the measures are designed to limit Russia's ability to do business in dollars, euros, pounds and yen.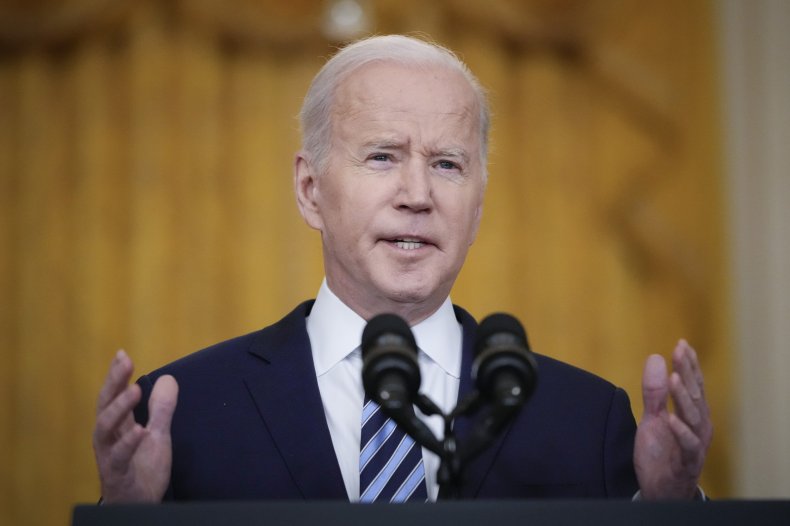 Russia will also be cut off from importing certain types of U.S.-made technology. According to the White House, the restrictions include semiconductors, telecommunication, encryption security, lasers, navigation and maritime technologies.
"This is going to impose severe costs on the Russian economy, both immediately and over time," Biden said. "We have purposely designed these sanctions to maximize the long term impact on Russia, and to minimize impact on the United States and our allies."
When asked about SWIFT, Biden told reporters that it's "always an option" but not a step that the rest of Europe wanted to take at this moment in time. On sanctioning Putin directly, Biden deflected.
Democratic Representative Val Demings also pushed Biden to sanction Putin in a statement released following his address.
"We should also utilize the information we gained from the passage of my legislation to investigate Putin's finances and implement staggering personal sanctions against his own assets," Demings said.
Newsweek reached out to the White House for comment.