Backlash Over Drag Queen Story Time on PBS Station for Children Aged 3 to 8
A children's show skit featuring a drag queen has faced backlash from conservatives on social media.
Let's Learn is an education program targeted towards children aged three to eight and is produced by WNET—a PBS member television station for New York City—and New York City's Department of Education. A recent episode featured a drag queen named Lil Miss Hot Mess, who read from her book, "The Hips on the Drag Queen Go Swish, Swish, Swish."
The book and its accompanying song is a play on the nursery rhyme "The Wheels on the Bus Go Round and Round," but follows the story of a drag queen performing for an audience. Lyrics include "the hair on the drag queen goes up, up, up," and "the shoes on the drag queen go stomp, stomp, stomp."
During the Let's Learn episode, Lil Miss Hot Mess said: "I wrote this book because I wanted everyone to get to experience the magic of drag and to get a little practice shaking their hips or shimmying their shoulders to know how we can feel fabulous inside of our own bodies," as reported by Pink News.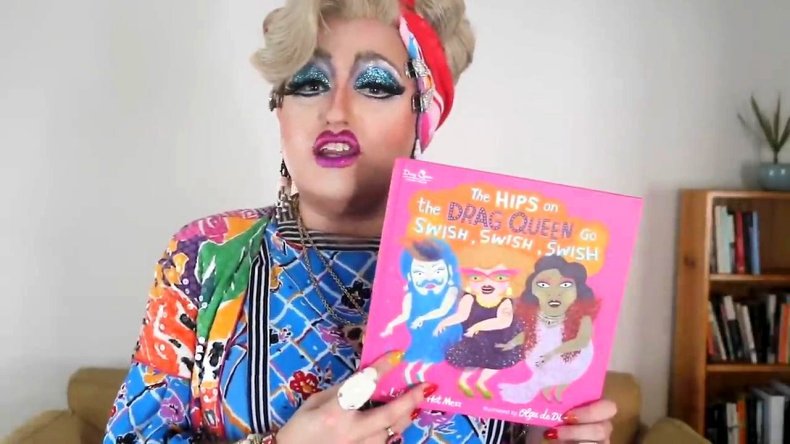 She also told her virtual audience: "Being a drag queen is about being bold, shining bright, and showing a little bit of bravery, being willing to step outside the box and to dance to our own beat sometimes."
However, footage of the skit was shared on social media and faced a backlash from conservatives. The video was shared by the Daily Caller reporter Mary Margaret Olohan and has been viewed more than 100,000 times.
One conservative who has criticized the skit is Republican Tricia Flanagan, who ran unsuccessfully for election to the U.S. Senate to represent New Jersey in 2020. She said: "If American tax dollars can be used to pay for 3-8-year-olds to watch this PBS Drag Queen Story hour, then I demand equal tax dollars go to also read them Bible stories."
In response to the critics, Lil Miss Hot Mess told Newsweek: "Whether you like it or not, LGBTQ people are present in all communities, libraries, and schools—whether we're out, in drag, or living our truths quietly—and children have a right to learn about LGBTQ histories and cultures.
"I'm so proud that public institutions like libraries, schools, and yes, local PBS affiliates are indeed celebrating the diversity of public life. And drag offers extra special lessons for kids—it can be about using your imagination, turning your fantasy into a reality by dressing up and playing, and rejecting the boxes you're put in so we can build a more just, and fabulous, world."
The drag queen added: "If people don't like it, they can change the channel, but I'm not going to let them rain on my parade."
But Lindsey Horvitz of WNET told Fox News on Thursday: "Let's Learn storybooks are selected by early literacy experts at the New York City Department of Education. The program strives to incorporate themes that explore diversity and promote inclusivity, which are relevant to education and society.
"Drag is a performance art that can inspire creative thinking and the questioning of stereotypes. Lil Miss Hot Mess is the author of the book, 'The Hips on the Drag Queen Go Swish, Swish, Swish'. She serves on the global leadership team of Drag Queen Story Hour and has hosted readings at numerous libraries, children's museums and schools across the country."
PBS reportedly told Fox News that Let's Learn was "not funded or distributed by PBS."
Newsweek has contacted WNET and PBS for comment.