Backstreet Boys DNA Tour 2020: How to Buy Tickets, Concert Dates, Locations, Setlist
The Backstreet Boys are touring more cities in North America in 2020, following a sold-out tour across the U.S. and Canada last summer. The DNA World Tour will begin in the U.S. on July 10 in New York and end in Los Angeles on October 10.
Announcing the tour, the band tweeted: "North America you knew we'd be coming back again. We're so excited to bring the #DNAWorldTour to even more of you guys!! Tickets are on sale this Friday & fan club pre-sale starts tomorrow!"
The fan club presale begins at 10 a.m. EST on February 11 and the general sale begins at 10 a.m. EST on February 14. For early access, fans can join the Backstreet Boys fan club with a membership costing $20-$65. Once the pre-sale begins, tickets will be available to purchase via Live Nation.
Additionally, the Backstreet Boys are selling travel packages that come with two tickets, a one-night stay at a local hotel, shuttle transport to and from the venue, an exclusive merchandise item and the option of a meet and greet for an additional cost. The travel packages will be available in New York, Chicago, Seattle, San Francisco, Toronto and Los Angeles.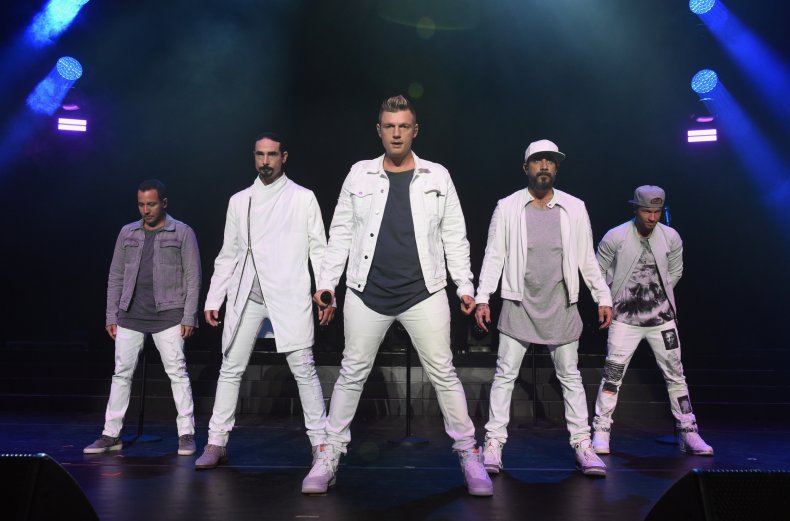 Backstreet Boys DNA Tour U.S. and Canada Dates 2020
July 10 – Wantagh, New York
July 13 – Holmdel, New Jersey
July 16 – Camden, New Jersey
July 18 – Hartford, Connecticut
July 19 – Virginia Beach, Virginia
July 21 – Bristow, Virginia
July 23 – Clarkston, Michigan
July 24 – Burgettstown, Pennsylvania
July 25 – Darien Center, New York
July 27 – Lexington, Kentucky
July 28 – Cuyahoga Falls, Ohio
July 31 – Indianapolis, Indiana
August 1 – Chicago, Illinois
August 2 – St. Louis, Missouri
August 4 – Sioux Falls, South Dakota
August 7 – Spokane, Washington
August 8 – Auburn, Washington
August 9 – Vancouver, BC, Canada
August 11 – Nampa, Idaho
August 12 – Salt Lake City, Utah
August 14 – Concord California
August 15 – Mountain View, California
August 16 – Wheatland, California
August 19 – Englewood, Colorado
August 21 – Wichita, Kansas
August 22 – Oklahoma City, Oklahoma
August 23 – Rogers, Arkansas
September 11 – Saratoga Springs, New York
September 12 – Mansfield, Massachusetts
September 15 – Quebec City, QC, Canada
September 16 – Montreal, QC, Canada
September 18 – Toronto, ON, Canada
September 21 – Raleigh, North Carolina
September 22 – Charlotte, North Carolina
September 23 – Alpharetta, Georgia
September 25 – Jacksonville, Florida
September 26 – West Palm Beach, Florida
September 27 – Tampa, Florida
September 30 – Irving, Texas
October 2 – The Woodlands, Texas
October 4 – Albuquerque, New Mexico
October 6 – Phoenix, Arizona
October 7 – Chula Vista, California
October 9 – Los Angeles, California
Band member AJ McLean said in a statement: "We give our fans 100%, night after night, putting on the best Backstreet Boys show we can. We play our hits, we dance our asses off and we do it because we love our fans.
"We have the best fans in the world. They come out to party and they sing at the top of their lungs and we feed off that energy. We can't wait to take this show on the road again this summer."
According to Setlist.fm, the Backstreet Boys DNA setlist includes major hits including "Everybody (Backstreet's Back)," "I Want It That Way" and "As Long As You Love Me." While this setlist could change with each show, it's a good indicator of what to expect.
Backstreet Boys DNA Setlist
Everyone
I Wanna Be With You
The Call
Don't Want You Back
Nobody Else
New Love
Get Down (You're The One For Me)
Chateau
Show Me The Meaning Of Being Lonely
Incomplete
Undone
More Than That
The Way It Was
Chances
Shape of My Heart
Drowning
Passionate
Quit Playing Games (With My Heart)
As Long As You Love Me
No Place
Breathe
Don't Wanna Lose You Now
I'll Never Break Your Heart
All I Have To Give
Everybody (Backstreet's Back)
We've Got It Goin' On
It's Gotta Be You
That's the Way I Like It
Get Another Boyfriend
The One
I Want It That Way
Don't Go Breaking My Heart
Larger Than Life
Newsweek has affiliate partnerships. If you make a purchase using our links, we may earn a share of the sale.