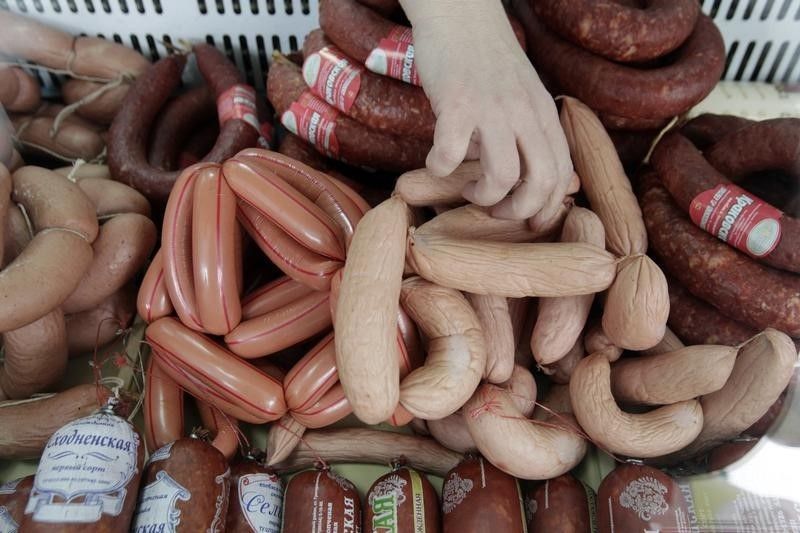 PARIS (Reuters) - Eating processed meats like hot dogs, sausages or bacon can lead to bowel cancer in humans and red meat is a likely cause of the disease, World Health Organisation (WHO) experts said.
The review by the WHO's International Agency for Research on Cancer (IARC), released on Monday, put processed meat in its group 1 list, which also includes tobacco and asbestos, for which there is "sufficient evidence" of cancer links.
Red meat was classified as probably carcinogenic in IARC's group 2A list, to which it has also added this year glyphosate, the active ingredient in many weedkillers.
Meat industry groups rejected the findings as simplistic, although some scientists said they may not add much to existing health recommendations to limit consumption of such meat.
The IARC was carrying out a formal review of meat for the first time and examined some 800 studies during a meeting of 22 health experts in France earlier this month.
"For an individual, the risk of developing colorectal (bowel) cancer because of their consumption of processed meat remains small, but this risk increases with the amount of meat consumed," Dr Kurt Straif of the IARC said in a statement.
Each 50 gram portion of processed meat eaten daily increases the risk of colorectal cancer by 18 percent, the agency estimated.
The classification for red meat—defined as all types of mammalian meat, including beef, lamb and pork—reflected "limited evidence" that it causes cancer. The IARC found links mainly with bowel cancer, but it also observed associations with pancreatic and prostate cancer.
Inconclusive evidence of a link between processed meat and stomach cancer was also observed, it said.
The IARC does not compare the level of cancer risk associated with different substances in a given category, so does not suggest eating meat is as dangerous as smoking, for example.
But the bracketing of processed meat with products such as tobacco or arsenic irked industry groups, with the North American Meat Institute saying the IARC report "defies common sense".
Suppliers argue that meat provides essential protein, vitamins and minerals as part of a balanced diet.
"We've known for some time about the probable link between red and processed meat, and bowel cancer," Professor Tim Key of Oxford University said in a statement from charity Cancer Research UK.
"Eating a bacon bap every once in a while isn't going to do much harm - having a healthy diet is all about moderation."
The IARC, however, said such dietary advice often focused on heart disease and obesity.
It cited an estimate from the Global Burden of Disease Project - an international consortium of more than 1,000 researchers—that 34,000 cancer deaths per year worldwide are attributable to diets high in processed meat.
This compares with about 1 million cancer deaths per year globally due to tobacco smoking and 600,000 a year due to alcohol consumption, it said.