Bacon in Fast Food Sparks Two Recent Lawsuits Filed by Jews, Muslims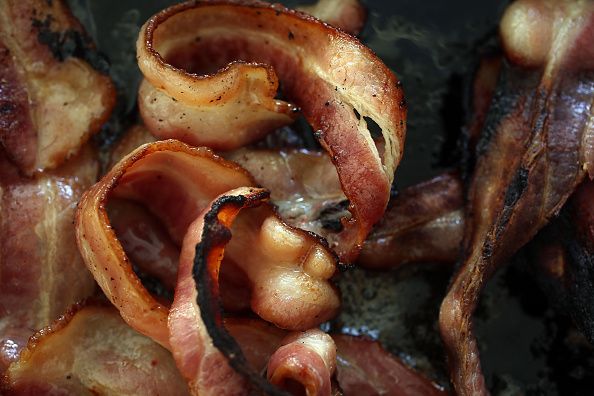 Updated | Bacon might be the object of intense devotion for some Americans, but others consider it strictly verboten for religious reasons. Both Jews and Muslims who adhere to the dietary restrictions imposed by their faiths do not eat pork. Now bacon is at the center of two recent lawsuits filed by fast food restaurant customers who found it in dishes that were supposed to be pork-free.
A Jewish woman from Sterling Heights, Michigan, is suing Denny's after finding bacon in what was supposed to be a meat-free "loaded veggie omelet" she ordered at the local branch of the restaurant. Angela Montgomery, who in the lawsuit describes herself as a practicing Jew, says she took a few bites of her meal and noticed something was wrong. When she cut into the omelet, she was revolted to find bacon.
Pork is "an abominable food," Montgomery told the Detroit Free Press. "It's like the most vile, disgusting creature on planet Earth that's not supposed to go in your body, and I ate it. To me, that's a poisoning. I was poisoned."
Jews who keep kosher follow a set of dietary rules that includes not mixing dairy and meat, not eating certain animals and following specific guidelines for how permitted animals are to be killed for consumption. They can only eat fish that have both scales and fins and animals that both have split hooves and chew their cud, but pigs do not fit the latter requirement and are therefore forbidden. Judaism is not the only religion to ban pork. In Islam, certain foods and beverages areharam, or strictly prohibited, such as alcohol, animals that have not been slaughtered properly and pork.
"In both the Jewish and the Islamic faith it's reprehensible to even touch bacon, to even touch pork, let alone to ingest it," Majed Moughni, the attorney who filed Montgomery's complaint on Tuesday, tells Newsweek.
"This happens way too often. It's happened in my family, it's happened in many other families," he says. "That's got to change. There's too much at risk for many people," he adds. "The only way things are going to be taken seriously is through the legal system."
Moughni has also filed lawsuits on behalf of observant Muslims who were served bacon or pork in foods that were not supposed to contain them, by what he calls "careless employees who have no regard for their faith."
Most recently, he filed a complaint in late August against a KFC located in Lincoln Park, Michigan, on behalf of Askar Abubaker, and his wife, Hasinah Saeed, a Muslim couple from nearby Dearborn, Michigan. According to the lawsuit, Abubaker ordered two chicken sandwiches with Swiss cheese. However, after he began eating his sandwich, he realized there was bacon in it. The couple alleges that though the employees later offered to make another sandwich, they were looking over and smiling at Abubaker and Saeed.
KFC says it was an accident. "At KFC we respect the religious beliefs of our guests of all faiths," a KFC spokesman said in a statement to the Detroit Free Press. "We believe this lawsuit was filed as a result of a miscommunication between the guest and our team member. We cannot comment further on pending litigation against one of our franchisees." Denny's did not immediately respond to Newsweek's request for comment in response to Moughni's latest filing.
Moughni, whose office is in Dearborn, filed both lawsuits at the Wayne County Circuit Court. They allege breach of contract and negligent representation, and ask for monetary damages for emotional and physical distress that resulted from eating foods forbidden by his plaintiffs' religious beliefs.
The recent pair of lawsuits isn't Moughni's first experience with complaints of this kind. In May, he filed a $100 million lawsuit on behalf of a Muslim man against Little Caesars Pizza, Little Caesars Enterprises and the employees of a shop in Dearborn for using pork in pizzas labeled halal, or allowed under the dietary guidelines of Islam. Mohamad Bazzi and his wife say they ordered the pizza once in March and once in May, and both times discovered that the pepperoni on it contained pork. That lawsuit, which sought class action status, alleged breach of contract, negligent misrepresentation, unjust enrichment and fraud.
Jill Proctor, a spokeswoman for Little Caesars, said in a statement that "Little Caesars cherishes our customers from all religions and cultures, and the communities we serve are very important to us. While we can't comment on pending litigation, we take this claim very seriously."
There is some history for lawsuits centering on faith-related food restrictions. A 2011 case filed by Dearborn resident Ahmed Ahmed against McDonald's alleged that a local branch was serving non-halal products it said were halal. McDonald's settled for $700,000 and dropped halal Chicken McNuggets and McChicken sandwiches from two Dearborn locations that sold them.
"You can't allow this practice to continue," Moughni told the Detroit Free Press after filing the two most recent lawsuits, "whether you're Muslim or Jewish, and you walk into an establishment and they don't care about what they are serving."
Moughni says he's been bombarded with calls since filing the Little Caesar's lawsuit and has several new cases coming up.
Usually when a restaurant makes a mistake, "the only repercussion is either they lose the customer or refund the money," he says. "Now enough is enough and consumers are fighting back," he adds. "When you say no pork it means no pork, and when you don't comply you're going to get a lawsuit."
Note: This story has been updated to include comments from Majed Moughni.