How to Win a Breathable Bacon-scented Face Mask by Hormel Black Label
Ever wished your face mask smelled like bacon? On the rare chance you said yes, today is your lucky day. Hormel, creator of Black Label Bacon, is giving bacon fans a chance to enjoy the smell of sizzling bacon while wearing a face mask.
The first of its kind two-ply multifiber cloth face mask has been designed to keep the smell of bacon wrapped around your mouth and nose, making wearing a mask much more fun—or hunger-inducing.
From now through October 28, meat lovers can sign up at BreathableBacon.com for a chance to win, and the winners will be announced on November 4.
Lucky fans who manage to get a bacon face mask can share pictures on social media using #BreathableBacon.
Nick Schweitzer, senior brand manager at Hormel Black Label Bacon, said in a statement: "We're continually focused on innovation—from new products to marketing and distribution—all in an effort to deliver new and exciting ways to experience and enjoy Black Label Bacon.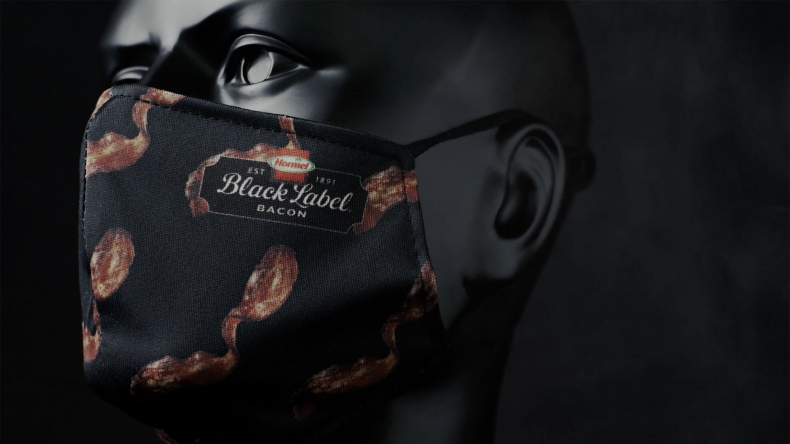 "In 2020, that means connecting everyone's favorite bacon scent to the year's 'it' accessory, and in doing so, bring BLACK LABEL Bacon closer to our fans."
Additionally, for every face mask request, Hormel will donate a meal to Feeding America, up to 10,000 meals.
Hormel is also encouraging users of the breathable bacon mask to follow the Centers for Disease Control and Prevention (CDC)'s guidelines when wearing the face covering, as well as offering their own pieces of advice—no matter how tasty the mask may smell, it is not meant to be eaten.
The CDC recommends that people wear masks in public and when they are around people who don't live in their households. Everyone should wear a mask except for children under the age of two, anyone who has trouble breathing, is unconscious, incapacitated, or otherwise unable to remove the mask without assistance.
Additionally, the CDC recommends wearing a cloth face covering and advises members of the public not to wear masks meant for healthcare workers as surgical masks and N95 respirators are critical supplies that should be reserved for healthcare workers and other first responders.
Masks should be worn over the mouth and nose and secured under the chin. It should fit snugly against the sides of the face but the user should be able to breathe easily.
Face masks should not be moved to the neck or to the forehead, and if the user touches the mask, they should wash their hands or use hand sanitizer.