Rudy Giuliani, former lawyer for ex-President Donald Trump, rattled the television stage on Wednesday's episode of The Masked Singer when he was revealed as the contestant inside the Jack in the Box costume.
Giuliani's appearance was no surprise, as it was reported back in February that two judges walked offset during the taping of the show. Tonight, the nation had the chance to see it live.
Singing "Bad To The Bone" by rocker George Thorogood, Giuliani sprang from the colorful box, surprising the audience and judges.
Judge Ken Jeong said, "I'm done," and stormed off the stage in protest of Giuliani's appearance on the show.
"Mr. Giuliani, with all of the controversy that's surrounding you right now, I think it surprises us all that you're here on The Masked Singer," host Nick Cannon said.
"Me too, me too," Giuliani replied.
None of the judges predicted it would be Giuliani under the costume after they all gave incorrect guesses, including Joe Pesci, Robert Duvall, Elon Musk and Al Roker.
When Cannon helped the former New York City mayor take off his mask, he wasn't recognized right away.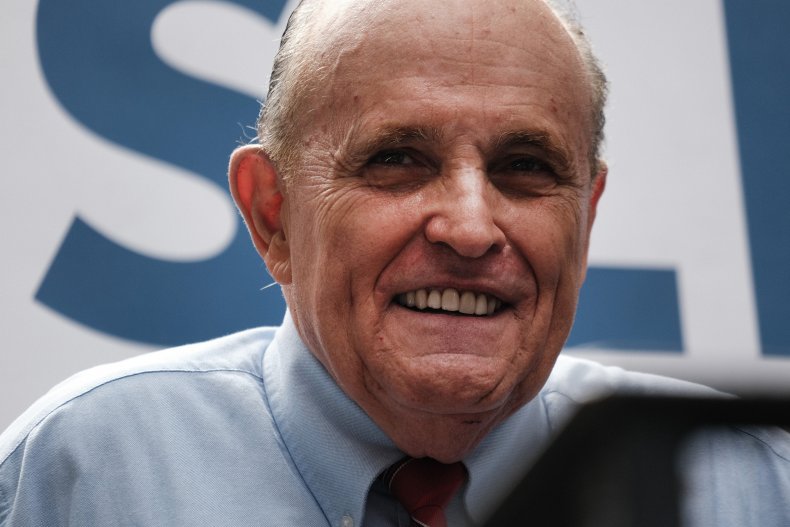 "Is that Robert Duvall?" judge Nicole Scherzinger asked.
"No, that's not Robert Duvall," Jeong replied, visibly upset.
"This is definitely something I never would have guessed," judge Robin Thicke said, chuckling.
Moments later, Jeong left the stage. Initial reports claimed that Thicke followed behind Jeong to check on him, but that wasn't aired on Wednesday's edited episode.
The public took to Twitter backing Jeong, citing Giuliani's controversial past.
"I can't blame Ken Jeong for walking off after seeing it was Rudy Giuliani," said Scott Carasik, vice president of content of the sports site Around the Block. "This was a slap in his face. Giuliani has ties to an administration that helped push the rise in violence against Asian Americans. He has every right to be mad. F*** Rudy Giuliani."
Others shared their overall disdain.
"I thought there could not ever possibly be worse and more humiliating footage of Rudy Giuliani than when s***-colored sweaty dye streaked down his face," said political commentator Ana Navarro-Cardenas. "I was wrong."
Though many disapproved, Giuliani said he's a fan of the show and had fun.
In a post-performance interview, Giuliani told Cannon that he went on the show for his family, especially his granddaughter.
"I want her to know you should try everything, even things that are completely unlike you and unlikely. And I couldn't think of anything more unlike me or unlikely than this," he said.
Newsweek reached out to Giuliani for comment.