'Bad Boys' is 25 Years Old, Here are 25 Tweets About This Buddy Cop Classic
Bad Boys, the action-packed buddy comedy that made Hollywood stars out of Will Smith and Martin Lawrence, was released in theaters 25 years ago. Known for his over-the-top explosions in the Transformers franchise, director Michael Bay would return for the sequel after the original became a bona-fide hit.
In the first installment from 1995, Julie Mot (Téa Leoni) is a key witness to a murder investigation. To keep her safe, Miami detectives Marcus Burnett (Lawrence) and Mike Lowrey (Smith) come up with a foolhardy scheme to trade each other's names and lifestyles. Can Marcus and Mike keep the truth from Julie as the real killers are hunting after her?
Talk show host Arsenio Hall was actually the first choice to play the role of Marcus' partner. But when the comedian turned down the part, Bay had to search for his replacement. Bay picked Smith after watching him in the NBC family comedy, The Fresh Prince of Bel-Air, per IMDB.
Back in January, producer Jerry Bruckheimer explained to Variety what made the '90s movie so special, "From the first day on Bad Boys, you saw some real amazing chemistry and it just lasted through the whole movie."
The movie has had a tremendous impact on the culture, and it's not slowing down. After Bad Boys for Life became a box office smash earlier this year, of course Sony would give the green light for Bad Boys 4, per Deadline.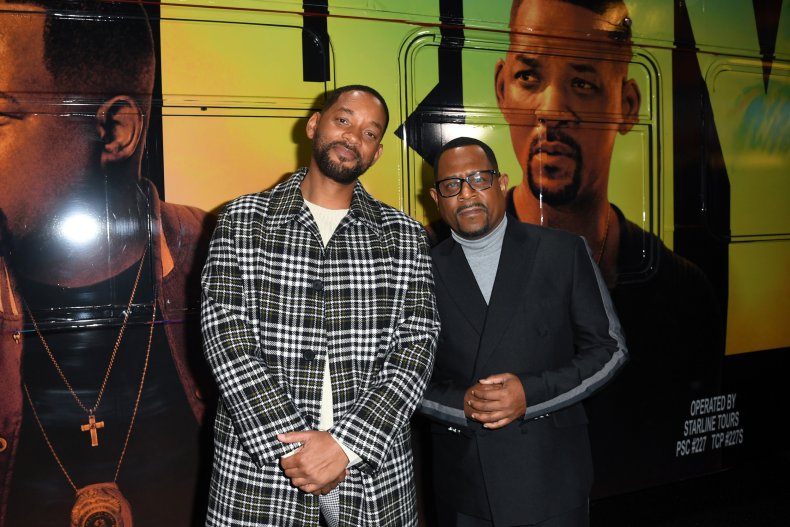 Here are 25 tweets about the buddy cop classic:
@AnirudhVN24 tweeted, "I had absolute blast watching this movie. Everything worked for me."
@TeachLikeAGirl said, "I got the boy to watch a movie with me."
@BGBADBOY shared the iconic shot of the two Miami detectives together.
@itsbhargavpatel watched the movie for the first time and mentioned, "Will Smith and Martin Lawrence were absolutely hilarious! Amazing film!"
@RyanPomin sang the theme of movie, "Bad boys, bad boys what ya gonna do? What ya gonna do when we come for you?"
@actionactionpod stated, "We're staying in Bruckheimer country for our next episode, and finally talking about the Will Smith/Martin Lawrence buddy cop classic."
@iamnerd_de shared his toys and said, "Hello Mike Lowry und Marcus Burnett!
@M3StudiosMiami asked, "Who doesn't want to see this dynamic duo come back to life on the screen just one last time?"
@kaylaRawrss mentioned she saw Bad Boys for the first time.
@AdrianM35628401 picked Bad Boys as his favorite Will Smith movie.
@BryanLenning came up with a tribute poster for his favorite '90s classic.
@hollyoutbreak pointed out the movie's success came from the chemistry between Smith and Lawrence.
@JaneLaneFanboy included Bad Boys in Bay's '90s trilogy.
@LasseVogt described the movie, "You can tell it is Michael Bay's first movie because his enthusiasm is just on fire here!"
@DaneHiser gave some behind-the-scenes trivia, "Director Michael Bay told young Will Smith that if he had an open shirt in the big chase scene, he'd become a star."
@ramsma quoted the movie, "Shoots at my wife! Oh, we beating him down! We beating him down!"
@OSWpodcast1 added, "Gotta love dramatic, slow-motion running jump cuts while the car chase is moving in real-time."
@EmbobEast added even more slow motion to a scene from Bad Boys.
@TheMovieGap said, "We watched Michael Bay's first feature to discover what 1990s action films were all about."
@Current_Knewz recalled Will Smith thanking his Bad Boys director in front of The Tonight Show host Jimmy Fallon.
@bondgriff argued the movie benefitted from the on-screen chemistry from its two leads.
@OutNow_Podcast quoted the Lawrence's famous line, "You forgot your boarding pass."
@ScreenFan1981 gave a three star rating of Bad Boys.
@SarahBettyNYC tweeted, "So is Bad Boys the only good Michael Bay movie? Like, it has a chase through a wheelchair bound basketball team. God, I love this movie!"
@MCSDSuper picked Bad Boys for this online game, "#StaySafeStayHome movie ideas: post a GIF of your favorite movie and tag five people."