The Bad Thing Florence Could Do: Think Hurricane Katrina 2005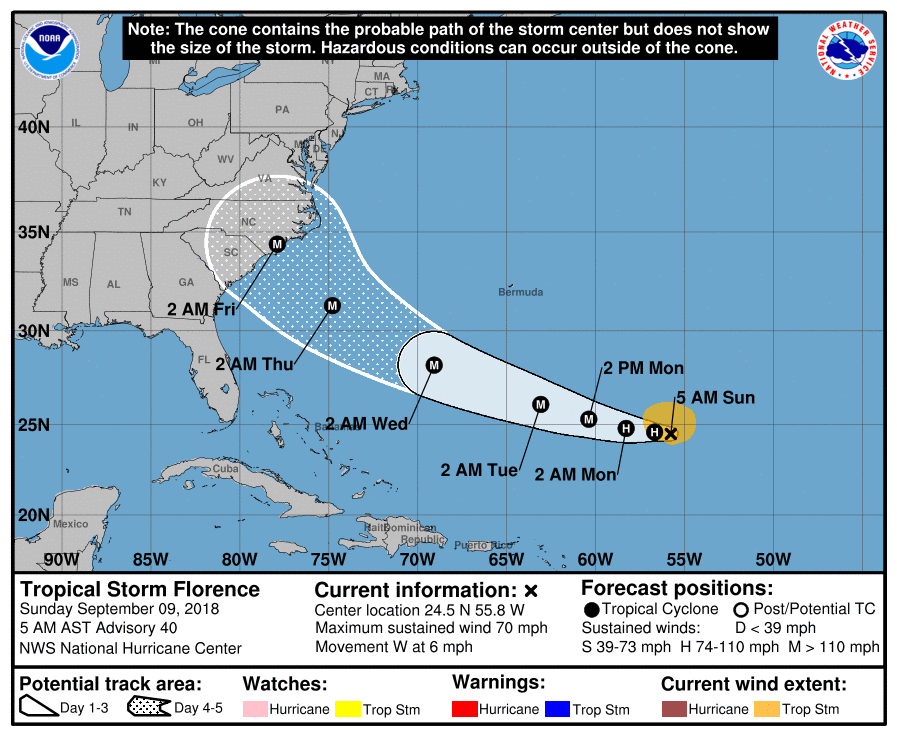 There's little question now that Florence will become a major hurricane and attack the East Coast next week, likely making landfall between South Carolina and North Carolina as a major, damaging storm. But there's potential in the Atlantic that could make major hurricane Florence an even bigger problem than it already poses.
There's also increasing likelihood that Hurricane Florence could stall just after landfall, generating significant freshwater flooding rainfall, according to the National Hurricane Center's latest update. The NHC forecast center said an Ohio Valley ridge is expected to form next week that could stall Hurricane Florence as it nears shore soon after landfall, leading to a significant flooding event inland.
But first, consider how Florence could gain more momentum along its path to the U.S. It's related to how Hurricane Katrina became so massive and powerful in 2005 – the combination of one tropical system with another tropical wave. It's another reason Florence deserves respect as it gathers momentum, approaching the southeast U.S. East Coast for landfall next week, likely overnight Thursday into early Friday morning, as a major hurricane.
Here's the potential scenario: ahead and north of Florence's westerly path is a smaller, less organized tropical system the National Hurricane System has dubbed invest 94. It's a weak area of low pressure located near Bermuda producing disorganized showers and thunderstorms, according to the National Hurricane Center, in its latest update on Sunday.
Strong upper levels winds have kept invest 94 from developing, but it has brewed in the Atlantic, barely moving. Radar loop, however, shows rain from the stationary storm trying to reach back toward Florence, which is quickly gaining strength and on a westerly path to its south. Florence is already forecast to become a major hurricane again by Monday, so it doesn't need any help from invest 94 before it reaches the East Coast.
That could happen, however, a tropical forecaster said, making what's predicted to be a big powerful storm even bigger, and likely more far-reaching.
"Something to watch with 94L…I saw a presentation a few years ago that showed that Hurricane Katrina of 2005 increased markedly in size after it absorbed a small area of disturbed weather over the southeast Gulf of Mexico and acquired more moisture and spin," said Dr. Jeff Masters, a hurricane expert and founder of Weather Underground. "If Florence manages to absorb 94L, the increased spin the combined system will have may act to expand Florence's size considerably, leading to a larger storm surge and an increased area of wind and rainfall impacts."
In other words, Florence is already forecast to be one of the strongest hurricanes to hit the East Coast ever when it makes landfall between South Carolina and North Carolina next week, according to the latest National Hurricane Center forecast update Sunday. But if Florence and invest 94 get close enough to connect, major Hurricane Florence could be a big, massive storm that could create damaging havoc throughout the region.
It's not a sure thing, depending on how close Florence passes, but it's possible and Florence to date has displayed unusual qualities to date, since forecasters thought earlier this week it would recurve into the Atlantic, away from the U.S. Yet signs on Saturday hinted that Florence and invest 94 could get together.
"Satellite images on Saturday morning showed some of 94L's moisture heading towards the northwest flank of Florence, but it is unclear at this point if Florence will pass close enough to 94L to get a significant boost in moisture and spin," Masters wrote on wunderground.com.
Hurricane Katrina, one of the most damaging U.S. hurricanes in history that made landfall on the northern Gulf Coast, formed into a mega storm in 2005 when tropical depression leftovers interacted with a tropical wave like invest 94, forming what became Katrina. The doubling up helped fuel rapid intensification – Katrina almost doubled in size in one day on August 27, 2005. When Katrina made landfall along the Mississippi coast, devastating the region with stunning storm surge while pouring flooding to New Orleans and every other direction.
Forecasters think Florence, the Atlantic's first major hurricane of 2018 but currently, a tropical storm, will re-strengthen today into a hurricane and become a major hurricane by Monday, at Category 3 or possibly Category 4 strength. The latest forecast says it will make landfall late Thursday or into the early morning hours of Friday between South Carolina and North Carolina.
Thus, it's time for interests on the East Coast, "particularly from north Florida through North Carolina," the National Hurricane Center said Sunday, to closely monitor the progress of Florence and "ensure they have their hurricane plan in place…"
One tropical storm expert said Sunday the latest NHC Florence forecast is "the strongest they have ever projected at Atlantic tropical storm in the past two decades."
Coastal communities Charleston, South Carolina through Hatteras, North Carolina and inland communities throughout both states would be at high risk for damage from category 3 storms including severe flooding, structural damage in houses and mobile homes destroyed.
"Florence's cloud pattern has continued to gradually become better organized overnight, with an increase in convection near the center and a developing central dense overcast feature," The National Hurricane said.
As of the Sunday morning update from the National Hurricane Center, Florence remained a tropical storm, but barely, with winds of 70 miles per hour (hurricane strength is 74). The storm was located roughly 700 miles southwest of Bermuda. Florence is moving due west at six miles per hour.
Florence is already "generating swells that are beginning to affect parts of the U.S. East Coast. Swells will also propagate to Bermuda and north and northeastward-facing coasts of the Lesser Antilles, Puerto Rico, Hispañiola, the Turks and Caicos and the Bahamas," according to The Weather Channel. "These swells will produce life-threatening surf and rip current conditions at these beaches."
The Bad Thing Florence Could Do: Think Hurricane Katrina 2005 | U.S.