What Is a 'Badge Factory'? Trump Donor Robert Mercer Can Carry Concealed Firearms Anywhere in the U.S.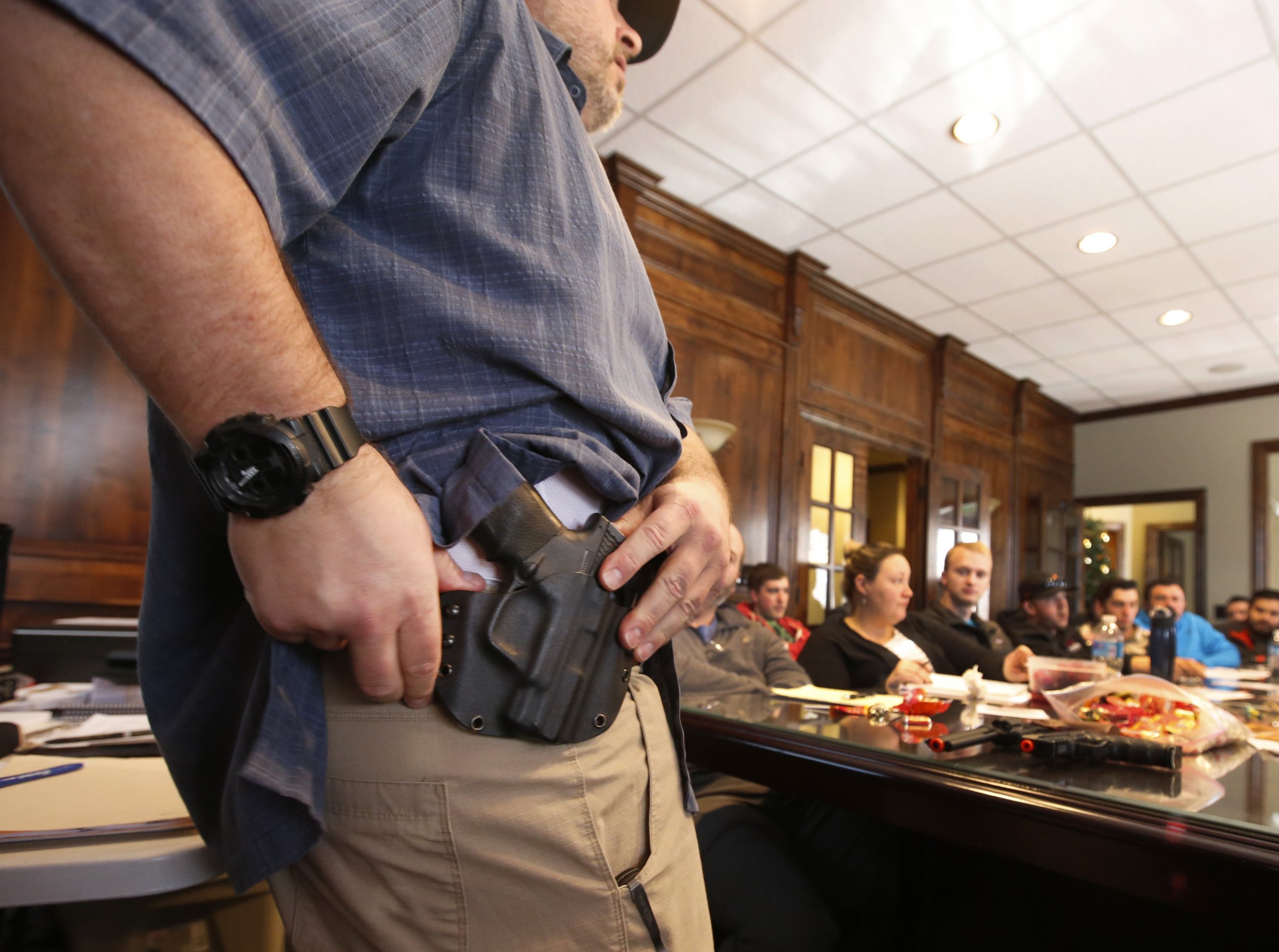 Billionaire Trump supporter Robert Mercer may have spent years moonlighting as a part-time cop more than 2,000 miles from his home so he could carry a concealed firearm anywhere in the country, according to a new report.
For about six years, the now-71-year-old Mercer repeatedly traveled over 2,000 miles from his home in Long Island, New York, to volunteer as a police officer in a small New Mexico town. Although the enigmatic hedge-fund manager's motive behind the public service may not be clear—he and his family rarely issue public statements—according to Bloomberg, his travels show "just how far a man of means will go to get something he can't buy: the right to carry a concealed firearm anywhere in America."
Organizations tied to Mercer have for years promoted a law that allows off-duty officers—including reservists like Mercer—to carry concealed firearms, Bloomberg reported. Under the 2004 law, volunteer work at a police department can thus become a workaround for those otherwise unable to acquire a concealed carry permit.
Some police departments are rumored to make such a loophole easier to come by, extending badges to friends or in exchange for cash. The gun community has dubbed such law enforcement agencies "badge factories," according to Bloomberg.
David Chipman, a senior policy advisor at the gun safety organization Giffords, told Newsweek the existence of so-called badge factories is "insane."
"It's almost like departments are operating like a real-life Westworld, where people with means can pretend they're cops," Chipman said, referring to the HBO series where well-heeled patrons can pay to live out their fantasies in a Wild West setting. "It's absurd [...] just insane."
Chipman, a former Alcohol, Tobacco, Firearms and Explosives agent, said carrying a badge is an "honor and duty" meant only for those individuals who have undergone intense training, not for high-rollers to who want to carry guns.
"It's dangerous. And as a police professional it's shocking," he said. "Policing is not the opportunity to allow big donors to play pretend at the risk of public safety."
For about six years, Mercer was one of the scores of reservists volunteering at the Lake Arthur Police Department, a police station with just one full-time employee (it's chief, William Norwood) and in a town with a population of just 433.
The billionaire septuagenarian is an avid gun enthusiast. He reportedly built a private pistol range in the basement of his Suffolk County home and is a part-owner of Centre Firearms Company, Inc. In 2012, several of his associates, including his son-in-law George Wells, founded a group under the anodyne name Law Enforcement Education Organization, Bloomberg reported. Mercer may have poured more than $400,000 into that organization's sister foundation to help educate local law enforcement agencies nationwide about the Law Enforcement Officers Safety Act of 2004, which allowed officers to carry concealed firearms, regardless of whether they're off-duty or within their jurisdiction, according to Bloomberg. Centre Firearms also sponsored the foundation.
That right would be a significant workaround for Mercer, a resident of New York, where local gun laws are highly restrictive.
Norwood dismissed the notion that his department was a badge factory. He told Bloomberg that if carrying a concealed gun was the goal, volunteering at his department wouldn't be worth the effort: The department requires volunteers to work 96 hours of patrol and have 20 hours of training a year.
Oliver Brooks, a reserve captain who assumed administrative duties at the department in 2016 and subsequently cut the lists of reservists nearly in half—it's now 84—told the outlet, "There may have been some abuses in the past [...] but whenever we find out about them, we take action."
Most of the 84 reservists, which include several of the country's most elite soldiers, such as former Navy SEALs, live hundreds of miles away.
Mercer, Wells and Wells's longtime pal Peter Pukish, also a founding member of the Law Enforcement Education Organization, all joined the Lake Arthur force on the same day in September 2011, according to documents Norwood provided to Bloomberg. Mercer and Wells left the department in last September. Pukish left in February.