As Badger Fire Burns More Than 35,000 Acres in Idaho, Rock Creek Ordered to Evacuate
High winds and "critically dry fuels" enabled the Badger Fire to spread rapidly in Idaho and as weather remains a concern for firefighting efforts, officials are telling people that now is the time to leave the area.
The southern Idaho fire ignited on Saturday and within less than a week, it's grown to 35,706 acres, as of Friday morning. Residents in South Hills were put under a mandatory evacuation order hours after they and Rock Creek residents were told to prepare to evacuate in the event fire conditions posed a threat to their safety.
The Twin Falls Sheriff's Office announced the evacuation order for Rock Creek Canyon on Facebook and the National Forest Service announced on Twitter that a shelter was established at the Eastside Southern Baptist Church. People evacuating could bring their livestock to the Twin Falls County Fairgrounds.
Red Flag weather conditions were expected to continue on Friday with winds of up to 35 miles per hour, low relative humidity and temperatures in the high 60's. Red Flag Warnings, issued by the National Weather Service, indicate that weather conditions present an increased risk of fire danger and parts of Idaho were under a warning until 9 p.m. local time on Friday.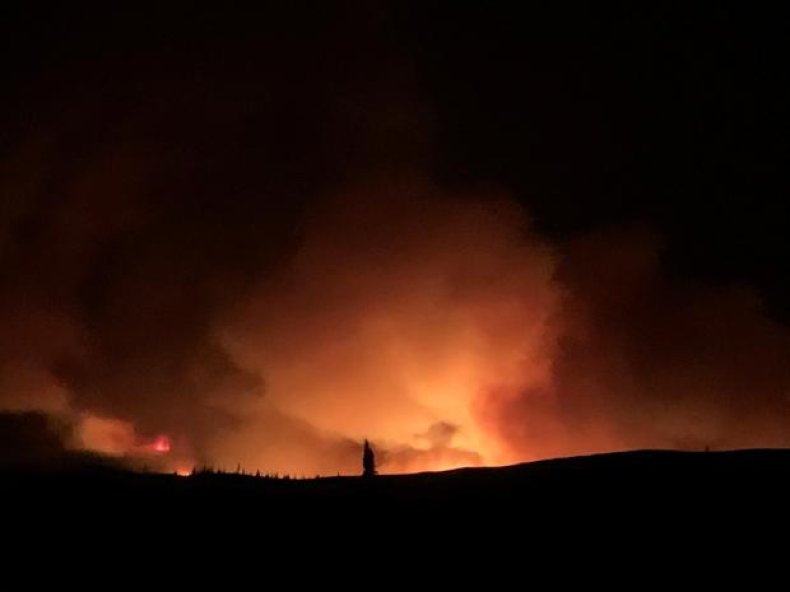 A cold front is expected to move into southern Idaho on Friday evening and Saturday and potentially bring rain to the fire area. Cold temperatures and rain are beneficial to firefighting efforts, but it's unclear how much of an impact the changing weather could have on the fire.
Newsweek reached out to the public information officer for the Badger Fire for comment but did not receive a response in time for publication.
On Wednesday, Tom Roide, incident commander of the Woodhead Fire, the largest of Idaho's current wildfires, told people resources are spread thin, in part, because of the number of firefighters that are helping Washington, Oregon and California battle flames, Boise State Public Radio reported. For the Woodhead Fire, which has burned more than 80,000 acres, there are 300 personnel and 250 "operational resources" available.
"That's 400 acres of active fire for each operational resource," Roide said. "Typically on a normal fire, we would put the number of resources that we have assigned on a 400-acre fire."
As of Friday, two fire crews, eleven engines, five helicopters and four dozers were assigned to the fire, according to the Sawtooth National Forest. Personnel will work to reinforce the anchor point, a term used to describe the place where firefighters start building a fire line to slow the spread, and enhance protection around values that are at risk. The goal is to have the fire fully contained by Halloween.