Carol and Bridge of Spies Lead BAFTA nominations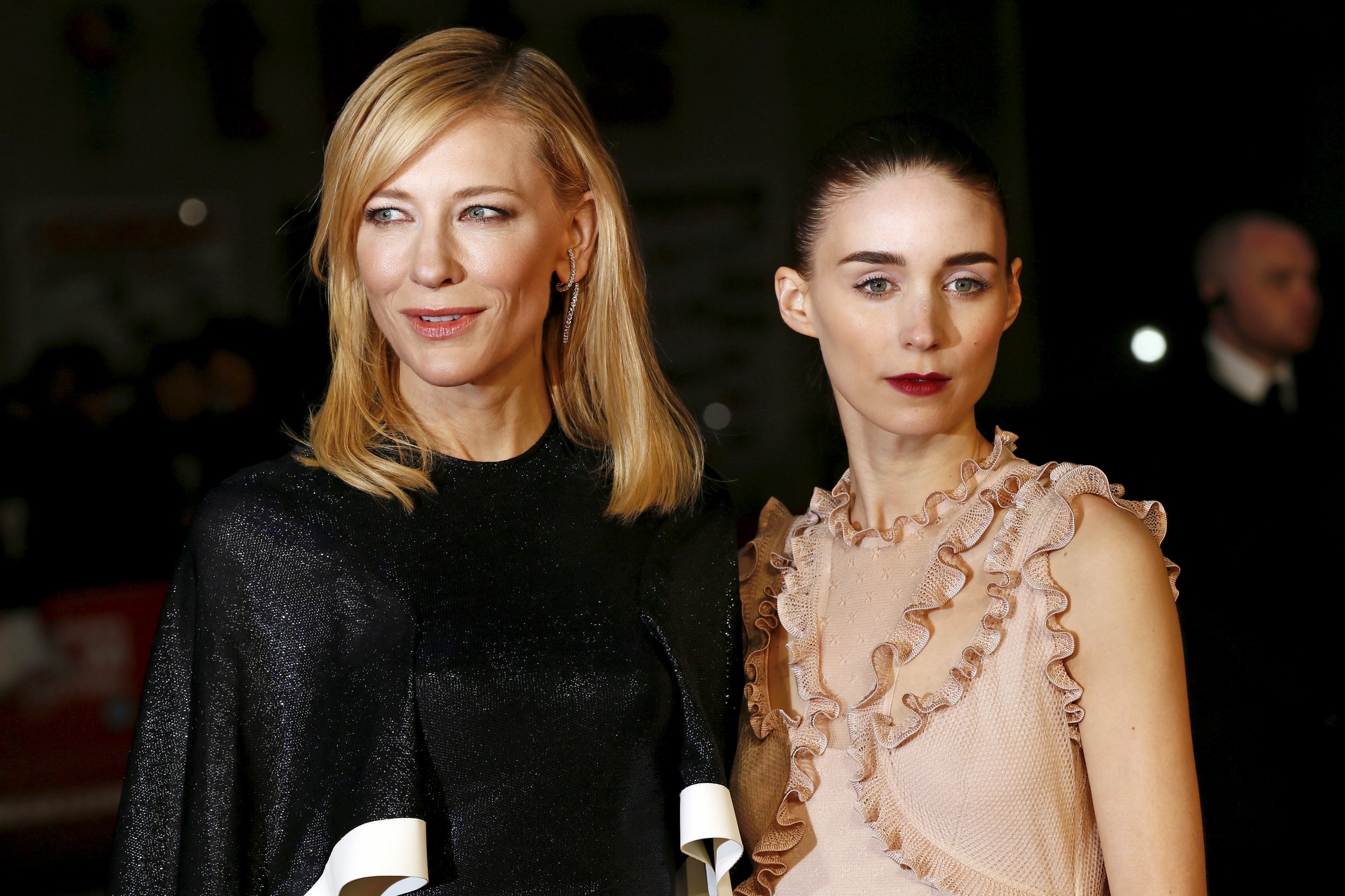 Lesbian romance Carol and Cold War drama Bridge of Spies led the running for Britain's British Academy of Film and Television Arts (BAFTA) awards on Friday, securing nine nominations each.
Carol, starring Cate Blanchett as a married woman who falls for a shop assistant, played by Rooney Mara, in 1950s New York has won critical acclaim since premiering at May's Cannes Film Festival.
Its BAFTA nods include leading actress for Blanchett, supporting actress for Mara, best film, adapted screenplay, cinematography, costume design, make up and hair, production design as well as honors for director for Todd Haynes.
Bridge of Spies, which stars Tom Hanks as a lawyer negotiating the release of a U.S. pilot held captive by the Soviet Union during the Cold War, won a nomination for director Steven Spielberg as well as for best film.
Mark Rylance was nominated for supporting actor and the drama is also in the running for original screenplay, sound, cinematography, original music, editing and production design.
The Revenant, in which a bear attack sparks a quest for revenge, earned eight nominations, including best film, leading actor for Leonardo DiCaprio and best director for Alejandro G. Inarritu, last year's Academy Award winner for Birdman.
The Revenant also garnered nominations for original music, cinematography, editing, sound as well as make up and hair.
Action adventure Mad Max: Fury Road earned seven nominations - cinematography, editing, sound, special visual effects, costume design, production design and make-up and hair.
Irish immigrant story Brooklyn got six nominations, including outstanding British film, adapted screenplay and Saoirse Ronan up for leading actress.
Space adventure The Martian was also nominated six times, with Ridley Scott for director and Matt Damon as leading actor.
Financial misdeeds comedy The Big Short took five nominations including best film, adapted screenplay, editing, director for Adam McKay and supporting actor for Christian Bale.
Last year's BAFTA leading actor winner Eddie Redmayne is in the running for his role in transgender movie The Danish Girl, which was nominated for outstanding British film. Co-star Alicia Vikander will compete in the leading actress category.
Vikander was also named in the supporting actress category for Ex Machina, also nominated for outstanding British film.
Spotlight, a film about the investigation into Catholic Church abuse, completed the nominations for best film, and earned nods for original screenplay and supporting actor for Mark Ruffalo.
Other nominees in the leading actor category included Bryan Cranston in Trumbo and Michael Fassbender in Steve Jobs.
The Apple co-founder biopic received nominations for Kate Winslet as supporting actress and for adapted screenplay.
Completing the leading actress nominations were Brie Larson for Room and Maggie Smith for The Lady in the Van.
Sci-fi blockbuster Star Wars: The Force Awakens will compete for original music, sound, production design and special visual effects. Other outstanding British film nominees include 45 years, Amy and The Lobster.
The latest James Bond adventure, Spectre, failed to receive any nominations. Its predecessor, Skyfall, picked up the 2014 award for Outstanding British Film.
Winners will be announced at the BAFTA awards ceremony at the Royal Albert Hall in London on February 14.
The nominations are as follows:
BEST FILM
The Big Short
Bridge of Spies
The Revenant
Carol
Spotlight
BEST ACTRESS
Brie Larson - Room
Saoirse Ronan - Brooklyn
Cate Blanchett - Carol
Alicia Vikander - The Danish Girl
Maggie Smith - Lady in the Van
BEST ACTOR
Leonardo DiCaprio - The Revenant
Eddie Redmayne - The Danish Girl
Michael Fassbender - Steve Jobs
Matt Damon - The Martian
Bryan Cranston - Trumbo
BEST SUPPORTING ACTRESS
Kate Winslet - Steve Jobs
Alicia Vikander - Ex Machina
Rooney Mara - Carol
Jennifer Jason Leigh - The Hateful Eight
Julie Walters - Brooklyn
BEST SUPPORTING ACTOR
Benicio Del Toro - Sicario
Christian Bale - The Big Short
Idris Elba - Beasts of No Nation
Mark Ruffalo - Spotlight
Mark Rylance - Bridge of Spies
OUTSTANDING BRITISH FILM
45 Years
Amy
Brooklyn
The Danish Girl
Ex Machina
The Lobster
DIRECTOR
Adam McKay - The Big Short
Steven Spielberg - Bridge of Spies
Todd Haynes - Carol
Ridley Scott - The Martian
Alejandro G. Inarritu - The Revenant
CINEMATOGRAPHY
Janusz Kaminski - Bridge of Spies
Ed Lachman - Carol
John Seale - Mad Max: Fury Road
Emmanuel Lubezki - The Revenant
Roger Deakins - Sicario
ORIGINAL SCREENPLAY
Matthew Charman, Ethan Coen, Joel Coen - Bridge of Spies
Alex Garland - Ex Machina
Quentin Tarantino - The Hateful Eight
Josh Cooley, Pete Docter, Meg LeFauve - Inside Out
Tom McCarthy, Josh Singer - Spotlight
ADAPTED SCREENPLAY
Adam McKay, Charles Randolph - The Big Short
Nick Hornby - Brooklyn
Phyllis Nagy - Carol
Emma Donoghue - Room
Aaron Sorkin - Steve Jobs