Viral Video Shows Short-Tempered Bachelor Blowing His Top in Bagel Shop Brawl
A pair of Long Island women recorded a now-viral video showing a man ranting against women he says write him off as short on dating websites, which ultimately led to him being tackled inside a bagel shop.
The bizarre Bay Shore, New York exchange was posted to social media Wednesday from a Long Island Bagel Boss location by Diana Reyes and a second woman identifying herself on Twitter as Olivia Shea/Bradley. The increasingly volatile situation escalated into a physical altercation after the self-described "short," single man railed against women being critical of his stature. He then challenged at least two other male bystanders to attack him -- an offer that one man promptly accepted.
According to an Instagram live video later posted by the two women, the incident began after the man was mumbling derogatory comments to himself and was being "rude" to the female bagel shop employees. It is unclear why he connected women demeaning his diminutive stature to his Wednesday bagel purchase.
"You're degrading women, why is that OK?" one of the women is heard asking him, immediately causing him to become enraged about his personal dating life -- or lack thereof.
"Why is it okay for women to say 'you're five feet on dating sites, you should be dead,' and that's OK?"
"Who said that to you here? Nobody," one of the two women asks incredulously.
"Women in general have said it on dating sites you think I'm making that shit up?" the man shot back. "Everywhere I go I get that same f**king smirk, with the biting lip."
At this point, several other male bystanders and customers in the bagel shop can be heard saying "dude" as they tried to calm the man's misogynistic rant.
"Shut your mouth you're not God or my father or my boss. Dude you want to step outside?" he screams at a significantly taller man folding his arms.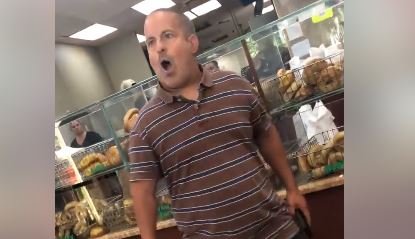 A Long Island viral video shows a man ranting against women who call him short on dating websites in a bizarre exchange which ultimately led to him being tackled inside a bagel shop.
Screenshot: diana.genesiss Instagram
"I'm not scared of you, pal," he added, as another man can be heard saying "enough, enough."
"You shut up, too...okay then attack me," the man challenges another customer, immediately leading to his being tackled and pinned on the floor of the Long Island Boss Bagels shop.
Taking to Twitter, one of the Bay Shore, New York women identifying herself as Olivia Shea wrote, "so in bagel boss this morning, the misogynistic douchebag seen in the video was degrading almost all of the female staff as well as other patrons. fuck this guy."
The video concludes with one of the shocked women turning away from the two grown men on the floor and saying, "Oh my god, I just wanted bagels."
The owner of the Bagel Boss, Donald Rosner, tweeted Wednesday afternoon that customers who come into one of the New York franchise shops can get a free "mini" bagel: "After todays incident everyone is ok! Use caution on dating sites and anyone who comes into our locations and mentions this video can get a FREE MINI BAGEL!!!!!!!!"