How 110 Bags Are Stacked in the Belly of a Plane Shocks Internet
A video showing luggage being stored in the belly of an airplane has gone viral on TikTok, where it had received 7.1 million views at the time of writing.
A message overlaid on the clip, shared by TikToker Chris Simonsson, read: "How 110 bags look like inside the belly of an airplane."
The video featured timelapse footage showing luggage bags being sent across a conveyor belt inside the storage hold of a plane, with a man stacking the bags on top of each other at the other end of the belt.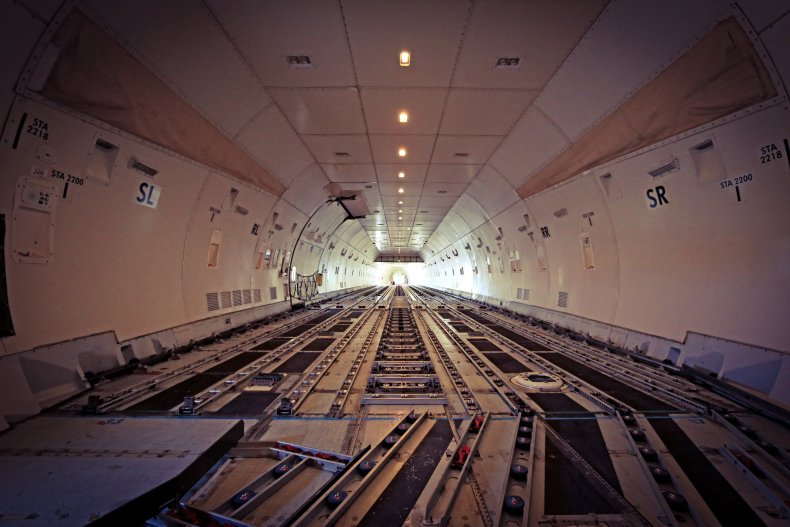 A caption posted with the video said "Daily stacking💼✈️ #airport #travellife #travel #fyp #plane #fypage #viral #ramp #workout #life #timelapse #2023 #foryoupage."
According to the latest Air Travel Consumer Report by the U.S. Department of Transportation, in October 2022 there were 39,696,447 enplaned bags and 194,637 mishandled bags among all operating U.S. carriers.
The U.S. Bureau of Transportation Statistics (BTS) explains that mishandled bags are defined as "the number of check bags that are lost, damaged, delayed, and pilfered, as reported by or on behalf of the passenger, that were in the airline's custody for its reportable domestic non-stop scheduled passenger flights."
Enplaned bags refer to "the total number of checked bags enplaned, including wheelchairs and scooters that were placed into the aircraft cargo compartment for any reportable domestic non-stop scheduled passenger flight," the BTS said.
Air travel has been heading back to pre-pandemic levels, after being halted by the pandemic.
Overall traveler numbers are projected to reach 4 billion in 2024, surpassing pre-COVID levels, which would amount to 103 percent of the total numbers in 2019, according to the International Air Transport Association (IATA).
Willie Walsh, the IATA's director general, said in March 2022: "People want to travel. And when travel restrictions are lifted, they return to the skies. There is still a long way to go to reach a normal state of affairs, but the forecast for the evolution in passenger numbers gives good reason to be optimistic."
The latest viral video has surprised and intrigued users on TikTok, with some fearing the claustrophobia the poster may experience on the job.
Goldencorral asked: "What's the most amount of bags you've packed?" The original poster said "About 200."
Carlos 66 said: "Never thought about how they did that," while user7182940870165 wrote: "I've always wondered how they fit all the luggage in a plane."
Mila said: "My [claustrophobia] could never bro," while user Britt agreed, stating: "claustrophobia at its finest [eyes wide open surprised face emoji]."
Newsweek has contacted the original poster for comment. This video hasn't been independently verified.
Do you have a similar video to share? Send it to life@newsweek.com with some details and it could appear in Newsweek.