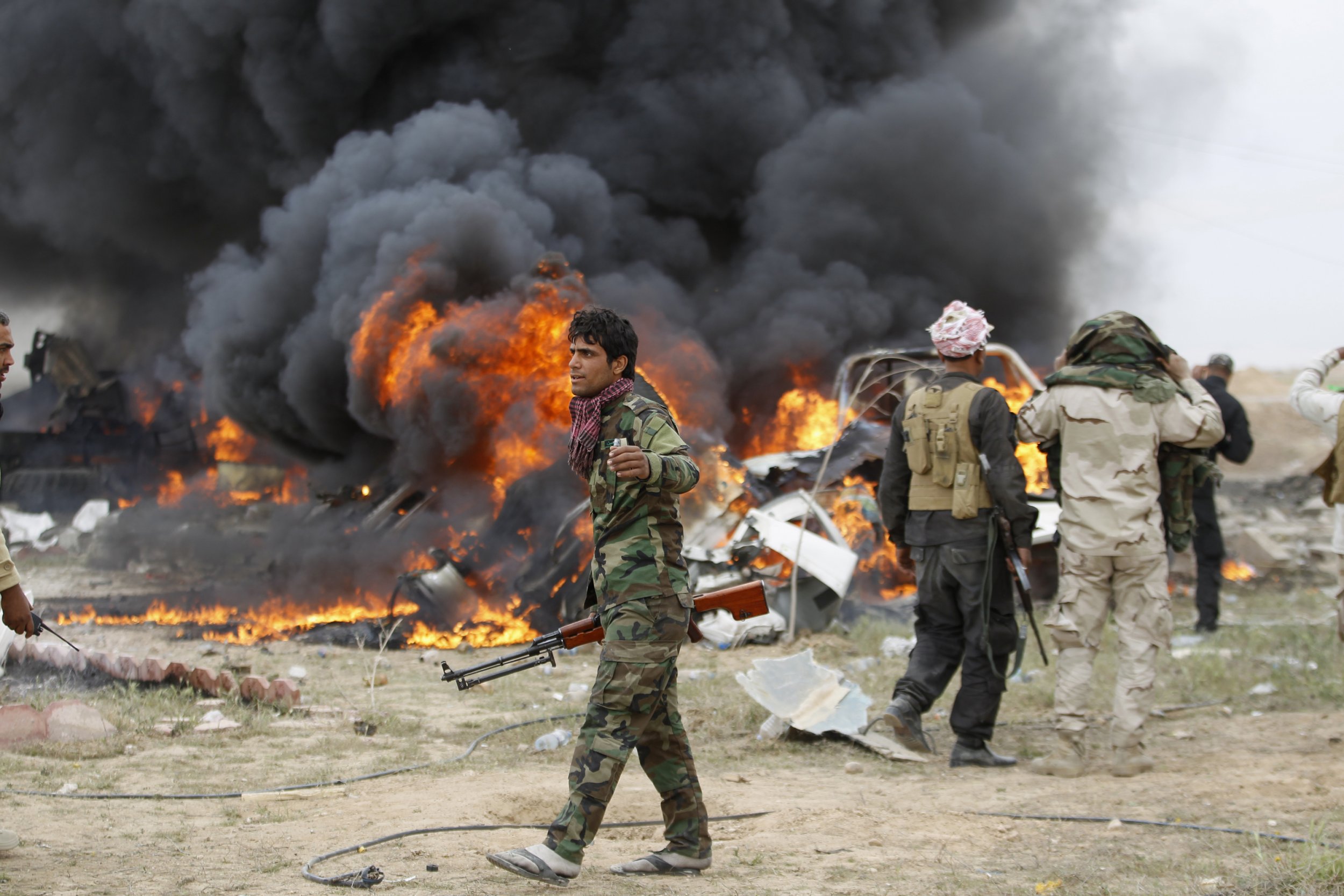 The Iraqi government is under increasing pressure after reports that Shia militias advancing on ISIS in the city of Tikrit are carrying out reprisal attacks on the local Sunni population.
Images on social media have emerged which show Iraqi soldiers purportedly murdering and torturing prisoners captured in the offensive, including one incident where a bound man is thrown from a tower. Other images shared on platforms such as Twitter and Instagram showed uniformed soldiers posing with severed heads while ABC News discovered videos depicting the execution of a number of men by Iraqi soldiers.
The coalition government in Baghdad, led by prime minister Haider al-Abadi, has said that it has launched an investigation into the conduct of Shia fighters, part of the majority-Shia Popular Mobilisation Units (PMU), which make up most of the 30,000 force battling to recapture the city which was taken by ISIS last June.
U.S. senator Patrick Leahy called the images and videos evidence of Iraqi "war crimes". He added: "I guarantee you ultimately we get blamed for it whether we did it or not." Another U.S. official, speaking on condition of anonymity to Al Jazeera, confirmed that houses in a village on the outskirts of Tikrit had been set on fire by fighters.
It is believed that the village in question is Albu Ajil, east of the city, and that militiamen from the Tehran-backed Asaib Ahl al-Haq are responsible, after they discovered two mass graves from massacres conducted by ISIS following their capture of Tikrit.
Tikrit, the capital of Salahuddin province, was the site of mass executions of Iraqi forces by ISIS militants at the time of its capture when the terror group launched its march across northern Iraq, capturing key Sunni areas. A Human Rights Watch (HRW) report claimed that approximately 770 captured soldiers were killed after the terror group took control of a former U.S. military base in the city, Camp Speicher, in executions which HRW advisor Fred Abrahams described as "crimes against humanity".
Responding to the reports of reprisals, U.S. State Department spokesperson Jen Psaki yesterday said: "This behavior is clearly – you know – their behavior must be above reproach or they risk being painted with the same brush as ISIL [ISIS] fighters and certainly that's a message that we are making clear."
Jordan Perry, principal MENA analyst at leading global risk analytics company Verisk Maplecroft, says that Baghdad, particularly al-Abadi, is now under increasing pressure to demonstrate to western partners that the Iraqi offensive against ISIS in Tikrit is both professional and united.
"Western governments will not want to see these reprisal killings happening. Al-Abadi will not want these reprisal killings to happen because of his own reputation and his own political standing, and his ability to secure support from western governments," he notes.
"He will be at pains to direct the Shiite militias to essentially retain their professionalism and not to engage in these bloody tit-for-tat reprisals. It would be too politically damaging for Iraq, so much is riding on it from that perspective."
While Iraq seeks to show a unified front in the battle for Tikrit, it should be remembered that a number of the Shia militias are notorious for their brutality against Sunni populations and use of violent methods to achieve their aims, says Phillip Smyth, researcher at the University of Maryland and author of a blog which focuses on Shiite Islamist militarism in the Middle East.
"It's important to remember that many of these same militia groups pioneered putting power drills through people's heads, had reportedly carried out extensive ethnic cleansing operations, ran/run secret prisons, and even posed as homosexuals online to lure Iraqi gays in and murder them," he adds. "These are elements which brutally and swiftly employ violence for an end goal."
The advance on the city, situated on the Tigris river approximately 95 miles (150km) north of the capital, Baghdad, has been masterminded by Iran's shadowy former spy chief Major General Qassem Soleimani, who is providing a key link for the militias to Tehran for supplies.
Iran has a crucial stake in the Salah ad-Din province where Tikrit is situated because of the city of Samarra, which contains the Imam al-Askari shrine, one of the most important holy sites in the world for Shia Muslims.
Newsweek could not independently verify the images and footage of the alleged atrocities carried out by the Iraqi forces.