BAIT x Toy Story x Reebok InstaPump Fury Sneakers: Release Date, Price and Where to Buy
BAIT and Reebok have teamed up with Toy Story to create a pair of sneakers inspired by Woody and Buzz Lightyear. The BAIT x Toy Story x Reebok InstaPump Fury sneakers feature two mismatched shoes, each inspired by the one half of the best friend duo from the beloved Disney Pixar film franchise.
In a post about the BAIT x Toy Story x Reebok InstaPump Fury sneakers, BAIT said on Instagram: "Buzz and Woody have become an iconic duo ever since the first Toy Story release in 1995 and we wanted to highlight that by releasing these two together as a pair.
"The left pair features Buzz's Space Ranger's uniform and the right pair highlights Woody's cowboy outfit. Each pair comes in special 'toy' packaging. Also available in the capsule are all new apparel pieces to tie back to the beloved characters."
The Woody inspired shoe features a blue and yellow base with a cow print fabric detail layered on top, and a tan sole. The inside of the sneaker is a yellow and red checkered pattern like Woody's shirt, with loops on the heel and tongue that match the cowboy's neckerchief. At the back of the sneaker is Woody's sheriff's badge against a blue background.
The sneaker inspired by Buzz Lightyear is white with purple and lime green detailing that reflects the astronaut's spacesuit, as well as red and white stripes like on Buzz's wings. The shoe also features the word "Lightyear" on the side and "Space Rangers" on the tongue, and has a purple sole.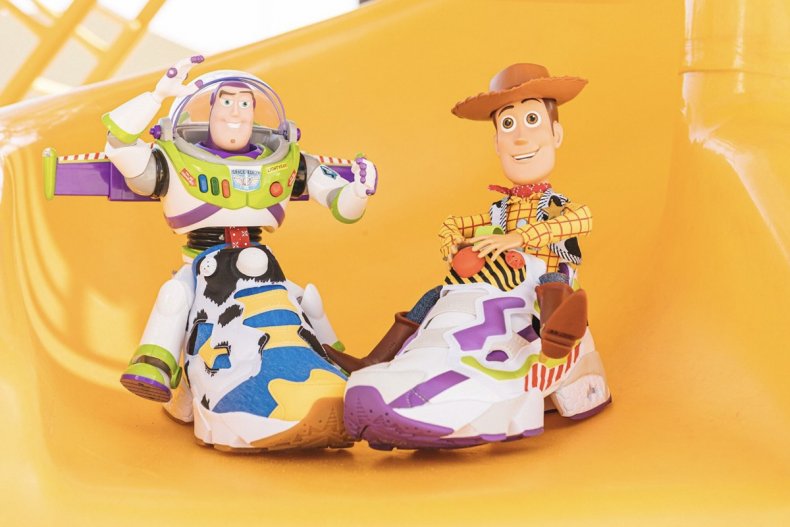 The pair will come in "toy packaging" which is a plastic bag with a cardboard banner featuring Woody and Buzz at the top. BAIT is also launching new Toy Story apparel to its collection, which currently features t-shirts inspired by Toy Story characters including Woody, Buzz, the army men, Rex, Slinky, and Zurg. Also in the collection are slippers that look like Bunny and Ducky from Toy Story 4.
The BAIT x Toy Story x Reebok InstaPump Fury sneakers will be sold at the BAIT stores in Shibuya and Osaka in Japan, but to buy them from the U.S., Toy Story fans will have to enter an online raffle. The online raffle requires entrants to enter their details and shoe size, which ranges from U.S. men sizes 3-13.
The winners will be announced on June 12, and they will be able to purchase their sneakers for $200 on June 13, via a PayPal payment request. You can sign up for the raffle now.